【Japan Travel Tips】Restaurants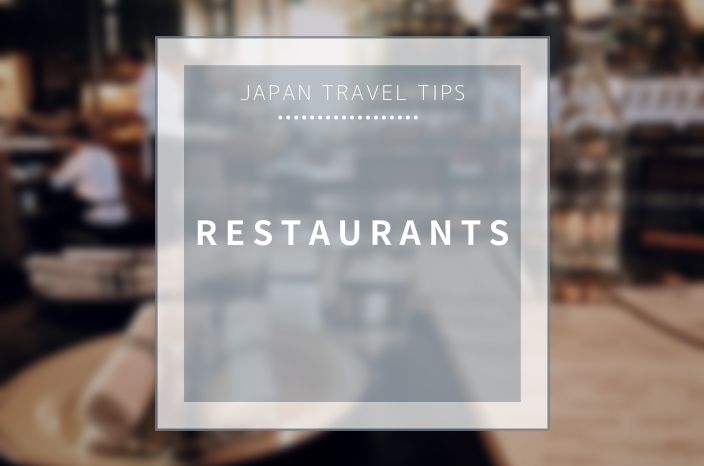 Japanese Food has enjoyed a growing popularity internationally in recent years and has become one of the best ambassador for Japan. It is often on of the main reasons to visit the country (together with Golf, of course!).
Here is a short article about Restaurants; what to expect, our recommendation and the etiquette. We hope it will be useful for your gourmet trip planning!
Restaurant reservations
Most casual restaurants do not require (or do not take) reservations, so you can just pop in and enjoy a nice meal of Ramen, Sushi, etc. However, in case the restaurant is popular, there can be a queue and waiting time, especially during the weekend. In this case, you will be asked to write your name on the waiting list and wait, either in line or in a waiting room.
By the way, Japanese people are usually quite patient and can wait up to 45 minutes or even one hour to enjoy their favorite restaurant!
High-end restaurants, on the other hand, do require reservations and usually you should already decide the menu at that time. The menu is decided based on the price and the difference is rather based on the quality level of the ingredients, than on the quantity.
Please be aware that most high-end restaurants apply a strict cancellation policy, which can be from 03 to 01 day prior to your reservation date. In case you cancel too late, you may be asked to pay a cancellation fee – up to 100% of the price of the reserved menu!
Please also note that most "Michelin"-starred restaurants only accept reservations through Hotel Concierge. We will gladly assist coordinating, once booking is confirmed and accommodation secured.
Lunch
We usually recommend not to book Lunch in advance and rather leave it to you & your guide to decide on the spot for more flexibility. Our guides are usually locals and know a variety of restaurants – from a quick bite to an elaborate Lunch – depending on the time and your mood of the da
Restaurant Etiquette
First, a little piece of advice: when you are in Japan, you will realize that Japanese traditional food is very different from the Japanese food you are used at home. So after a few days and especially if you had several traditional Japanese meals you may feel a little "food fatigue" and may craving for something a bit easier to eat and enjoy… Which may end up in cancelling your next restaurant reservation!
For this reason, we recommend limiting the number of reservations to one "formal restaurant" in each city, to allow more flexibility on the spot.
Punctuality
It is important to arrive at the restaurant on time, as most restaurants are usually quite small – sometimes just a 7-9 seat counter- and the restaurant take reservations for two to three services on the same evening.
So please make sure to arrive 5 to 10 minutes prior to your reservation time. In case you arrive over 15 minutes late, the restaurant may have already a no-show and may not accept serving you, in order not to penalize the next guest!
Perfume
It is usually recommended NOT to wear perfume at the restaurant, as it could disturb other guests' gustatory and olfactory experience – especially at Sushi restaurants, where the smell and taste of fish is so subtle.
Taking pictures
Most restaurants have no issue with diners taking pictures of the food, but some actually prohibit it. You do not need to worry about it, as it will be notified in case. When taking pictures and publishing on social networks, please avoid showcasing other guests, though… as image privacy is important in Japan.
Rice & Chopsticks
Sushi is dipped in soy sauce "up-side down" (on the side of fish, not rice) or you could take the fish part with your chopsticks, dip it (slightly) in the sauce and gently put it back on the rice before eating it.
Note that it is also acceptable, to eat sushi by hand!

Rice is usually eaten "white", without sauce and Japanese people never put soy sauce in a bowl of rice. It can, however, be sprinkled with spices, provided they are already on the table.
Important: please do not stick your chopsticks upright in a bowl of rice or pass food from chopstick to chopstick, as these are funeral rites, so it is a taboo – either at home or at the restaurant.
Finally, in case of doubt, do not hesitate to ask! Restaurant chefs and waiters are here to provide you with the legendary hospitality and will always be please to ensure you have an amazing experience!
Previous Post

Next Post