【Lake Kawaguchi】Kawaguchiko Kitahara Museum Happy Days – A retro and nostalgic toy museum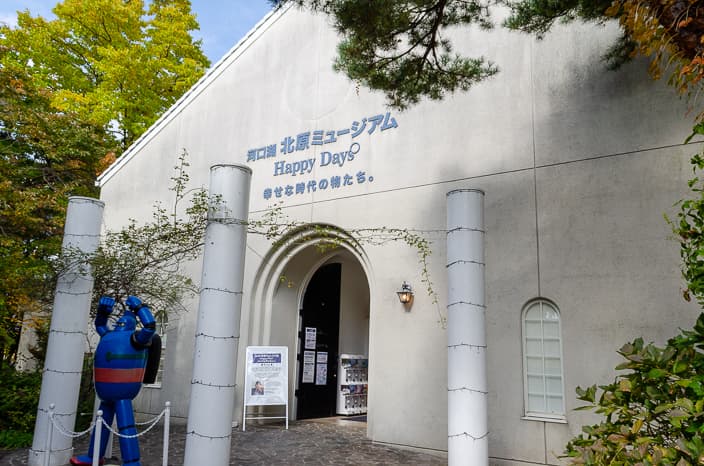 Only 5 minutes away by car from Houtou Fudou Higashikoiji, there is a toy museum on the lake side where you can feel nostalgic – this is the Kitahara Museum. In this post, I will introduce you the museum that both adults and children can enjoy.
Please read this about Houtou Fudou Higashikoiji
Kawaguchiko Kitahara Museum Happy Days
Kitahara Museum is a small museum but has more than a collected 4000 of toys, collected by the director, Mr. Teruhisa Kitahara, over a 40 years span.
Mr. Kutahara is very famous in Japan and well known overseas too, as a tin toys collector. He has been a toy appraiser for a long time on on popular Japanese TV program "Kaiun ! Nandemo Kanteidan" , which has been running for about 20 years, in which you can have an expert appraise antiques, paintings, toys, and other items at home, that you don't know the value of.
---
The first thing you see when you walk in the door is the welcome collection and because from the number of toys on display, I wanted to ask: "How can you show me so many toys when I haven't even paid the entrance fee?" .
The toys displayed in the welcome collection are said to change regularly and when I visited, there was a large collection of Kokeshi dolls. It's a very traditional Japanese toy, but I found non-Japanese design too, like the Three Little Pigs below. Aren't they cute?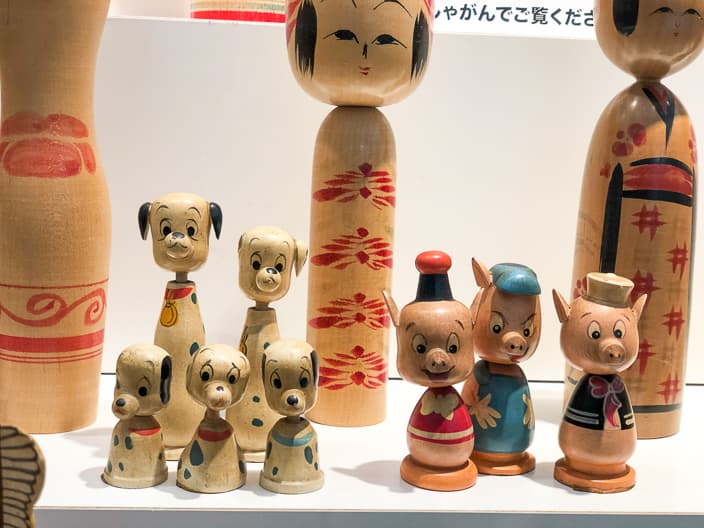 Now, let's pay the entrance fee and go see the collection. The bike you see between the "Billiken-san", the god of luck, is a Triumph Tiger. This is the bike that the world's first female rider raced on in 1938. By the way, I didn't know that Billiken-san was born in the U.S. I thought it originated in Japan.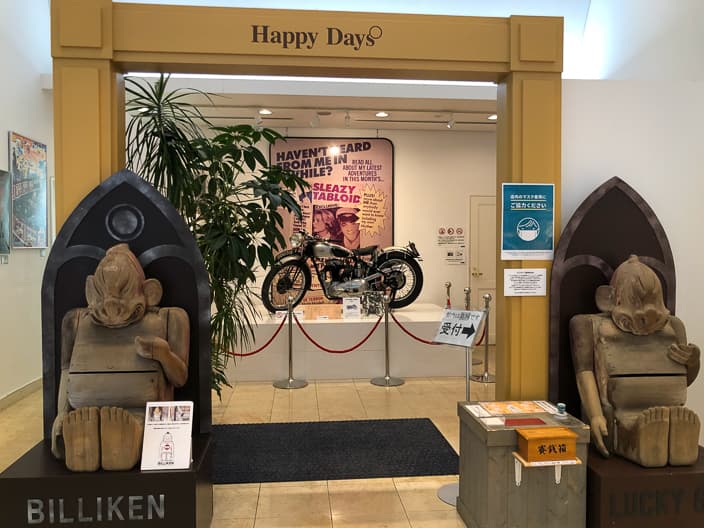 Inside the museum, there are many exhibits divided into different themes. There is a "Kids Room" with all kinds of Disney goods, a "Boys Collection" with robots, spaceships, and cars that boys would like, and a "Girls Collection" with playthings and dolls that girls would like. At my age – for someone from my generation, there is nothing that made me think, "I used to play with this… I miss it…", but I am thrilled to see all these ancient toys, that somehow make me feel nostalgic.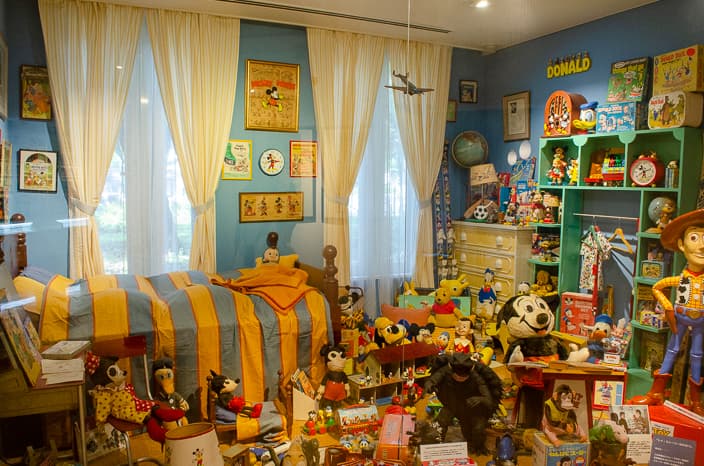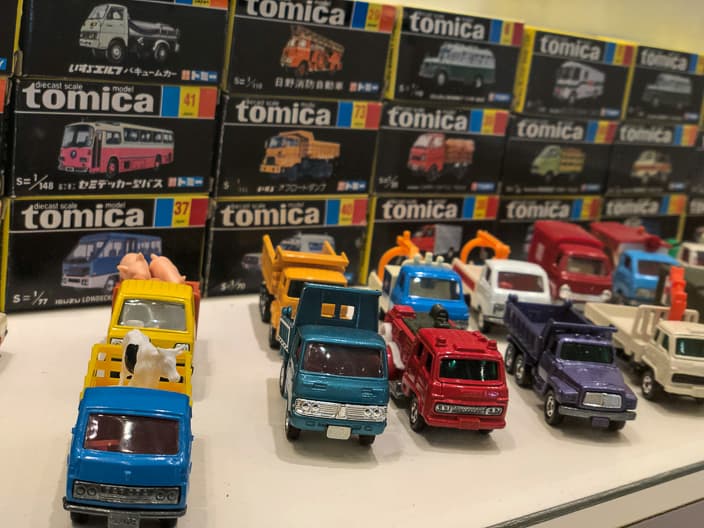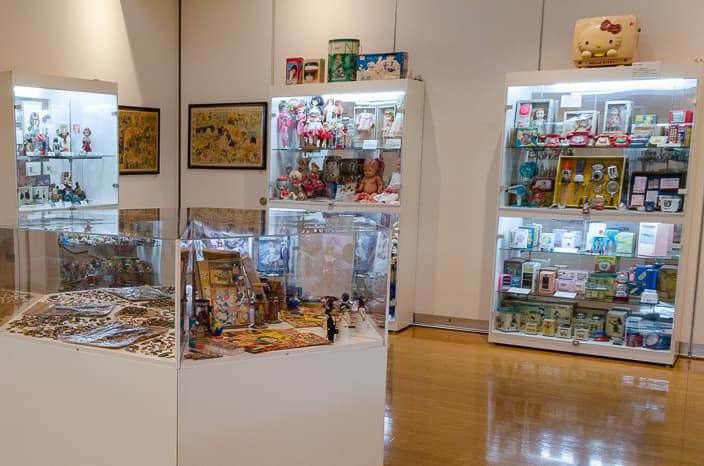 There was also an exhibition of works by Tadanori Yokoo, one of Japan's most famous artists. Speaking of Tadanori Yokoo, there is the "Teshima Yokoo Museum" in Teshima, Kagawa Prefecture, an island of art. This is a poster that convinced me that he was a graphic designer.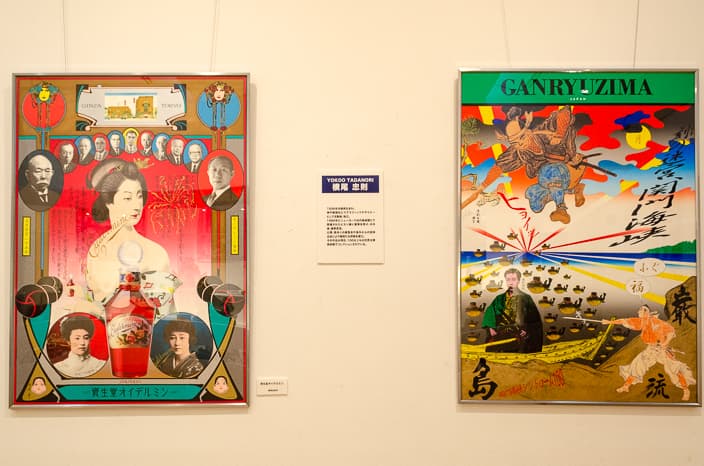 The wall of the stairs connecting the first and second floors is covered with graffiti by young artists. They are actually drawing visitors to the Kitahara Museum.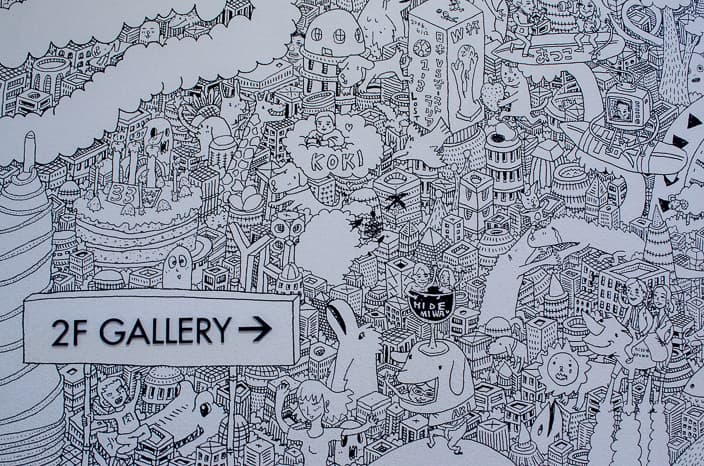 The museum store also sells retro toys that you can't find in ordinary stores. This Doraemon toy was selling for 5,000 yen, but when I looked it up on the Internet, I found that it was selling for much more! What a generous price tag!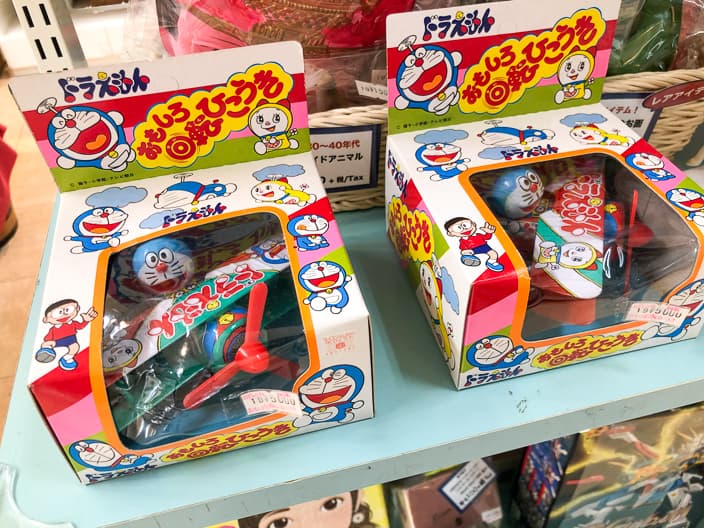 In addition, there are many other toy corners that I could not introduce. I'm sure you'll find something you like among the collection of retro toys from Japan and abroad!
Why don't you visit the Kitahara Museum, where both adults and children can have a happy feeling?
Kawaguchiko Kitahara Museum Happy Days
Address
1204-2 Kodachi, Kawaguchiko-machi, Minamitsuru-gun, YAMANASHI
TEL
045-621-8710
Open Hour
【Weekdays】10:00 – 16:00 (Last entry at 15:30)
【Holidays】10:00 – 17:00 (Last entry at 16:30)
Close
Open everyday
Admission Fee
【Adult (over High school student)】800 yen
【Junior high school & Elementary school student】400 yen
Website
http://www.kitahara-museum.jp/ (Japanese ONLY)
Previous Post

Next Post