【Mitaka】Ghibli Museum, Mitaka – You don't need to know Ghibli to enjoy this fantasy world
Studio Ghibli is one of Japan's leading animation production companies. Its many successeful past works have been repeatedly broadcast on Japanese television for years, and it boasts a wide range of popularity that transcends generations and eras.
Ghibli works, are well rooted in the memories of Japanese people and have also become increasingly popular overseas. In countries other than Japan and the U.S., you can watch Ghibli works on Netflix, I envy you!
This time, I went to the Ghibli Museum, Mitaka, one of the most popular museums in Japan, for tourists from overseas!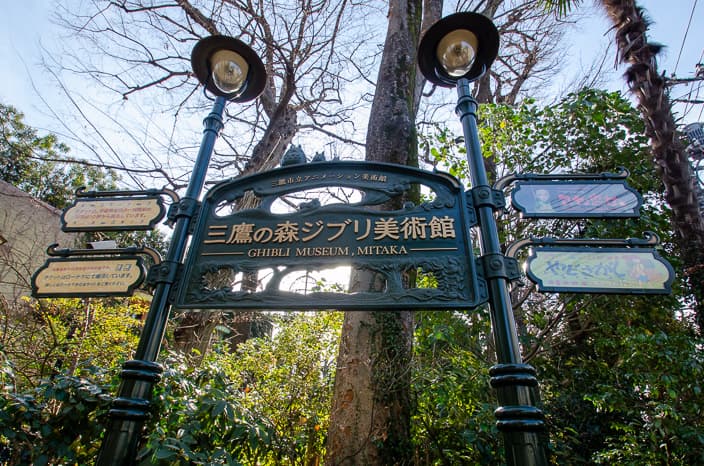 Access
It takes about 20 minutes by rapid train on the Chuo Line from JR Shinjuku Station to get to Mitaka Station, the closest station to the Ghibli Museum.
It is then a 15-minute walk from from the south exit of Mitaka Station to the museum, along the Tamagawa josui (river), and there are signs all aloong to help you find your way. On a sunny day, that makes for a nice walk !
There is also a Community Bus service available from the south exit of Mitaka Station, which will take you to the museum in about five minutes. There is actually one bus designed by Studio Ghibli, so if you can get on it, you're in luck!
Highlights of Ghibli Museum, Mitaka
Totoro welcomes you (from My Neighbor Totoro)
When we arrived at the entrance of the Ghibli Museum, we were greeted by Totoro at the ticket counter.
There were a few people here and there taking commemorative photos of Totoro's early appearance.
Underneath the Totoro is pitch-black blackies! So cute!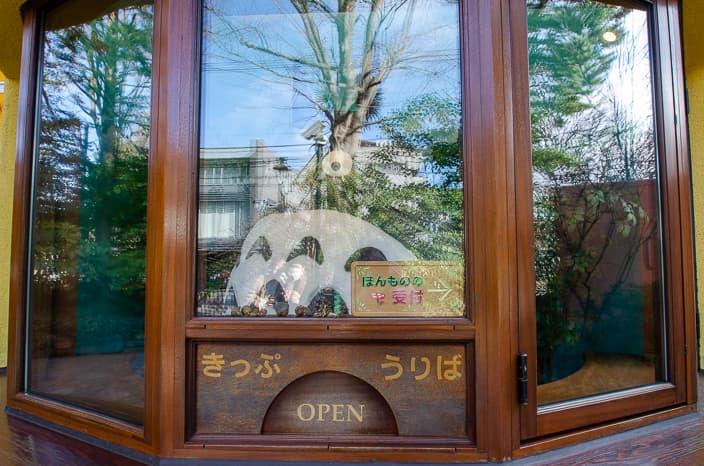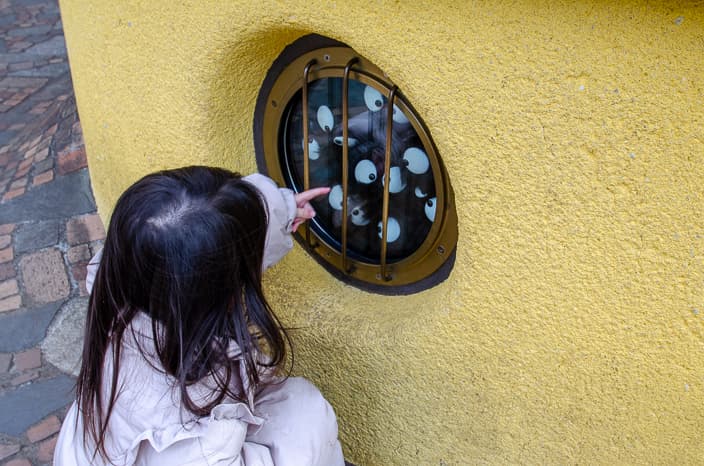 As you can see from the sign next to the Totoro, the "real reception" is actually a little further away, so let's walk a little.
There will be an attendant waiting in front of the entrance, so please check your ticket and enter the museum!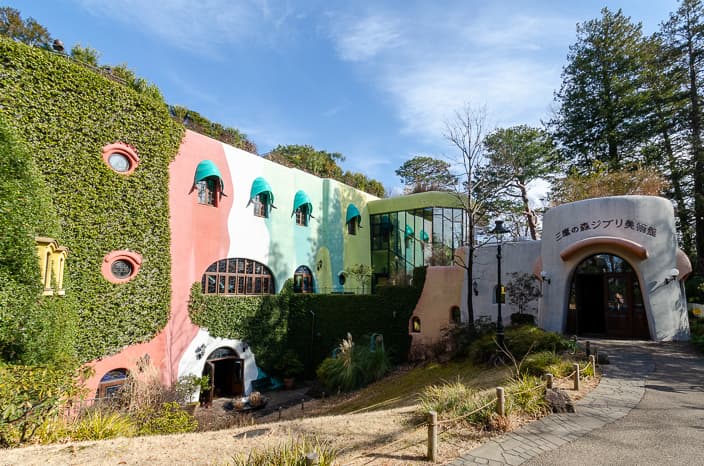 Nice admission ticket
When you enter the museum, show your admission ticket to the staff again. You will then be given another ticket with three frames of 35 mm film. You will need these to watch short animations at the mini-theater "The Saturn Theater" in the building, so please don't lose it (each person is limited to one viewing).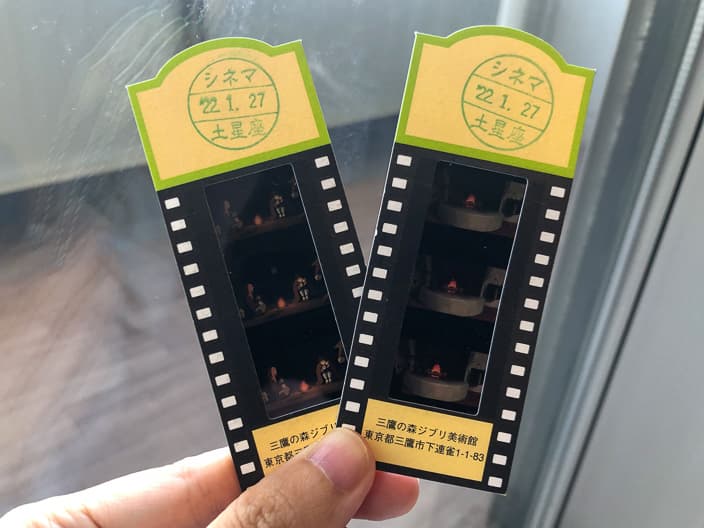 If you hold it up to the light, you can see the film picture clearly. This time I got Calcifer from "Howl's Moving Castle" and probably a frame from "Tales from Earthsea" (I don't know, I haven't seen it).
These film tickets are made from actual film used in movie theaters, so no two tickets are the same!
It's like trying your luck to see which scene from which movie you can get!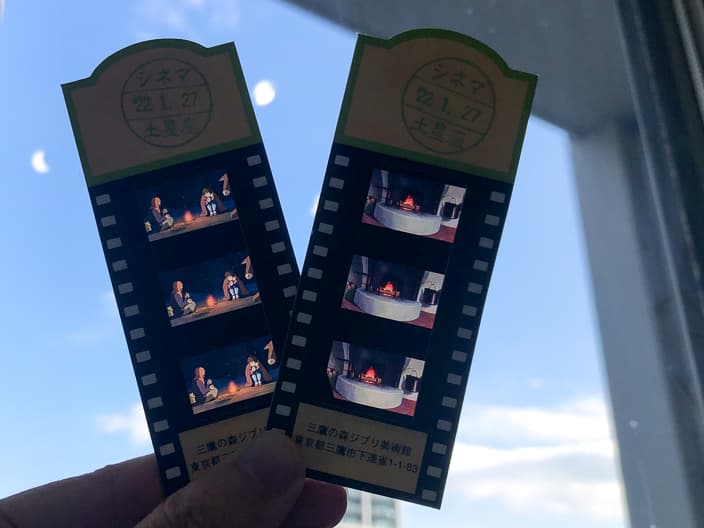 After receiving our film tickets, we went for a walk around the museum. I'm sorry I can't show you the actual inside of the museum because photography is not allowed, but it's just like getting lost in a Ghibli movie!
The narrow spiral staircase that only one person can go through, the retro elevators, the crossing corridors, and the small windows at the halfway point… it's like a maze, and just walking through it is fun!
There were many children visiting the museum, and they all seemed to enjoy exploring around.
A Child's Dream: A Fluffy Cat Bus (from My Neighbor Totoro)
A rough floor map of the museum looks like this.
B1F:Zootrope exhibit, small theater "The Saturn Theater", Information
1F :Special Exhibition Room, Permanent Exhibition Room "Where a Film is Born"
2F :The Reading Room "TRI HAWKS", The museum shop "MAMMA AIUTO!", The Cat Bus
Waiting for you in the room on the second floor is the Cat Bus, the familiar bus from "My Neighbor Totoro". It's limited to elementary school students and younger, but you can actually ride the Cat Bus!
Riding on the Cat bus is every child's dream! My daughter enjoyed sitting in the Cat Bus, squeezing the face of the Cat Bus like Satsuki and Mei, climbing on the roof of the Cat Bus, and so on. There are also a lot of pitch-black blackies in the Cat Bus room, so the little ones had a lot of fun holding and rolling the pitch-black blackies.
Our Guardian – The Robot Soldier on the Rooftop
There is a spiral staircase leading to the rooftop right next to the Cat Bus room, and this is the man waiting for us on the roof.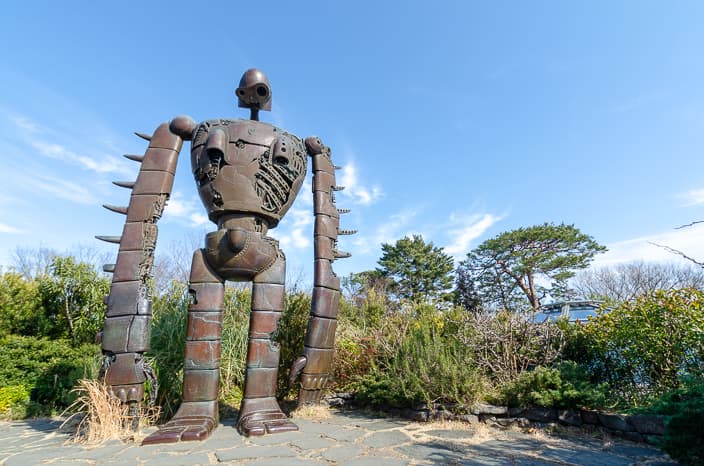 The Robot Soldier from "Castle in the Sky Laputa". He is about 5 meters tall and looks very powerful, but as you know if you have seen the movie, this robot soldier has a very kind heart. He is protecting this museum with his kind heart.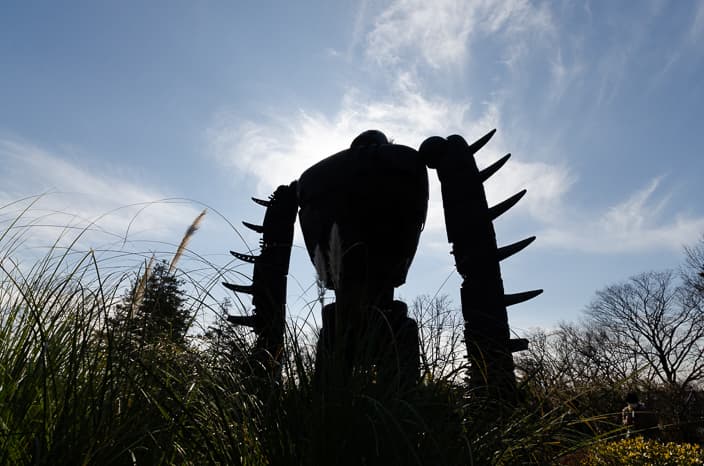 And the back is cool too…
There's also the legendary black stone of Laputa on the rooftop!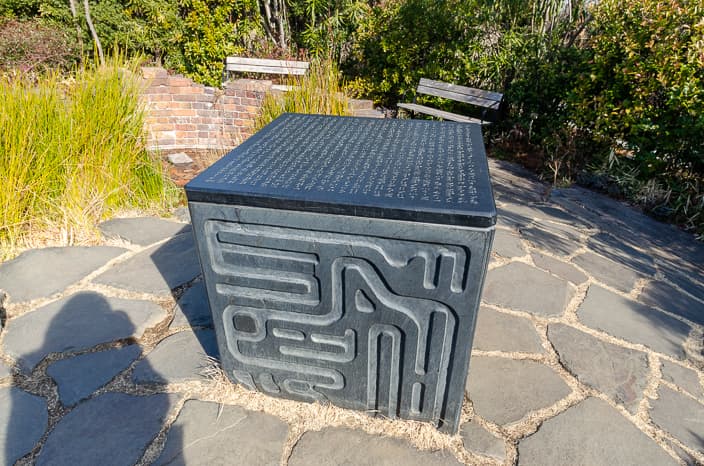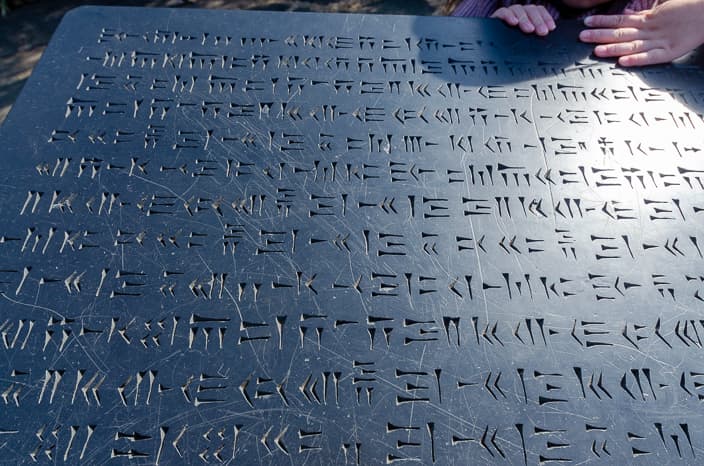 Stained glass of famous scenes
There are wonderful stained glass windows of familiar works on the doors of the museum. The vivid stained glass windows, handmade by artisans, some of which depict familiar Ghibli characters, can only be seen here.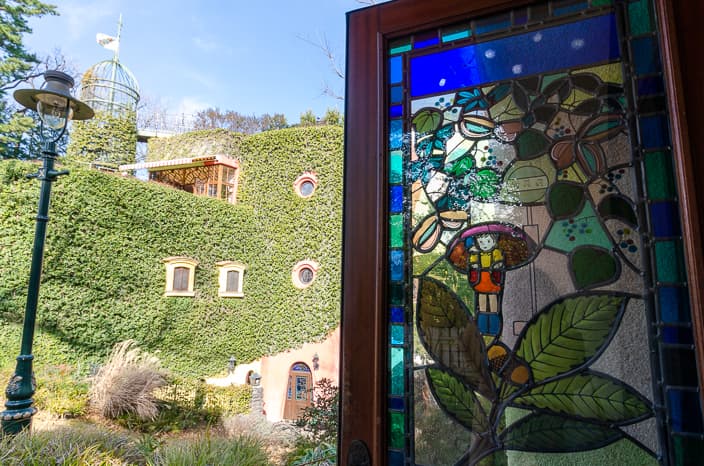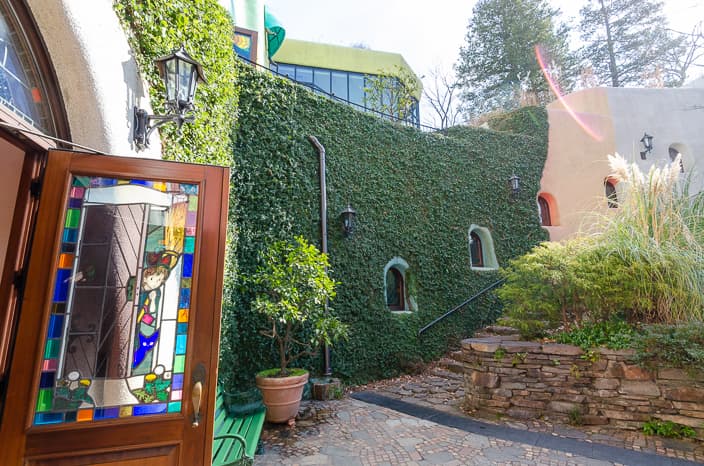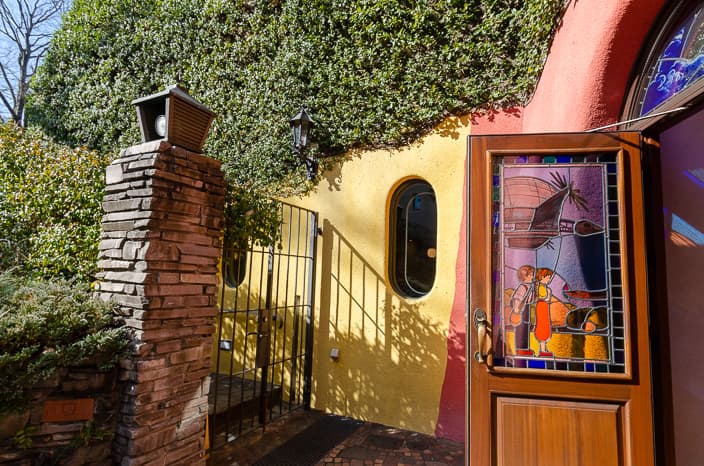 Rowing pump well and firewood storage
Between the museum and the cafe is a courtyard surrounded by bright walls. There was a well with a rowing pump, similar to the one Satsuki used to draw water in "My Neighbor Totoro", and a firewood storage area.
I pumped as hard as I could and water actually came out!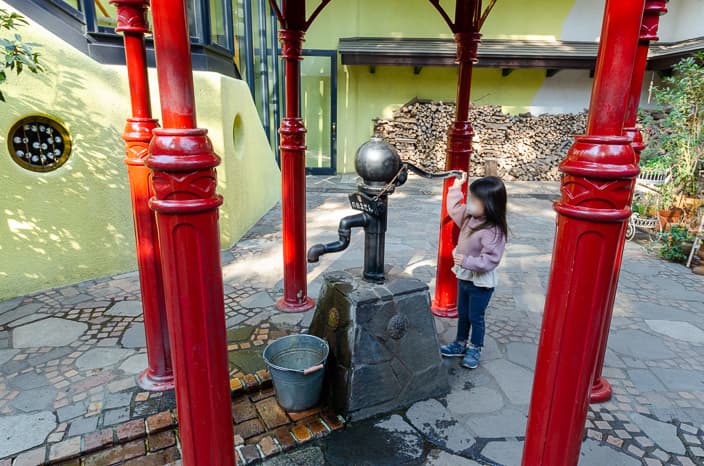 The firewood storage area is somewhat of a "Kiki's Delivery Service" image in my mind. This firewood is actually used in the café's wood stove in the winter.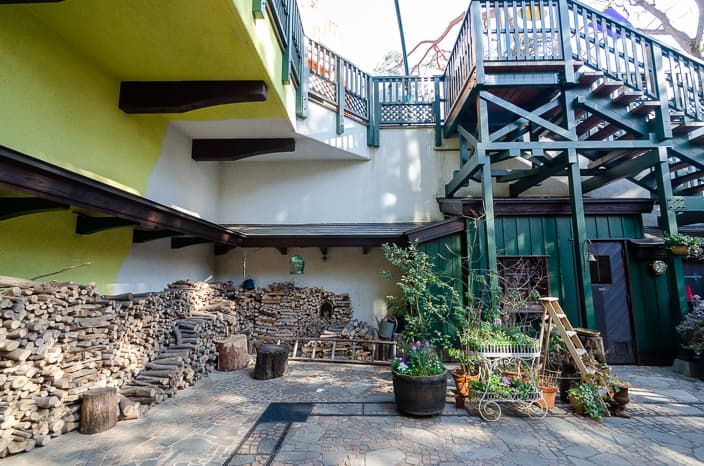 Take a break at a café
There are many things to see at the Ghibli Museum. When you get tired, take a break at the "Straw Hat Café".
You can enjoy hot food such as sandwiches, potatoes, and soup, and sweets such as omelets and pound cakes.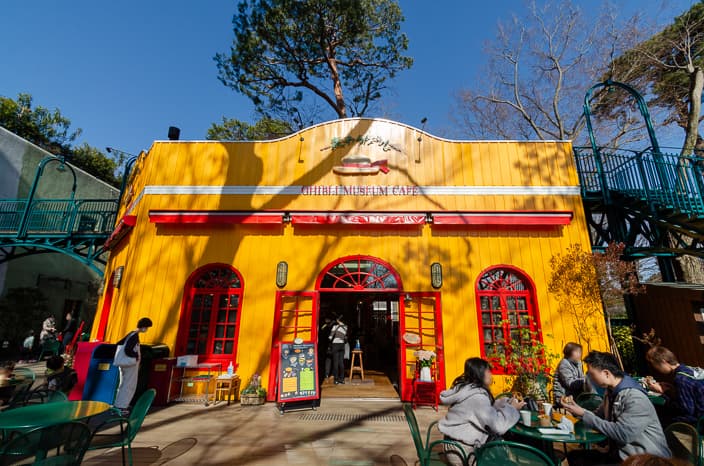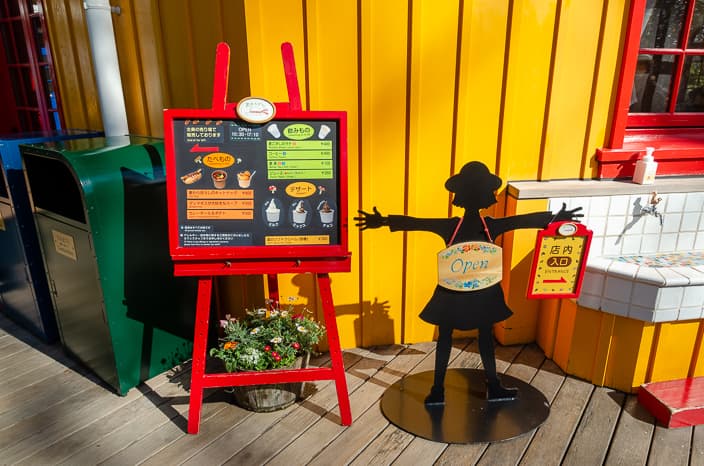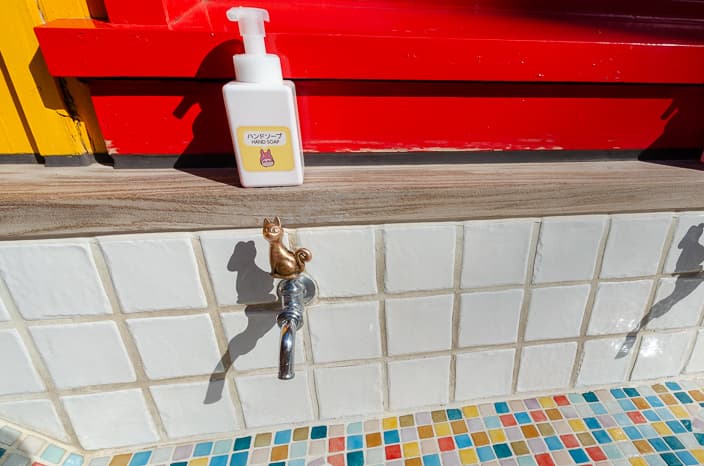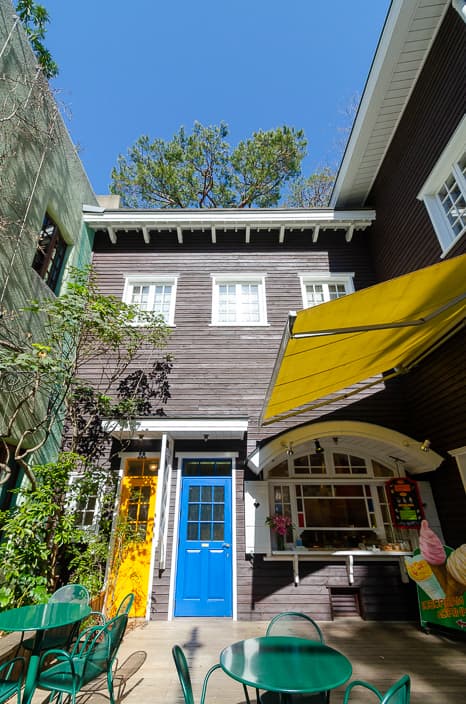 What do you think? If you are a Ghibli fan, this is a dreamlike museum where you can enjoy glimpses and feelings of past Ghibli works everywhere…
But even if you know a little bit or nothing about Ghibli works, just being in this place has a special atmosphere and feels like a fantasy world. If you're interested, please visit and see for yourself!
Ghibli Museum, Mitaka
Address
1-1-83 Shimorenjaku, Mitaka-shi, TOKYO
TEL
0570-055-777
Open Hour
10:00 – 18:00
Entry Time
①10:00 ②11:00 ③12:00 ④13:00 ⑤14:00 ⑥15:00
* By appointment only
Close
Please check the official website
Admission Fee
【Ages 19 and over】1,000 yen
【Ages 13 to 18】700 yen
【Ages 7 to 12】400 yen
【Ages 4 to 6】100 yen
【Ages 3 and under】Free
Ticket
Please refer this page
Website
https://www.ghibli-museum.jp/en/
Previous Post

Next Post