【Kanazawa】KAMU Kanazawa – A New Contemporary Art Museum in Kanazawa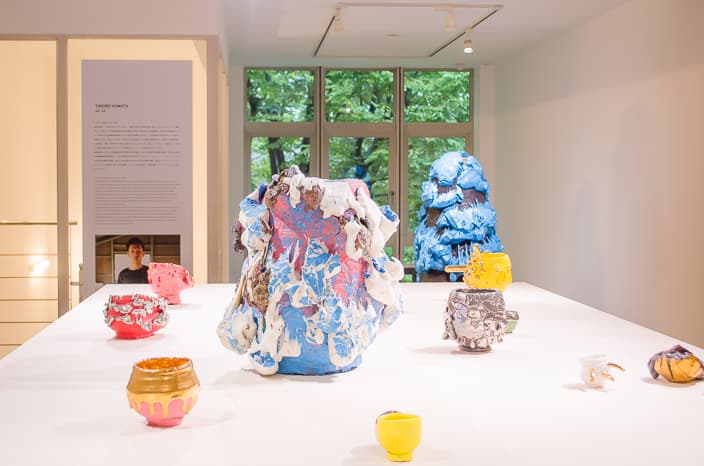 In Kanazawa, the [21st Century Museum of Contemporary Art] is famous for its striking architecture and world-class exhibitions. It's a must-see spot for domestic and international visitors.
In June 2020 right next to this landmark, a new museum where you can enjoy more contemporary art has opened: "Kamu Kanazawa".
Kamu Kanazawa
This is a private museum established by art collector Kentaro Hayashida.
I was surprised to learn that he is only 32 years old.
He set the purpose of this museum as "collecting works to improve the resources of Japanese culture through contemporary art, disseminating contemporary art, and using Kanazawa as the base, making it the city of contemporary art. "
Actually, besides "KAMU Kanazawa", Kentaro HAYASHITA already opened on 24th October 2020, two additional art spots called "KAMU Black Black" and "KAMU sky" in other locations nearby.
A Small museum on three floors
KAMU Kanazawa is located only a minute away on foot from 21st Century Museum of Contemporary Art. Since it's really small museum, I wondered "Is there really a museum in here?".
Once entering inside, there is a vending machine where you purchase your admission ticket.
INFINITE STAIRCASE / Leandro Erlich
On the 1st floor, you are greeted by an art work of Leandro Erlich – "INFINITE STAIRCASE".
Those who have already visited the 21st Century Museum of Contemporary Art may be familiar with another work of Leandro Ehrlich : "The Swimming Pool", where visitors walk at the bottom of a swimming pool without getting wet.
This time, the "Infinite Staircase" is an installation with a spiral staircase that seems to never end and extend forever, into the infinite. Like many of Leandro Erlich's work, it uses visual illusion and you can experience a mysterious feeling, when standing in the work (I was asked to remove keys and accessories such as rings etc. to protect the work).
This is a permanent collection, so you can enjoy it whenever you come.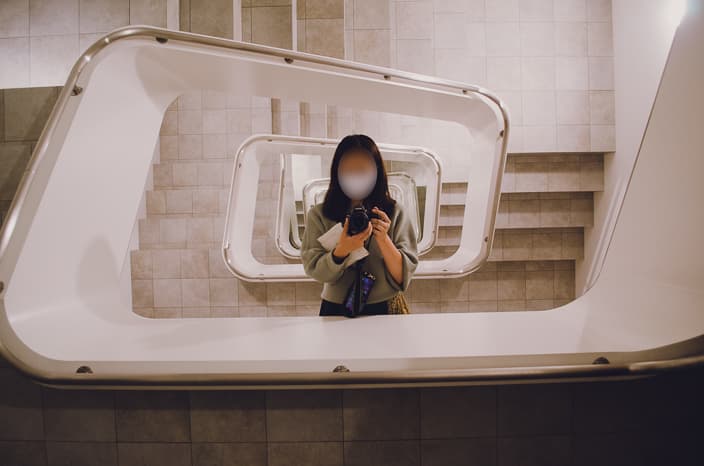 We took a picture like "I will fall down the stairs !!".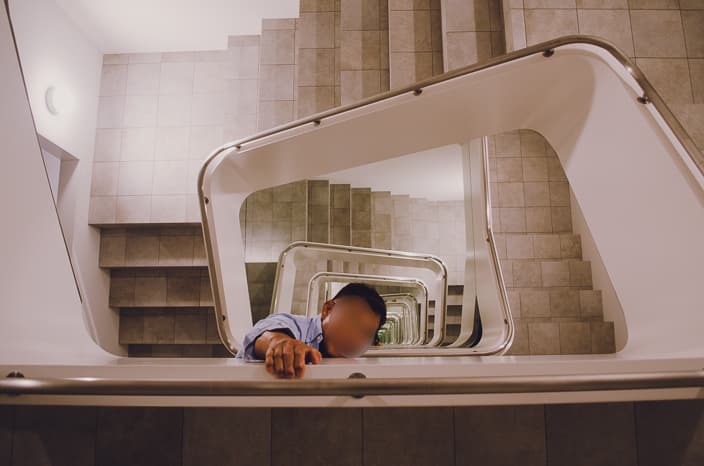 Takuro Kuwata
I enjoyed the work of Leandro Erlich, but now, let's go to another floor!
On the 3rd floor, was an exhibition of ceramist Takuro Kuwata.
These are pottery works that you have never seen before!
I had thought the shape of pottery was fixed to some point and many of them had a calm atmosphere, but Takuro Kuwata's work overturned my image. It's so messy, it's lumpy, and I've never seen such pottery, color nor shape like this!
It's different from the pottery I've known so far, but it was a fun work to look at.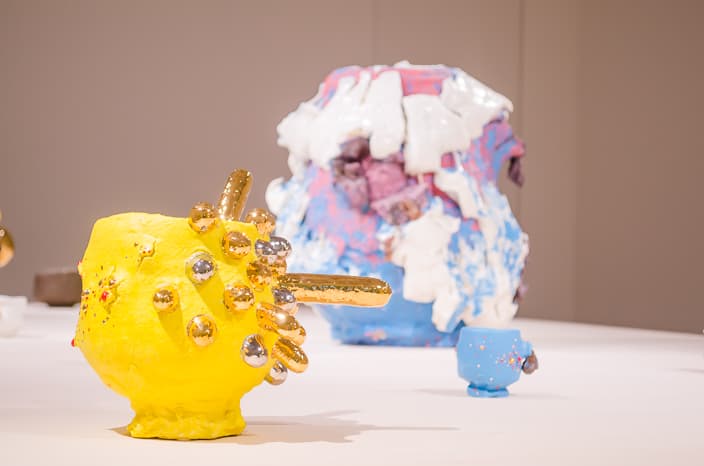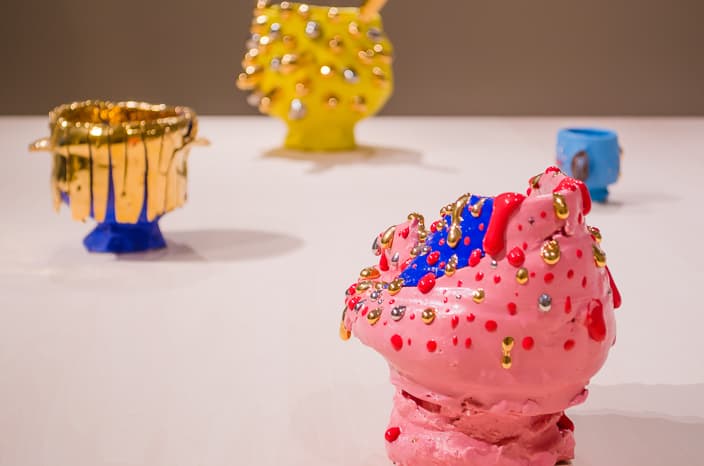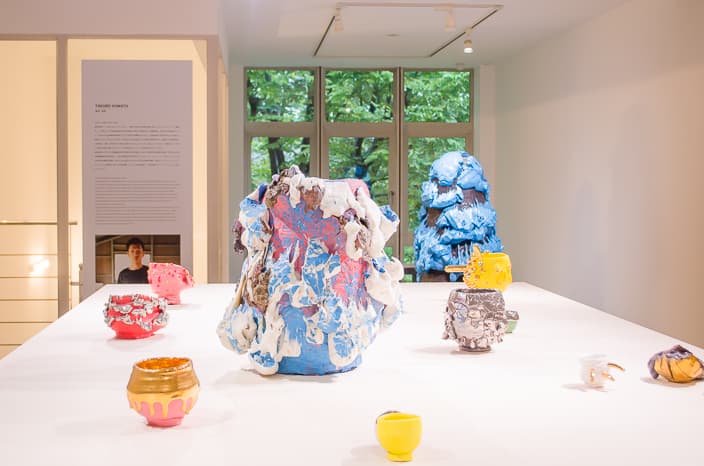 Stephanie Quayle
On the 2nd floor, are exhibited the works of Stephanie Quayle, an artist from Isle of Man, UK. She lives on a farm, raises cows and sheep to help her parents. She likes to be aware of the simple but fundamental things of life, death, clay, and fertilizer every day.
It's fun to see the animals gathering on a small floor. There were many monkeys. In addition to this exhibition room, animals were lurking in the stairs and the entrance, and it seemed that the animals were playing around the museum. My 2-year-old daughter also seemed to have fun because there are animals everywhere.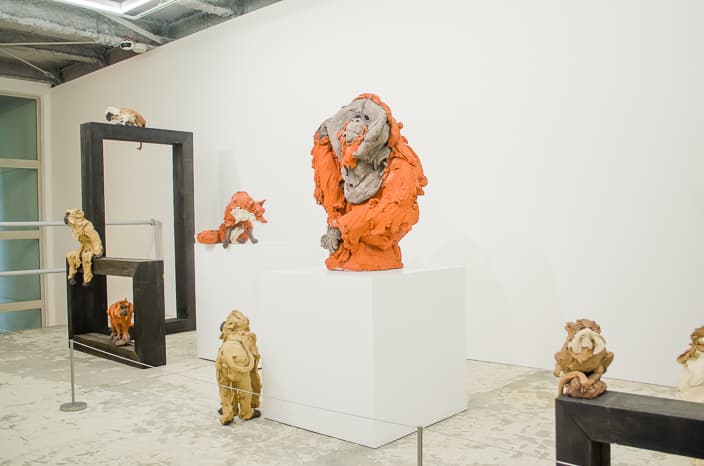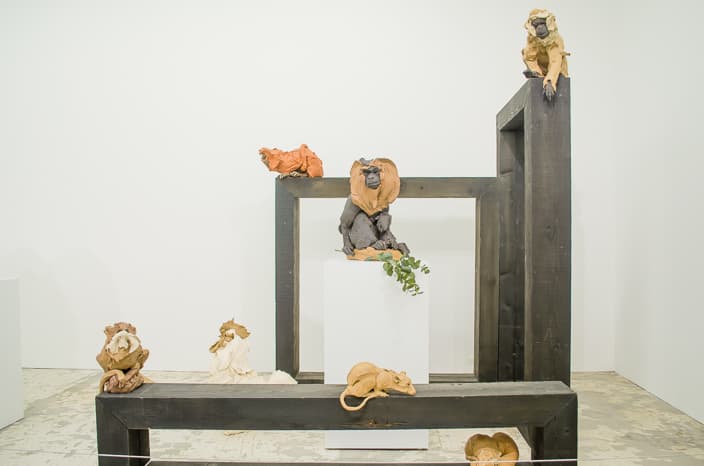 The works of Takuro Kuwata and Stephanie Quayle are not permanent collections so depending on the timing you visit, there maybe other artists' instead. (It has not been decided when the current exhibition ends.)
Summary
It's a small museum with only 3 floors, but I was happy to see the impressive works of Leandro Erlich and to know the up-and-coming artists, which I didn't know before.
My father, who I went with, prefers realistic works, and is not so interested in contemporary art. He said "it's interesting museum and art, but felt it was a little expensive".
Based on my father's opinion, I thought it would be a great museum for those who are particularly interested in contemporary art. It's a compact museum located just off the 21st Century Museum of Contemporary Art, so why not visit it?
KAMU Kanazawa
Address
1-1-52 Hirosaka, Kanazawa-shi, ISHIKAWA
Open Hour
【Tue-Thu & Holiday】11:00-18:00
【Fri & Sat】11:00-19:00
Close
Monday
Admission Fee
1,100 yen
Website
http://ka-mu.com/ (Japanese Only)
Previous Post

Next Post