【Kahoku】Nishida Kitaro Museum of Philosophy – The only "Philosophy Museum" in Japan and Architectural beauty by Tadao Ando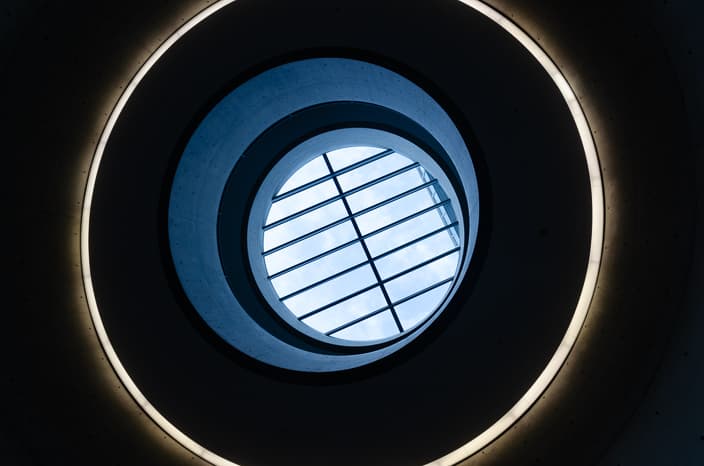 D. T. Suzuki and Kitaro Nishida are one of Japan's leading philosophers born in Ishikawa Prefecture. In fact, they were classmates and close friends at the Fourth Higher Junior High School. Facilities that convey their ideas and trajectories are located in their respective hometowns.
The "D.T. Suzuki Museum" in Kanazawa City was designed by Yoshio Taniguchi, and the "Ishikawa Nishida Kitaro Memorial Philosophical Museum" in Kahoku City was designed by Tadao Ando. Even if you think philosophy is too difficult to understand, you may be able to "feel" something when you visit there.
As we have previously introduced "D.T. Suzuki Museum", we will now introduce "Ishikawa Nishida Kitaro Memorial Philosophical Museum".
Please read this about D. T. Suzuki Museum
Who is Kitaro Nishida ?
Kitaro Nishida (1970-1945) was a philosopher from Kahoku, Ishikawa Prefecture and a professor emeritus at Kyoto University. His best-known book, published in 1911 and titled "An Inquiry into the Good", discussed topics such as goodness and religion, became the masterpiece that popularized Kitaro Nishida's name as a thinker.
Unlike Western philosophy, which until then had viewed subjectivity and objectivity in opposition, Nishida devised the concept of "pure experience" to overcome the dualism of subjectivity and objectivity, and is called "Japan's first philosophical book.
Various dichotomies such as "good/evil," "one/many," "love/knowledge," and "life/death" seem contradictory at first glance, but are in fact aspects and functions of the "One". The unique system that encompasses these opposites, with "awareness" and "place" as keywords, is known throughout the world as "Nishida's Philosophy".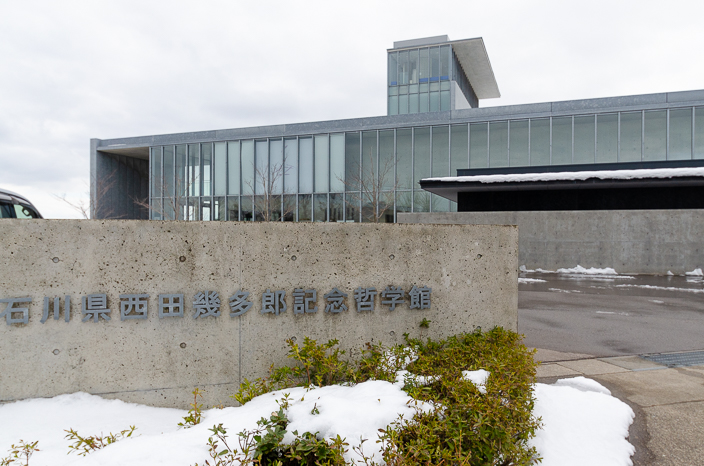 Nishida Kitaro Museum of Philosophy
Architecture designed by Tadao Ando
The Nishida Kitaro Museum of Philosophy was designed by world-renowned architect Tadao Ando. He is a self-taught professional boxer turned first-class architect with a unique career path. His many representative works include "Omotesando Hills" and "21_21 DESIGN SIGHT" museum in Tokyo, "Chichu Art Museum" in Naoshima, Kagawa, as well as the "Museum of Contemporary Art Fort Worth" in Texas, USA, and "Shanghai Baoli Grand Theater" in Shanghai, China.
Some of you may be familiar with Ando's architecture when you hear that the best part of his work is "cast-in-place concrete. The Nishida Kitaro Museum of Philosophy is also made of cast concrete, typical of Ando's architecture.
The linear exterior is very nice, while the interior is like a labyrinth, allowing visitors to "get lost and think".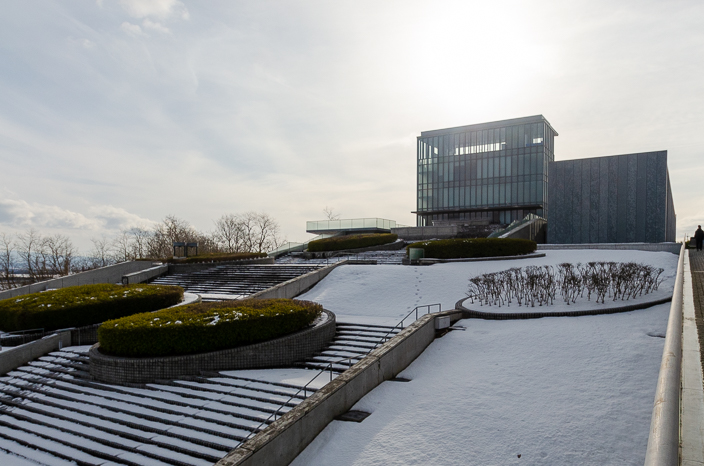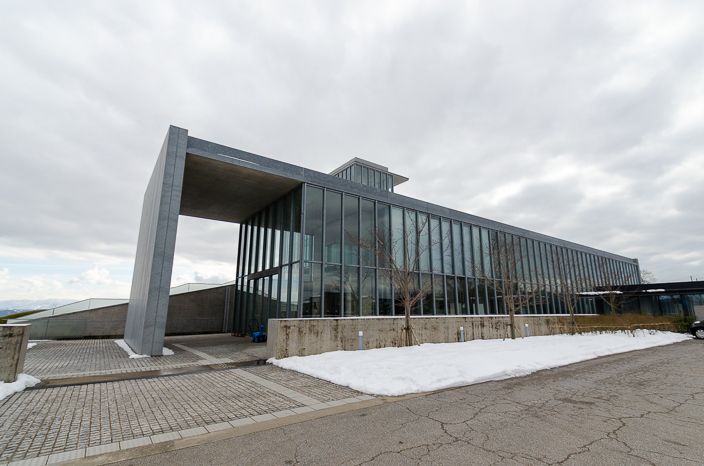 The museum is divided into the Museum, which has exhibition rooms, and the Seminar Area, which has a library, hall, observation lounge, coffee shop, etc. If you use only the Seminar Area, you do not need to pay the admission fee.
If you wish to enter the Museum, you must pay the admission fee here.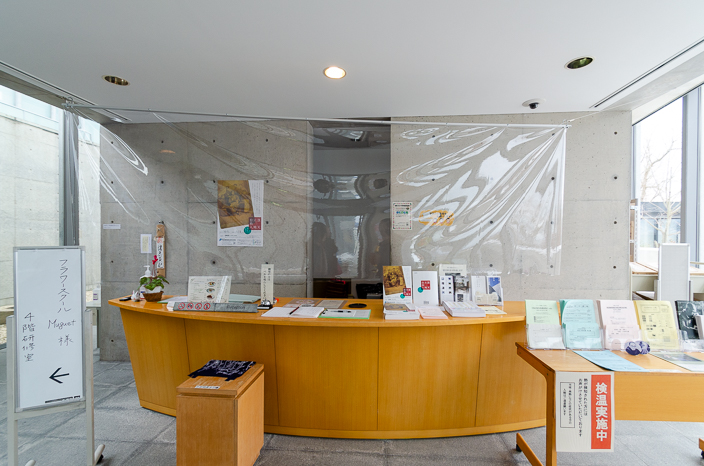 Museum
This is the entrance to the museum building. Photography is not allowed in the exhibition rooms. However, I was allowed to take pictures in the corridor from the entrance. The light coming in through the glass windows in the concrete building is very beautiful.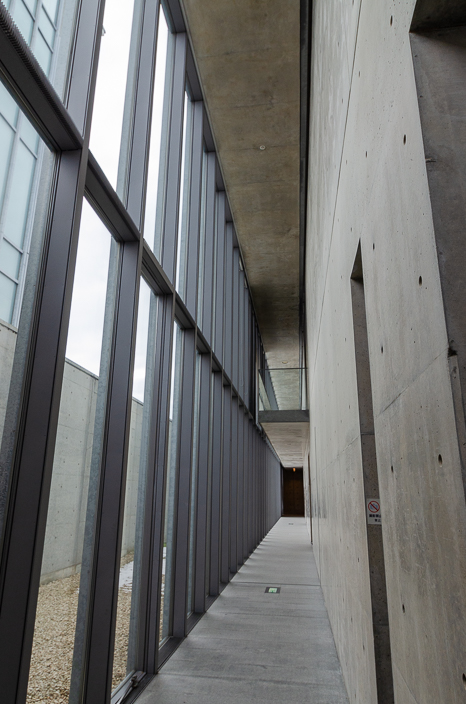 Gallery 1 "Invitation to Philosophy"
Philosophy is not something we often feel familiar with, but this exhibition room provides an opportunity to think about philosophy. For example, an exhibit using a well provides an opportunity for people to think about an action that they would normally just think of as "there is a well: am I looking at the well or is the well looking at me ?".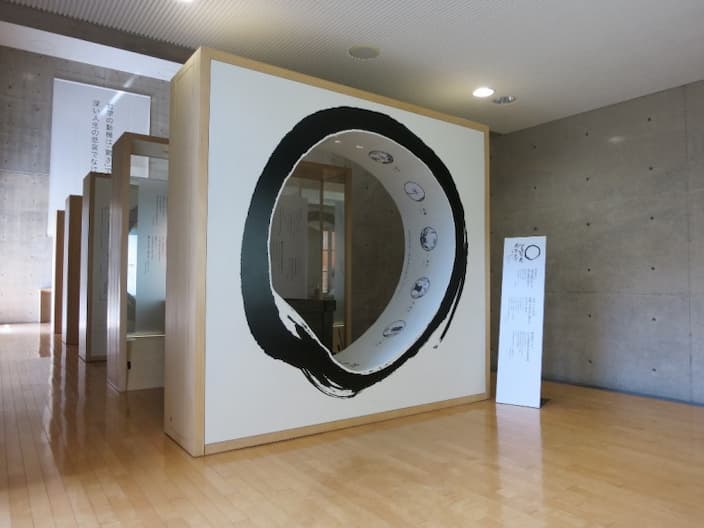 Gallery 2 "The World of Nishida Kitaro"
Here, visitors can learn about Kitaro Nishida's thought process and personality through approximately 200 items of his belongings, manuscripts, and letters, as well as additional explanations. The exhibition also shows the relationship between Kitaro and his family, friends, and other aspects of his life, which will deepen visitors' understanding of Kitaro Nishida.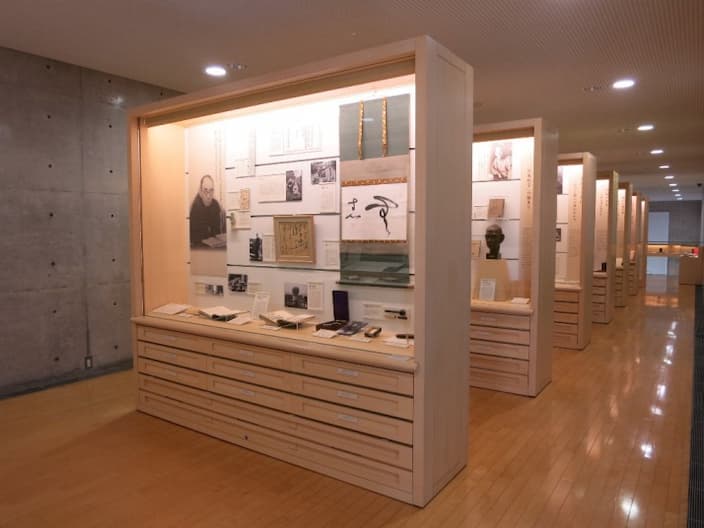 Gallery 3 "Calligraphic Works of Nishida Kitaro"
Kitaro Nishida not only philosophized, but also composed poetry and wrote calligraphy. This is the exhibition space for his calligraphy works.
Beyond this exhibition room is a space named "The Space of Emptiness". It is very similar to the work "Blue Planet Sky / James Turrell" at the 21st Century Museum of Contemporary Art of Kanazawa, a few kilometers away.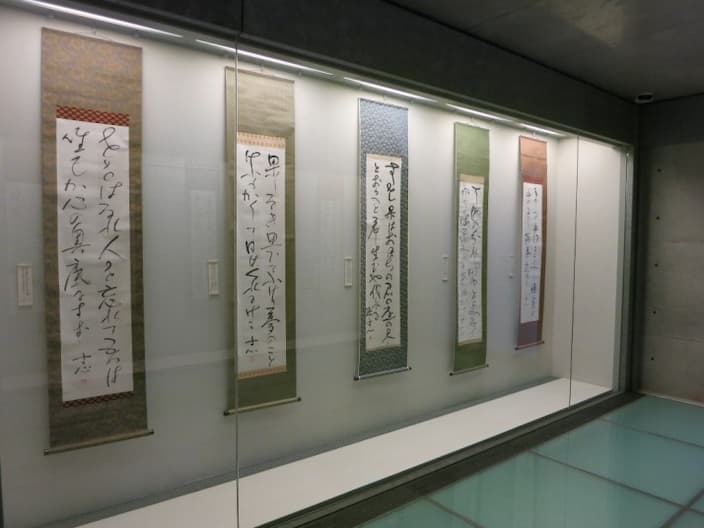 Special Edition "Word Cards"
Word cards with Kitaro Nishida's words are placed in various places in the Museum. You are free to take them home with you, so you can think about the meaning of the words at home.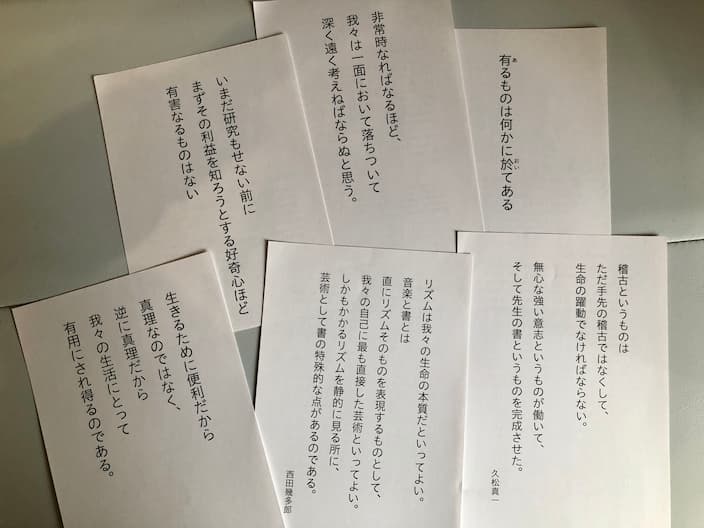 Seminar Area
In addition to books on Kitaro Nishida, there is the "Library" with a wide collection ranging from introductory philosophy books to specialized books, as well as the "coffee shop" where you can take a short break, and a training room.
Foyer
The most impressive space in this museum is this one. It is a mortar-shaped circular space made of concrete with a beautiful large circular skylight.
The exhibition rooms also used "circles" to create an opportunity for visitors to experience philosophy, and I feel that by showing circles in an impressive way here as well, visitors can think about things in a different way than usual.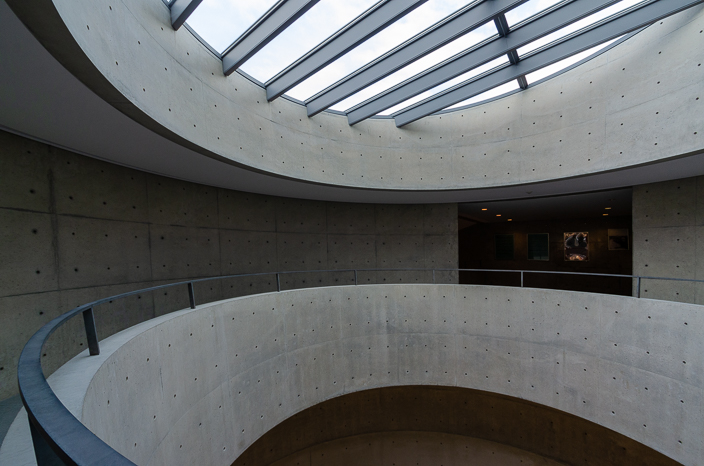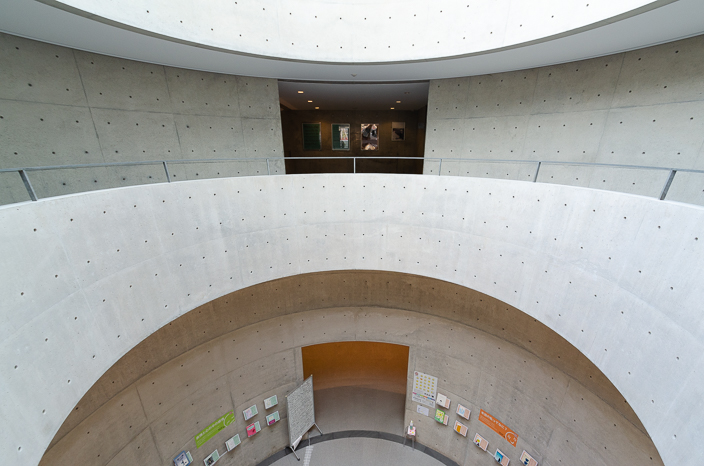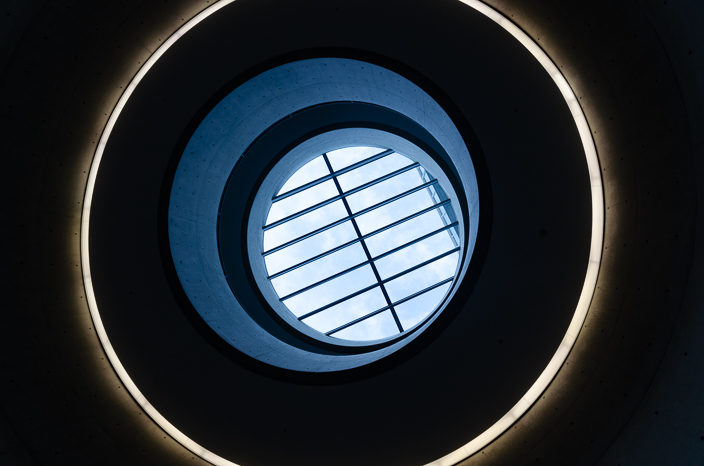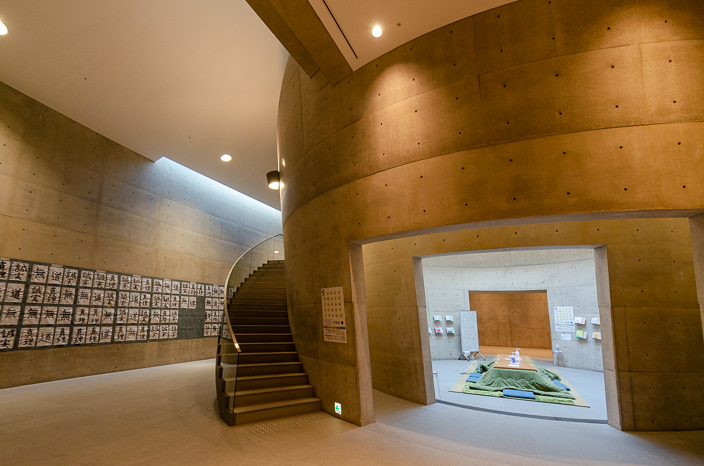 On the first basement floor, chairs are usually placed for people to sit and think freely. However, when i visited, it was winter and it turned into a kotatsu (a table with a heater underneath and covered with a blanket). Very comfortable and thoughtful!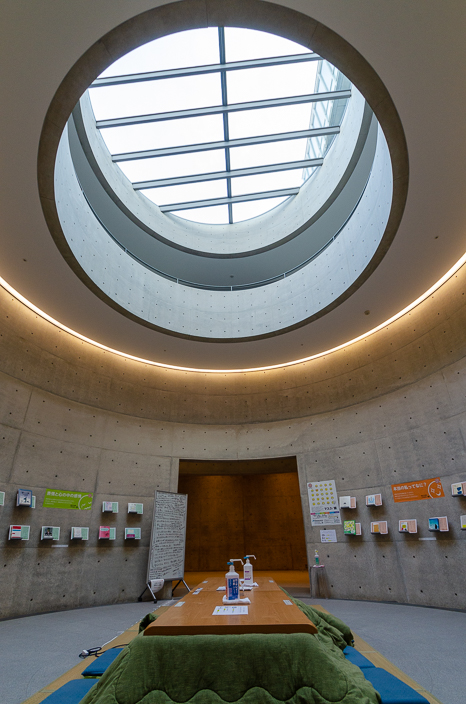 Observation Louge
Take the elevator to the 5th floor and you will find the observation lounge, where you can enjoy a panoramic view of the city of Kahoku, all the way to Kanazawa. During clear sky days, you can also see the mountain ranges of Hakusan and Tateyama.
The open space with full of natural light is recommended to dawdle.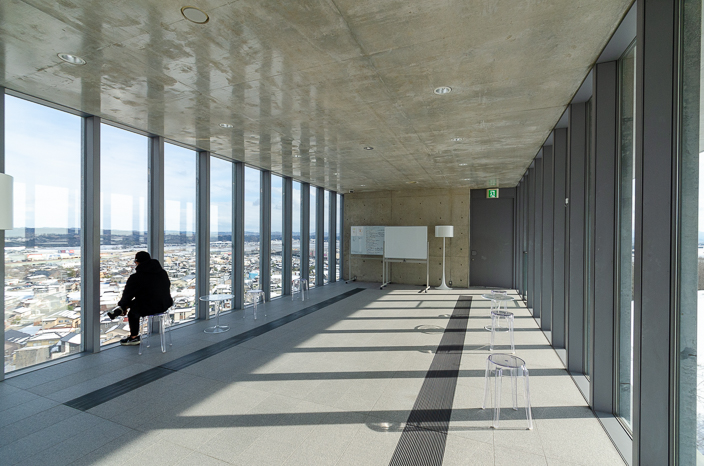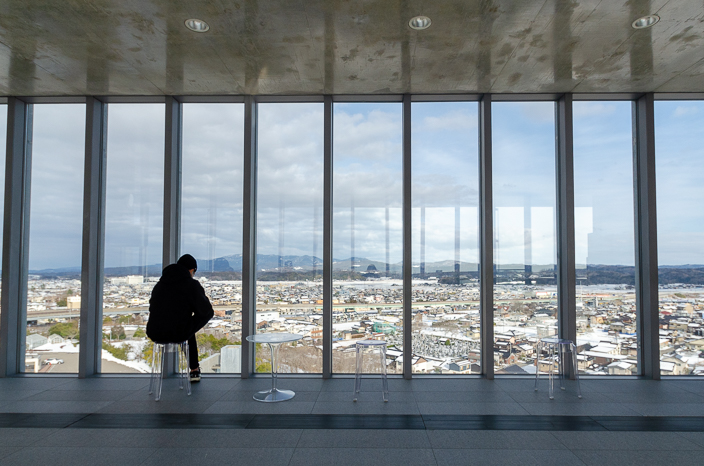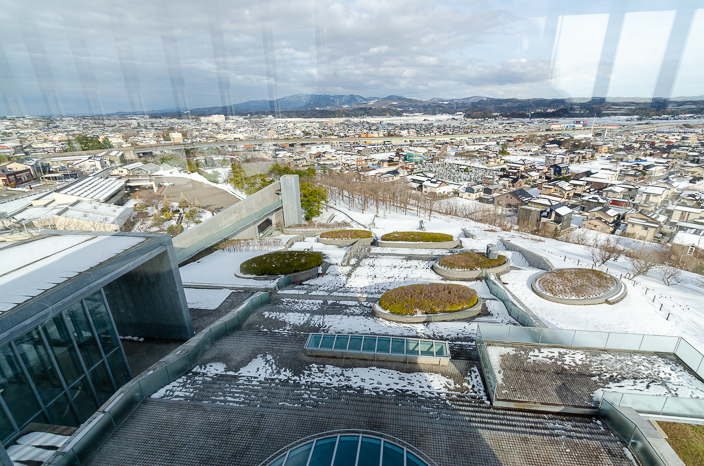 How was the Nishida Kitaro Museum of Philosophy, a 30-minute drive from Kanazawa City?
It is not a MUST spot because it is not easily accessible, but if you have time in your Kanazawa sightseeing schedule, are interested in philosophy, or love architecture, you should definitely visit.
In particular, we recommend that you visit in combination with "D.T. Suzuki Museum" in Kanazawa to learn more about their relationship and philosophy.
Nishida Kitaro Museum of Philosophy
Address
1 Uchihisumi I, Kahoku-shi, ISHIKAWA
TEL
076-283-6600
Open Hour
9:00 – 17:00 (Last entry at 16:30)
Close
Monday (if Monday is holiday, the following weekday)
New Year Holidays (December 29th – January 3rd) / Exhibition change period / Maintenance Period
Admission Fee
【Adults】300 yen
【65 years and older】200 yen
【Students (including high school)】Free
Website
http://www.nishidatetsugakukan.org/eigo1.2.pdf