【Myoko Kogen】Akakura Kanko Hotel – A classically modern hotel – Restaurants (2/2)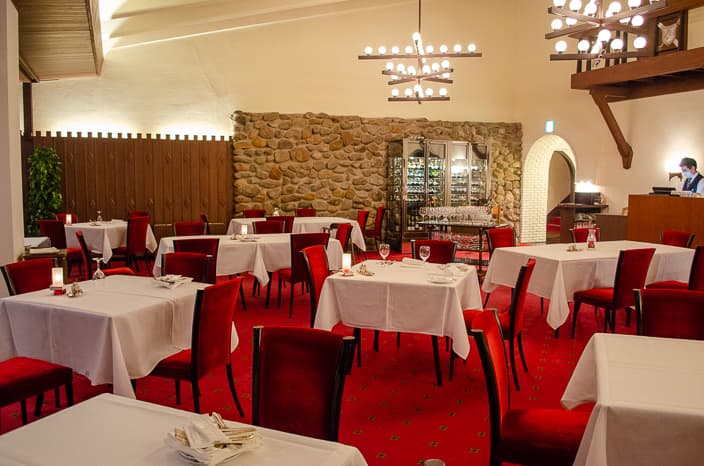 Previously, I introduced the facilities of Akakura Kanko Hotel and this time is the restaurants edition. If haven't read about Akakura Kanko Hotel, please read this article as well.
Dinner
Akakura Kanko Hotel has three restaurants and if you stay plan includes dinner, you will have to choose the meal from the below choices:
1. French cuisine at the main dining room "Les Sorbiers"
2. Grill at the "Aqua Grill"
3. Japanese (Traditional Japanese course dinner, shabu shabu or sukiyaki) at Shunsai dining "Shirakaba"
I chose 【1】, French cuisine at "Les Sorbiers", located on the 2nd floor of the main building.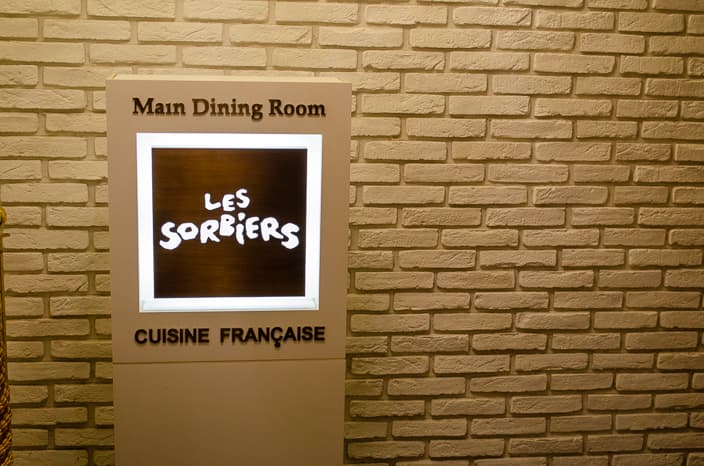 When I got to my seat, I was first explained the course menu. In this accommodation reservation, the main dish is a "dinner course", but if you pay an additional fee, you can also choose a "special dinner course" with two main dishes (both fish and meat) or the soup can be changed to a specialty. This time, I had the "dinner course" as it was. In the end, I was full with one main item, so the choice was correct.
To be honest, the food was delicious, but there was no WOW effect. Still, I was satisfied because I felt that the atmosphere and service of the restaurant were good.
Bite-size hors d'oeuvre
We started first with an appetizer. Turnip blancmange and chicken terrine. Actually, turnip blancmange is not included in the menu, but when I told that I was not good at cheese, they hurriedly prepared another menu. I'm glad they could respond flexibly to my dietary preference.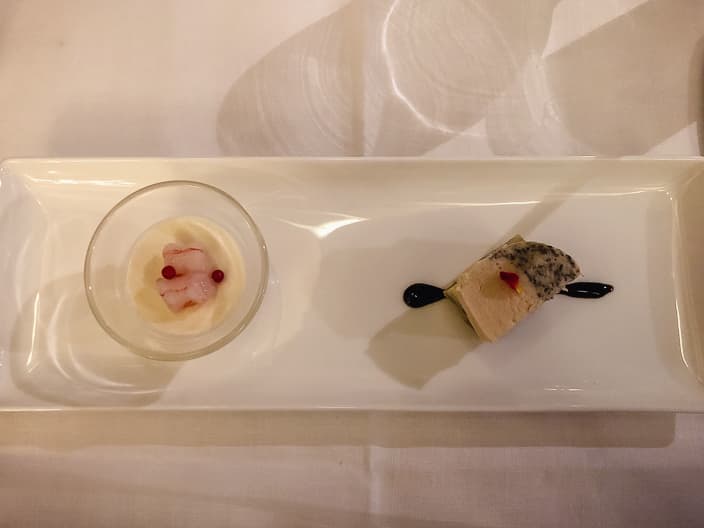 Chef's Recommended Appetizer of the day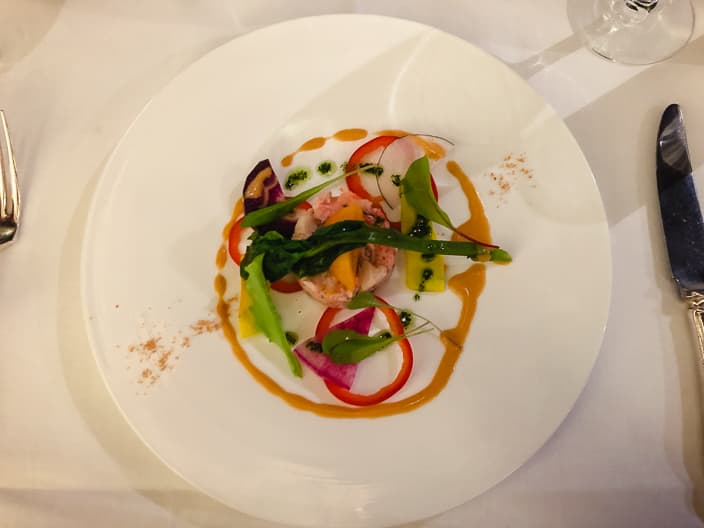 Potage or Soup of the day
It was a mushroom soup and delicious, but the scent of mushrooms was so strong that it was surprising at first. I was happy to feel that I was doing something good for my body, but (again), the mushroom smell was a bit too strong for me…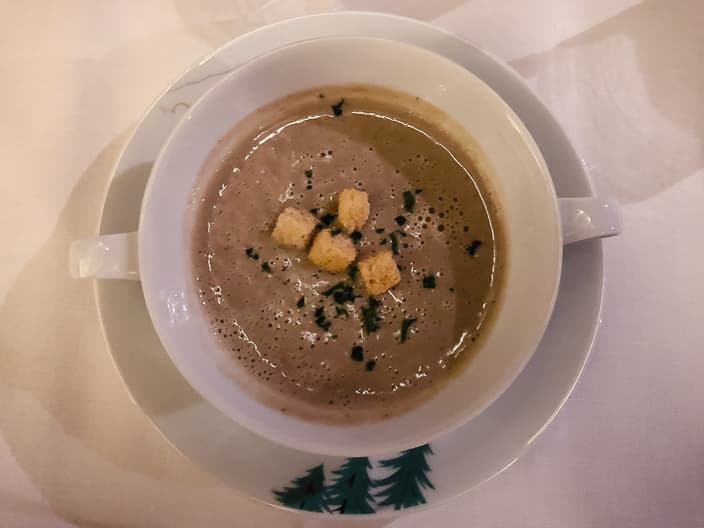 Main dish
There were four basic options. I wonder what happened to beef steak, pork, and seafood. You can also choose Wagyu beef for an additional fee. All of them were attractive and I was worried to make the right choice, but I selected seafood dishes. It included salmon, shrimp, flounder, scallops, and more – yes, I made a correct decision!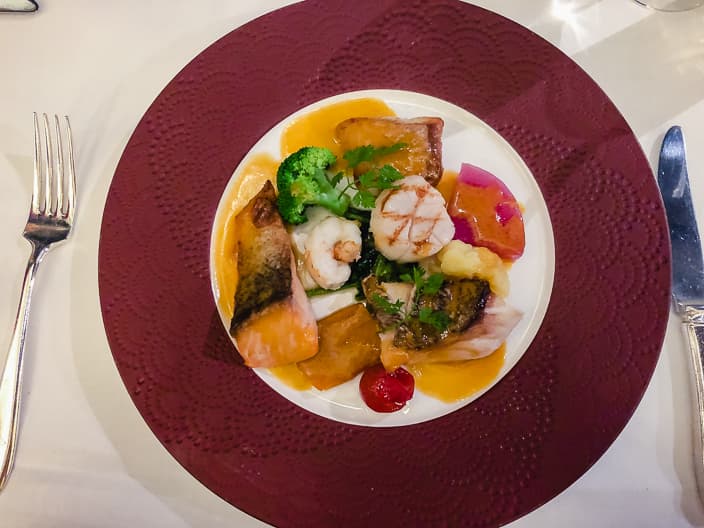 Hotel Patissier – Special Dessert of the day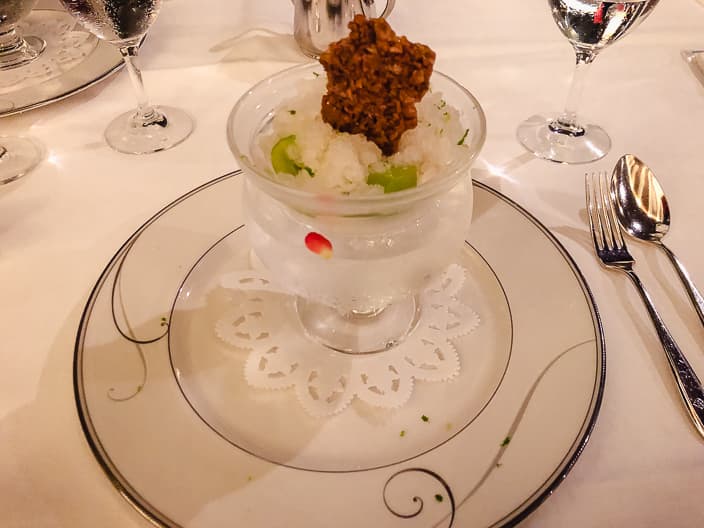 In addition, I got bread and coffee (or tea) after the meal and was really full. They have a lot of wine on offer, and some of them are from Niigata prefecture, so why not give it a try?
I don't say "the dinner at Akakura Kanko Hotel's main dining room "Les Sorbiers" is the best!" but the taste and service were good and it increased the satisfaction of staying at the hotel, so I was satisfied with it.
Beside French cuisine, there are choices such as grilled dishes and Japanese dishes. If I have a chance to visit next time, I would like to try a different cuisine.
Breakfast
I mentioned in the "Dinner Edition" that you can choose from three restaurants for dinner, but you can also choose for breakfast from two restaurants.
1. Western Breakfast at "Aqua" grill dining
2. Japanese Breakfast at Shunsai dining "Shirakaba"
I chose【1】, Western Breakfast at Aqua grill dining, located on the 1st floor of Premium building.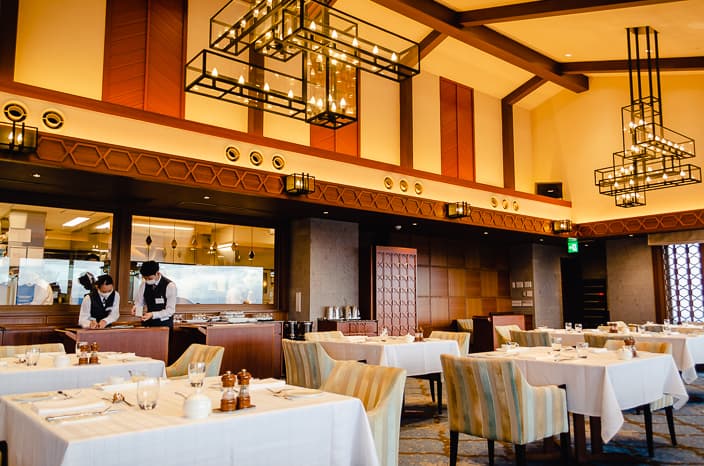 It was a bit cloudy and windy, so I was given to a seat inside, but when the weather is nice, you can eat on the terrace.
There is a reflection basin continuing to the end of the premium building, so this terrace seat also has water in front of you! It would be nice to have breakfast while looking at such a view.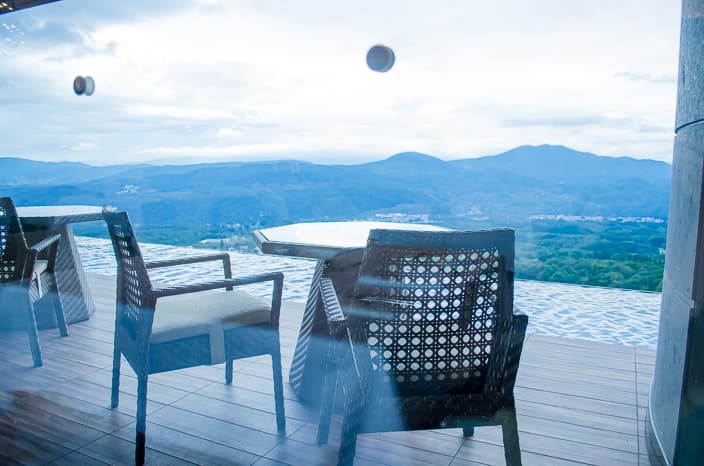 I had the opportunity to choose the menu again. I have a lot of likes and dislikes, so I'm glad that I can decide by myself after knowing the menu.
1. American Breakfast
2. Healthy Breakfast (mainly grilled vegetable)
I chose 【1】, American Breakfast.
Egg
For egg dishes, you can choose from omelet, scrambled eggs, and one more. I choose omelets. It seems that omelet may take some time, so if you want to eat soon, it is better to select another menu. (I wasn't in a hurry and didn't think it took so long, though.)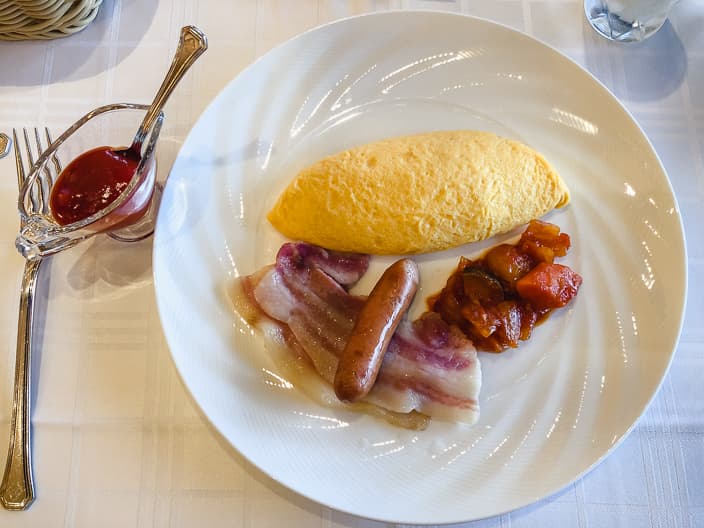 Salad
It was a salad with homemade French dressing, which was delicious.
The white juice in the glass was "Fruit Juice of the day", made with Le Lectier (a pear variety from France and Niigata prefecture is the main production area in Japan) and white peach yogurt vinegar.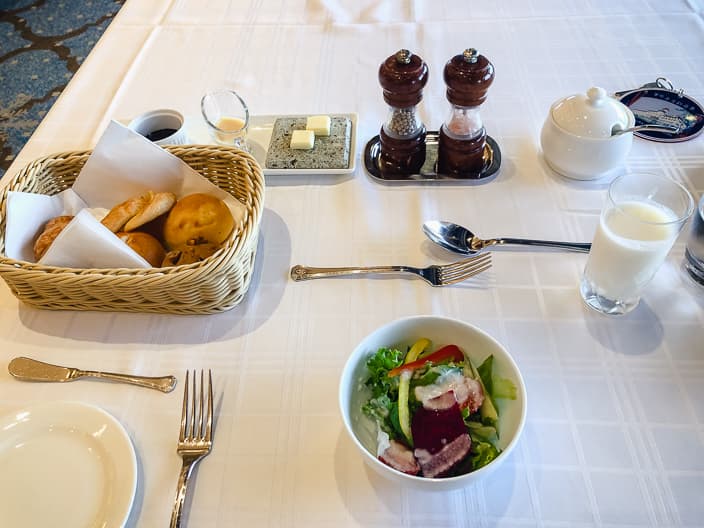 Bread
There are 5 types of croissants, orange peel danish pastry, milk bread, cheese bun, and walnut bread. It looked very delicious, but I couldn't eat much because I was still digesting the dinner from the night before.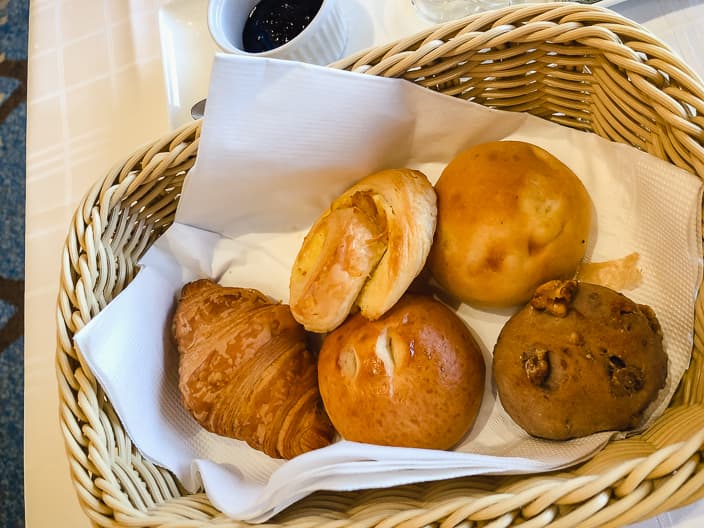 Fruit yogurt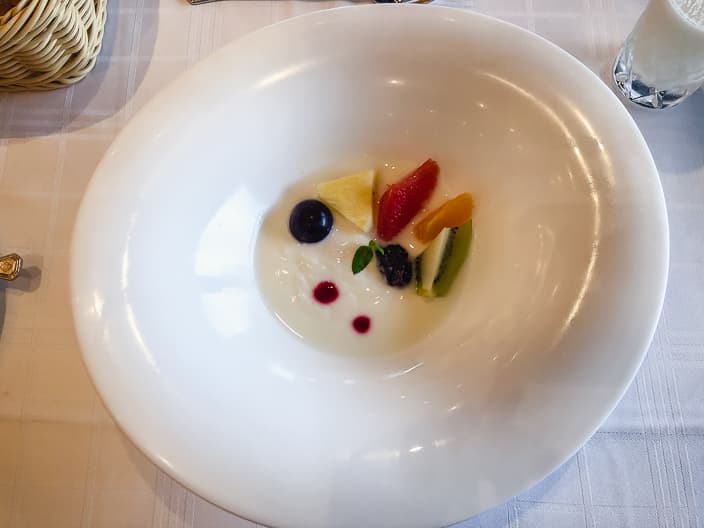 The American breakfast at Akakura Kanko Hotel's Aqua Grill Dining was delicious and enough to power you through the day.
Not only Japanese and Western choices, you can also select detailed menus, so it is attractive that you can change it according to your physical condition and mood. I felt it during dinner, but I think this is a place where you can spend more than two nights comfortably.
Previous Post

Next Post