【Kyoto】Solaria Nishitetsu Hotel Kyoto Premier – Hotel with Convenience & Comfort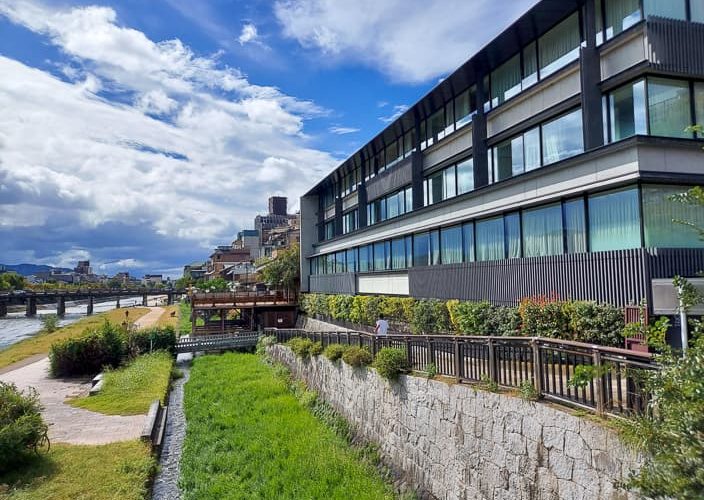 Kyoto – it's definitely one of the most well known cities, not only in Japan, but all over the world. It offers a huge variety of sightseeing spots, an authentic historical atmosphere, world class gourmet food, and much more…
So when staying in Kyoto, you want to maximize your limited time in order to fulfill your Wishlist!
In this case, the best location where to stay is very important, and here is what I recommend to you!
Location
Solaria Nishitetsu Hotel Kyoto Premier is located on the southeast corner of Oike – Kiyamachi streets.
It's a short walking distance from Shijo Kawaramachi, which is the downtown area of Kyoto City and you can easily access several bus lines and the subway. Yet, even if you are in the most central area, the hotel is on the riverside, so you can enjoy a peaceful atmosphere with great views– it's like a urban resort!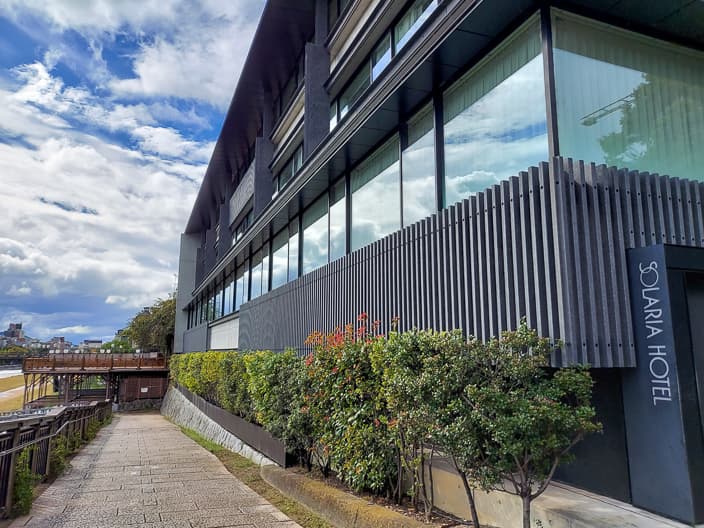 Entrance
The hotel approach and entrance are inspired in design, by Japanese traditional items like cobblestone and bamboo forest. Also, the entrance door color is vermilion – it's definitely a modern design but you can still see the Japanese touch and feel Kyoto!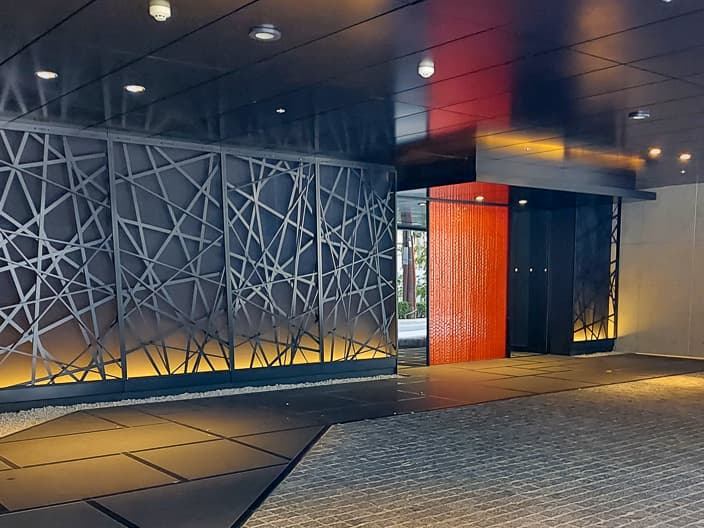 Once you enter the hotel, you will see an impressive Japanese garden behind a glass wall. It looks pretty authentic and with its big rocks and mix of mineral and vegetal, it also matches the modern interior lobby!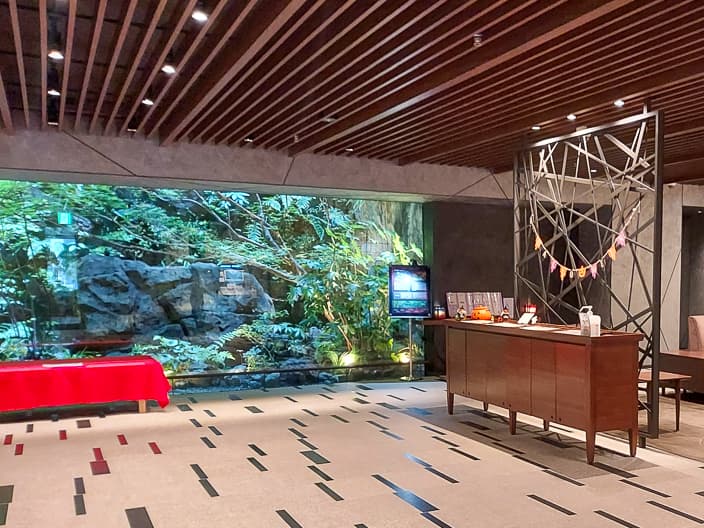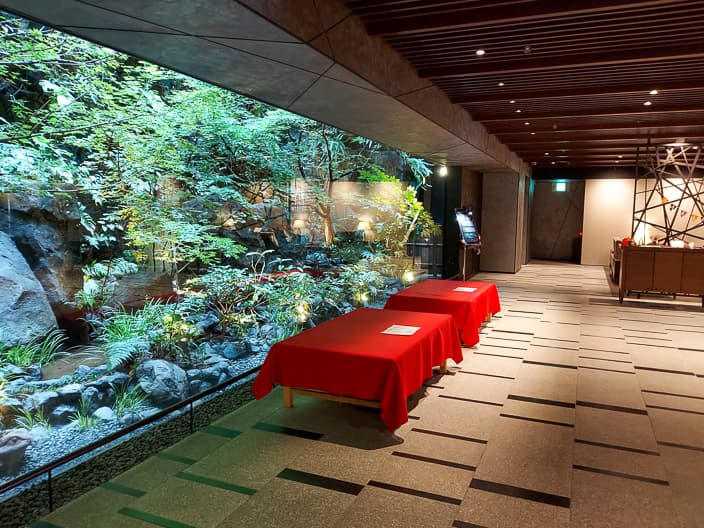 Guest Room
Solaria Nishitetsu Hotel Kyoto Premier has a total of 200 rooms under 3 classes: Standard / Superior / High Class.
And under each class, there are several different categories available (Single, Twin, King, etc).
Today, I stayed at Double Room / Standard Category!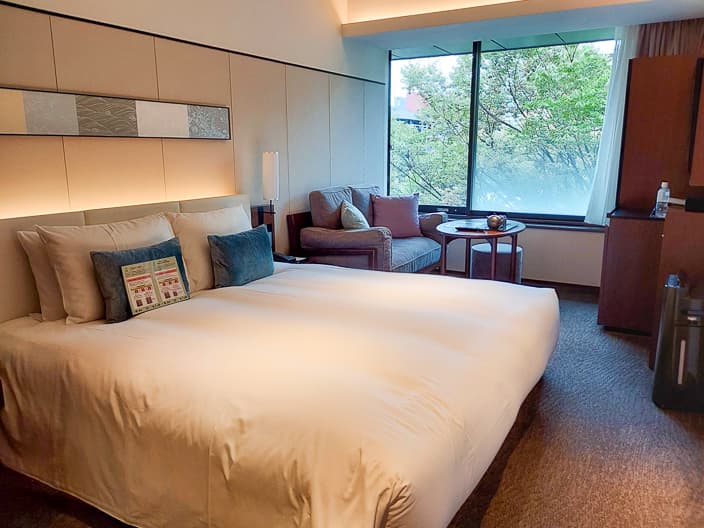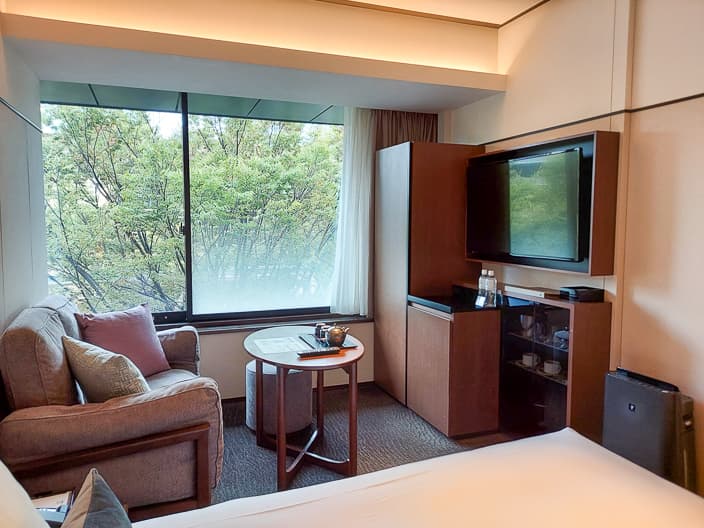 The Standard Class room has a simple modern stylish interior and even if it's the entry level, it has 25.5sqm which is big enough. There is small living space by the window – it's thoughtful space for different purpose from working to relaxing. It offers great comfort in your room!
And how about the bathroom ?
The wash basin area is pretty compact, but the bathroom has a dedicated washing space with a nice bathtub.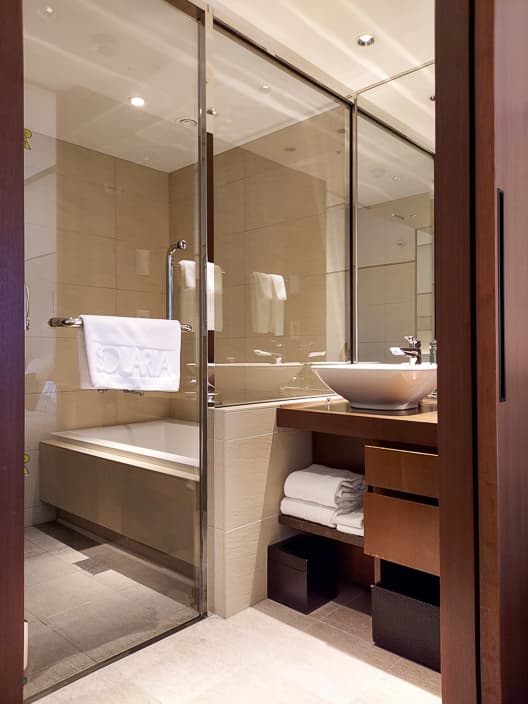 I have seen a lot of hotels of similar level and such a spacious bathroom in entry category is not common – in fact, it's a great value – especially it's supplied with full amenities, as well !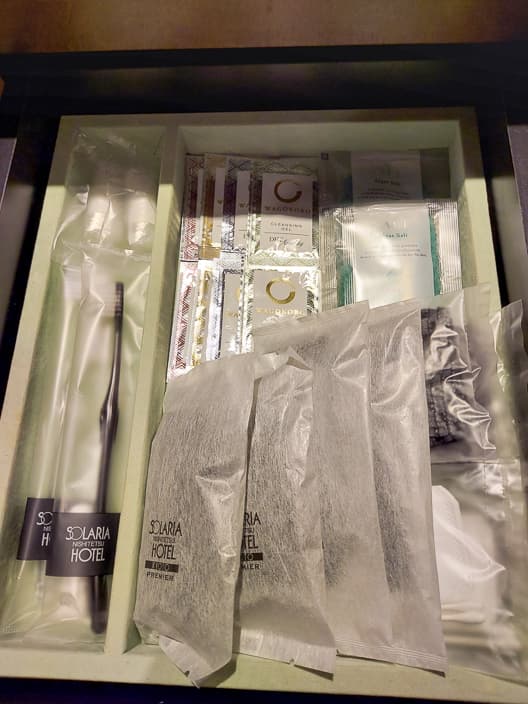 And… if you share the room with someone, having separate toilet is also a great bonus, which again isn't so common for this kind of hotel.
These thoughtful points make our stay really comfortable and it shows that the hotel is well anticipating their guests' needs. Impressive!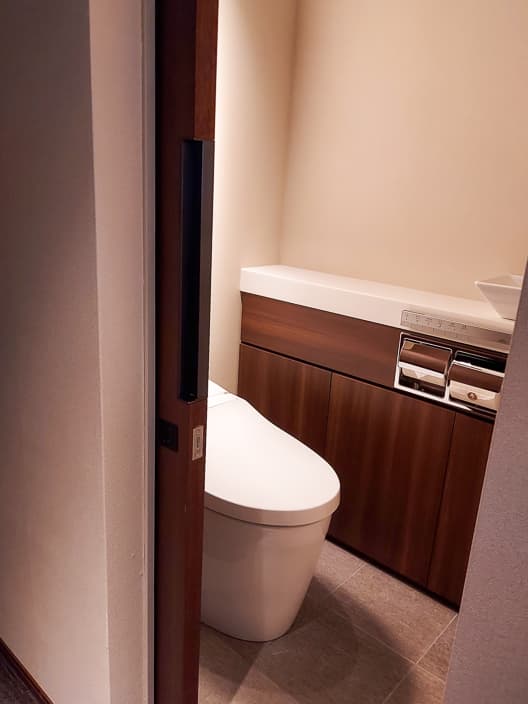 Facilities
Solaria Nishitetsu Hotel Kyoto Premier has a restaurant named Suikyo, where you can enjoy breakfast & lunch.
It is open for non-staying guests as well, so they have a dedicated entrance on Oike street.
Also within the hotel, there's a big public bath on the basement floor! It has both indoor and outdoor baths with garden view – even if it's not natural hot-spring water, it helps to release the stress of the day and recharge your energy levels for tomorrow!
The priority when you select the hotel is really depending on the purpose of stay. If your purpose is business, you still want to enjoy the city in your spare time, right? . And as a tourist, if you spend the whole day sightseeing and shopping, you still enjoy a nice downtime at your hotel.
Solaria Nishitetsu Hotel Kyoto Premier caters to different kind of needs in perfect manner, so when you visit Kyoto next time, please consider this, the best place to be based!
Oh, and last but not least… their hospitality is absolutely remarkable!
Whenever I passed by the lobby, the staff always greeted me with smile – again, it's such a small touch but I realized how grateful I was, to have someone paying attention and in the end, it truly makes a difference.
Thank you for your hospitality!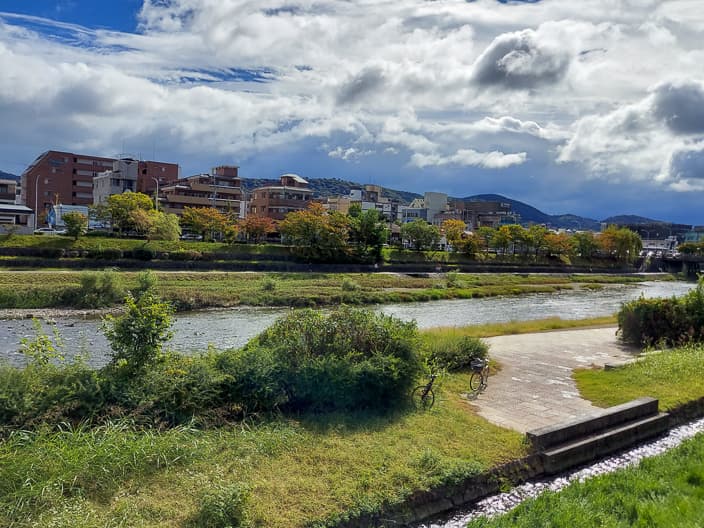 Solaria Nishitetsu Hotel Kyoto Premier
Previous Post