【Nagoya】Nikko Style Nagoya – A lifestyle hotel that blends traditional craftsmanship with modernity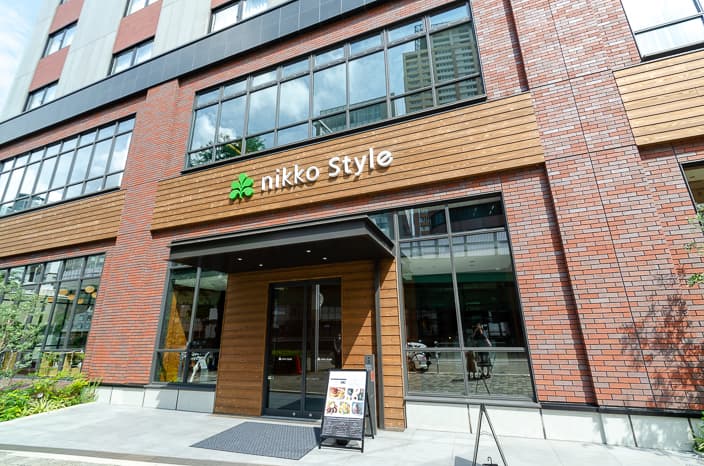 Nikko Style Nagoya opened in August 2020 as the first full-fledged Lifestyle Hotel in Nagoya.
My impression in brief, was that it's a very nice hotel with a lot of love for the local area, creating a space that conforms to modern values and expectations, while preserving local traditions.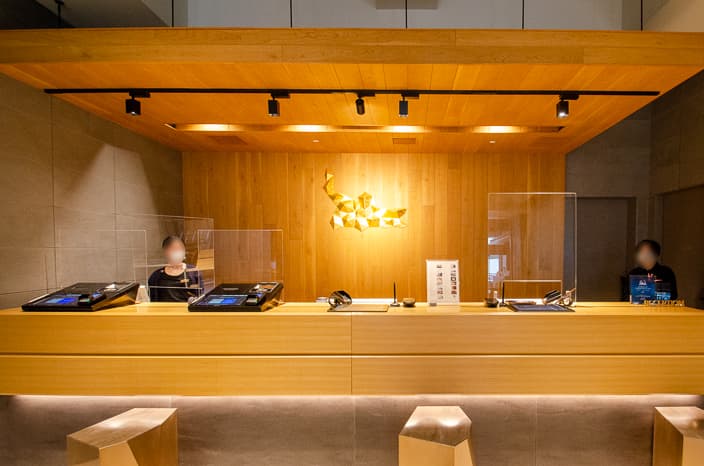 The Guest Room
This time, I stayed in a 30 square meter Deluxe Room. I chose Hollywood Twin (Super King) bed type so that my child would not fall out of the bed while sleeping.
As soon as you open the door, you'll find a mirror and a checkroom on your right. On your left, are the toilet and washbasin. Because the room actually has no hallways, it feels more spacious than the actual square footage.
So, even if you put your golf bag in the room, it won't feel oppressive.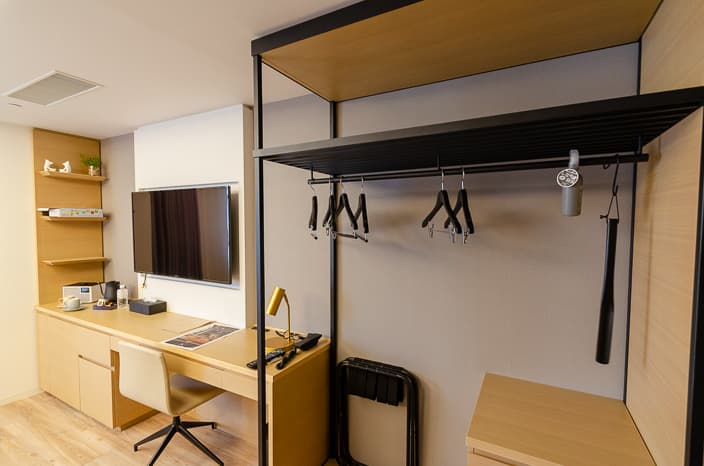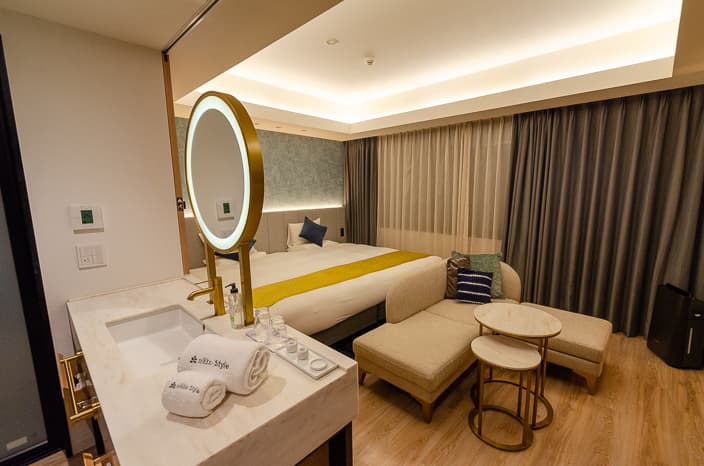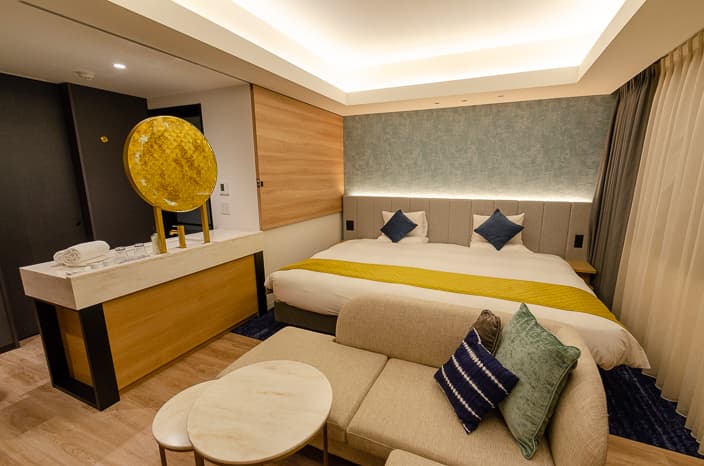 The Guest Rooms are modern and stylish, but they also have a sense of tradition.
The cushions on the sofa are made of "Arimatsu shibori," a traditional craft from Aichi Prefecture that was the most famous product on the streets during the Edo period. The symbol of Nagoya Castle, Nagoya's pride and joy, is the golden Shachihoko.
The basin mirror, which looks like a full moon, is made in the motif of the orca whale. If you look closely, you can see that they are scales.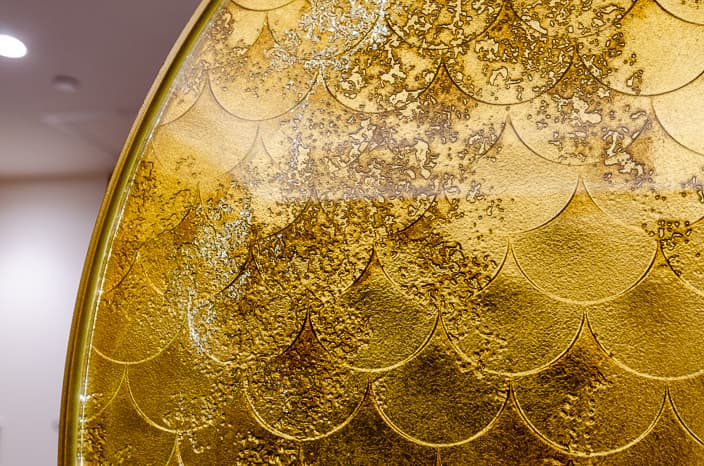 I found shachihoko in this place too! With so many sharihoko, you can really feel that you are in Nagoya no matter where you look.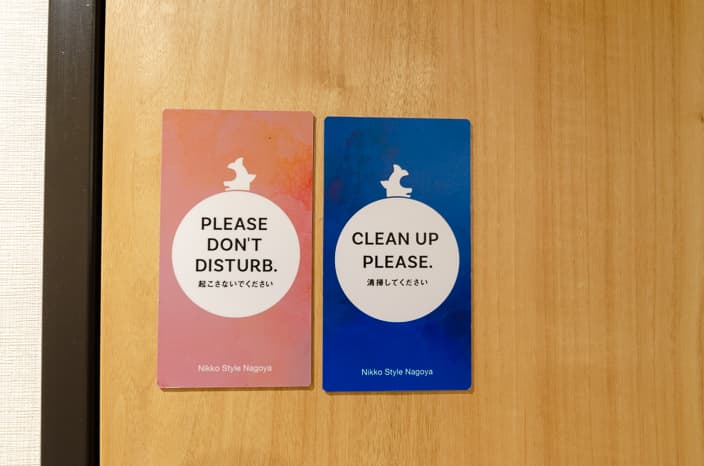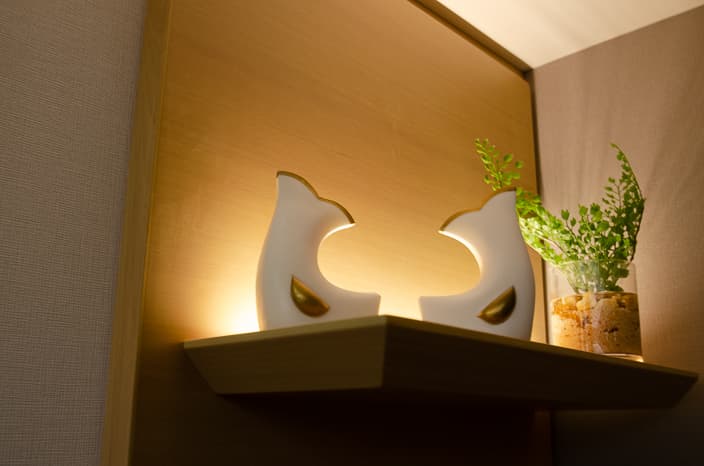 This is an open washbasin, but the walls can be pulled out. Even if someone else is sleeping, you can get ready without worrying of disturbing.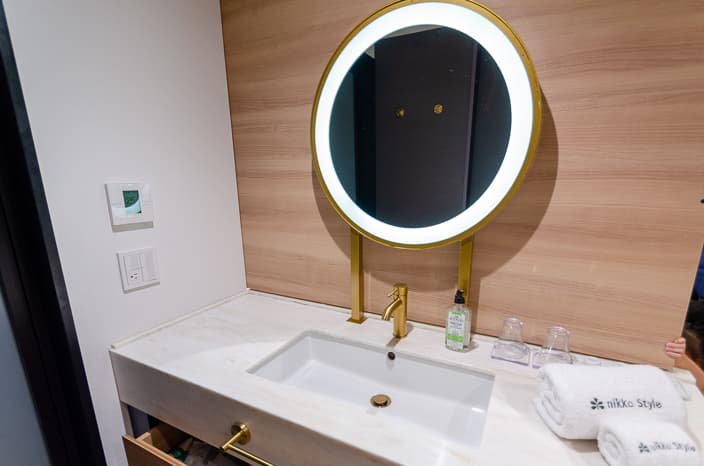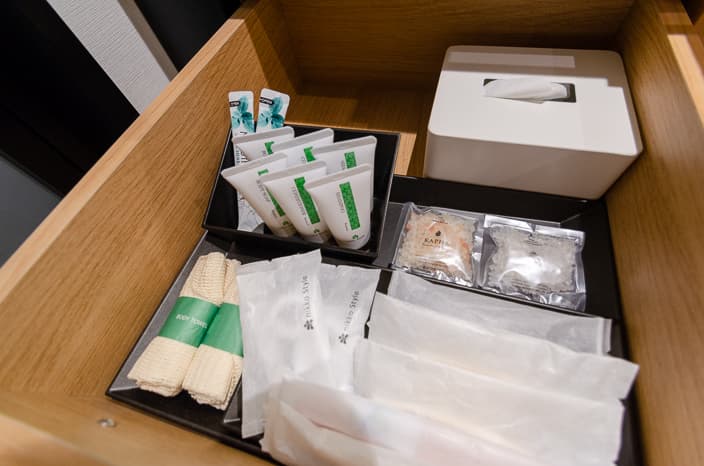 Nikko Style Nagoya is very particular about music and coffee, and they show this in their public areas as well as in their rooms.
The speakers in the room are made by Geneva, a Swiss audio manufacturer established in 2006 that pursues a balance between sound quality and interior design with high quality sound, complete functionality and sophisticated design.
TRUNK COFFEE, originating in Nagoya, is used for coffee, and TRUNK COFFEE uses the highest quality green coffee, "specialty coffee," which is said to account for only 5% of the world's coffee beans. TRUNK COFFEE is known for not blending its coffee (apparently), but here you can taste an original blend roasted just for Nikko Style Nagoya.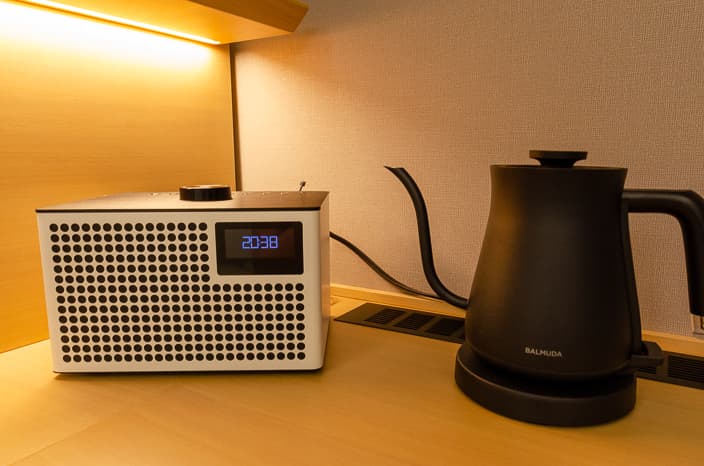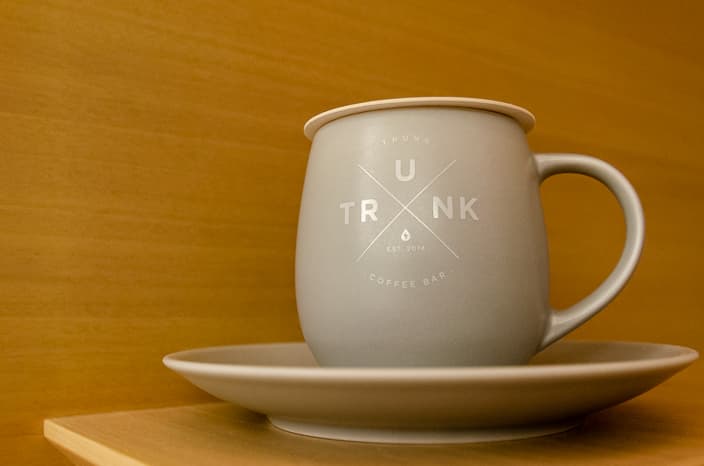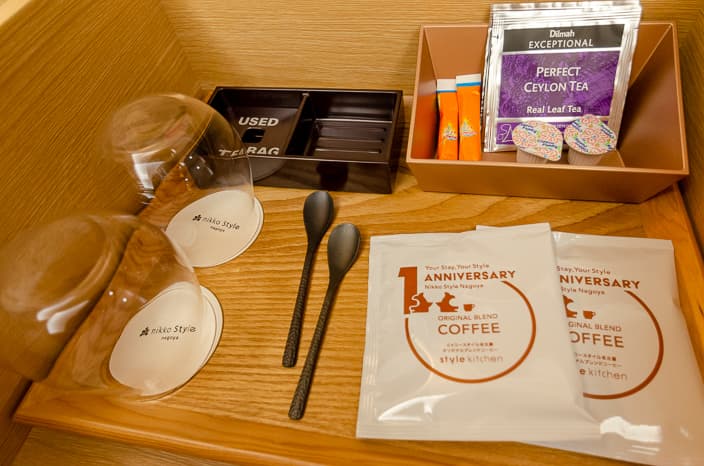 Public Area
Entering the building from the main entrance, there is a large atrium with a lounge and restaurant area on either side.
The suspended orca hoop at the top is somewhat stylish, with its modern design.
The background music is pleasant to the ears, and is never the same 24 hours a day.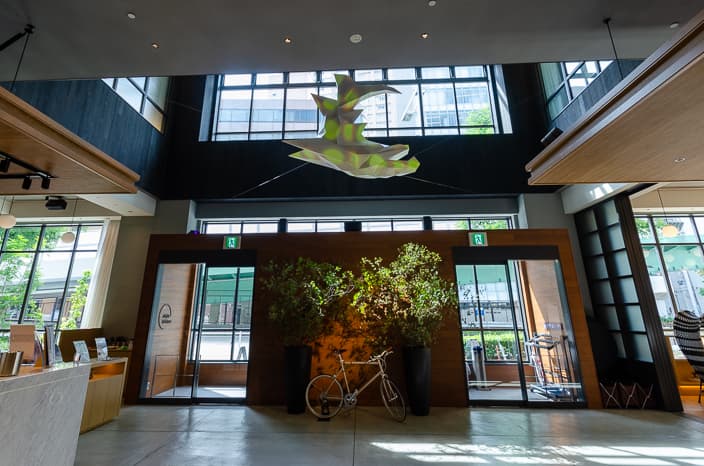 On weekends, the lounge space is filled with DJs selected from all over Japan, who act as a concierge for the music.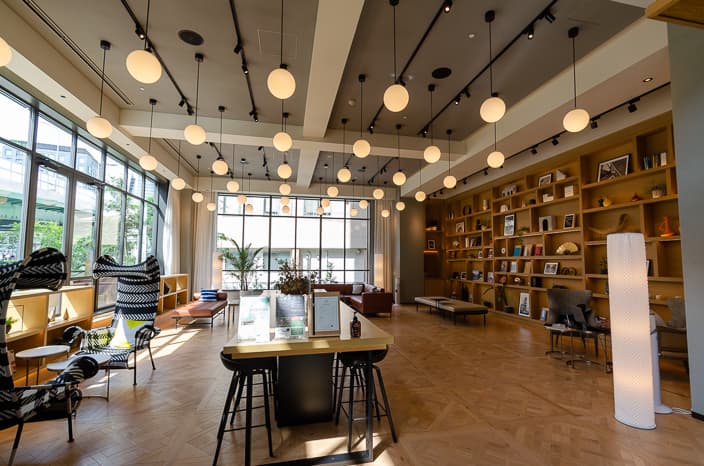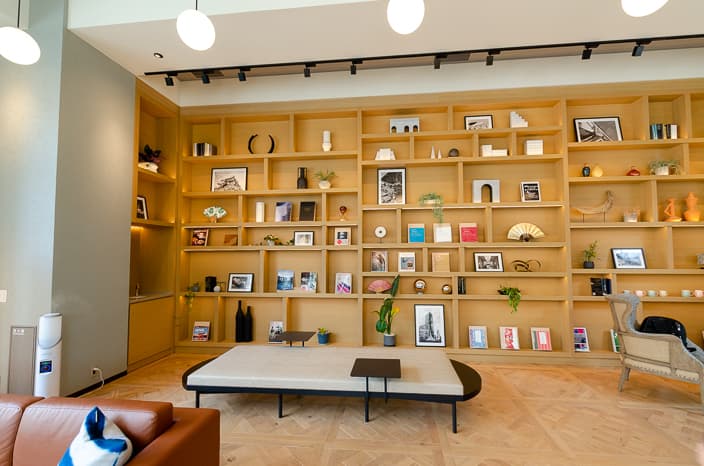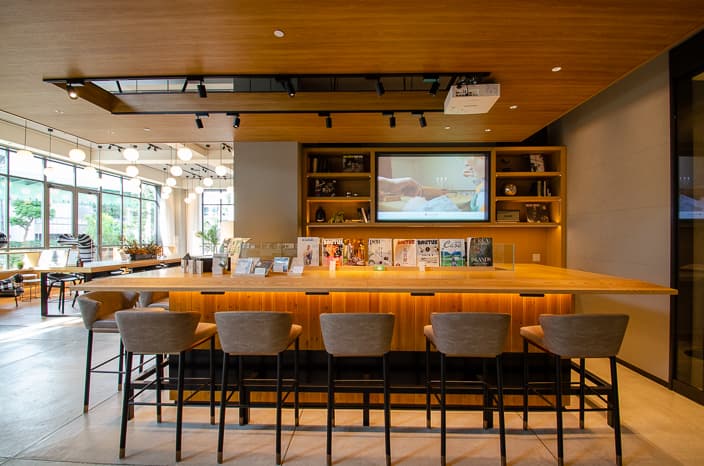 At the all-day dining "Style Kitchen", you can enjoy breakfast made with the chef's specialties and local ingredients, and at the café, you can enjoy TRUNK COFFEE's original blend, which is only available at the hotel. In the café, TRUNK COFFEE's original blend is served with the fully automatic Poursteady coffee drip machine, just like a barista.
This time, I chose a plan that did not include breakfast because I wanted to experience Nagoya's cultural "morning," but if I had stayed another night, I would have liked to have had a leisurely breakfast at the hotel.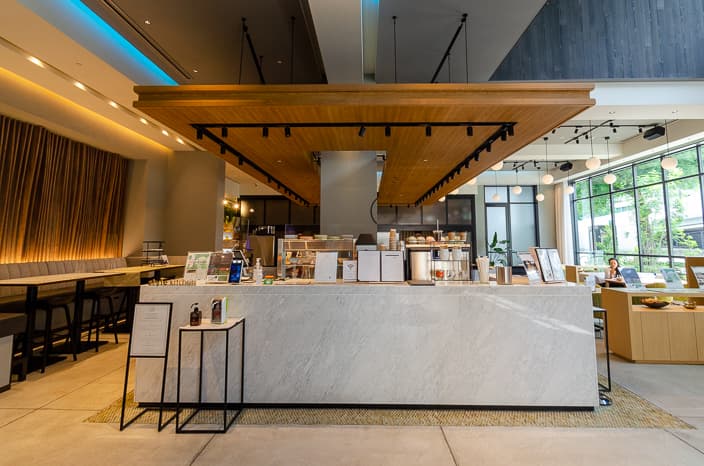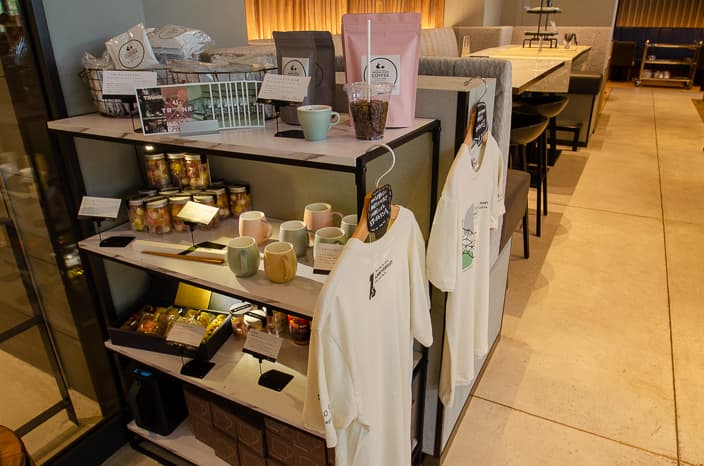 The fitness center is available 24 hours a day free of charge for guests (18 years and older).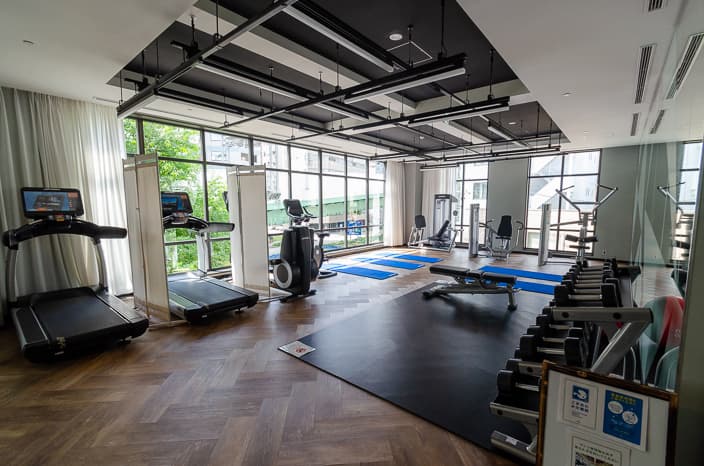 While you stay here, it seems people don't take care of you, but they have more than enough of what you need, so it's really comfortable. I would be happy if I could spend a relaxing moment working in the lounge while listening to the carefully selected background music and drinking the carefully selected coffee. I can't drink black coffee (laughs), but I can't help but imagine what it would be like to live here.
Access
10 minutes walk from Nagoya Station (JR / Nagoya Municipal Subway)
4 minutes walk from Kokusai Center Station (Nagoya Municipal Subway)
It takes more than 10 minutes to walk from Nagoya Station and Fushimi Station, the main stations in Nagoya, so I can't say that the hotel has excellent access, but if you don't mind that, I think you will have a very pleasant stay.
Previous Post