【Nezu Yanaka】Kamachiku – Delicious Udon Noodle Restaurant in an Old town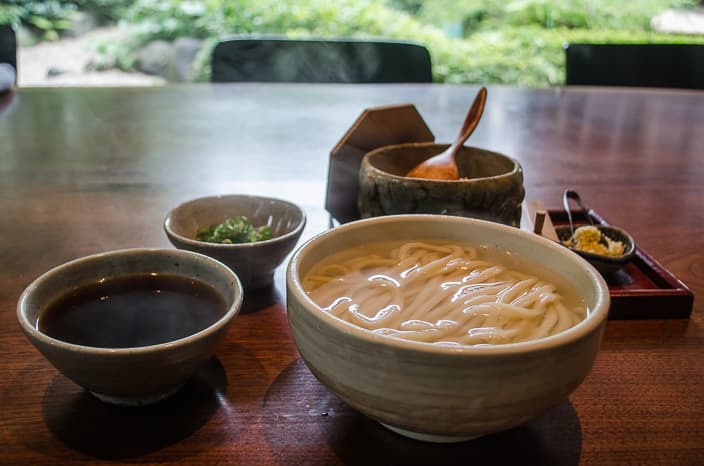 Kamachiku, famous for its Kamaage Udon in Nezu, is a Michelin Bib Gourmand regular. The restaurant was designed by Kengo Kuma an old stone warehouse built in 1910 that was relocated and renovated in its present location. The restaurant has a quaint appearance that blends in with the streets of Nezu.
I went there after visiting "SCAI THE BATHHOUSE" in Nezu Yanaka area.
Please read this about SCAI THE BATHHOUSE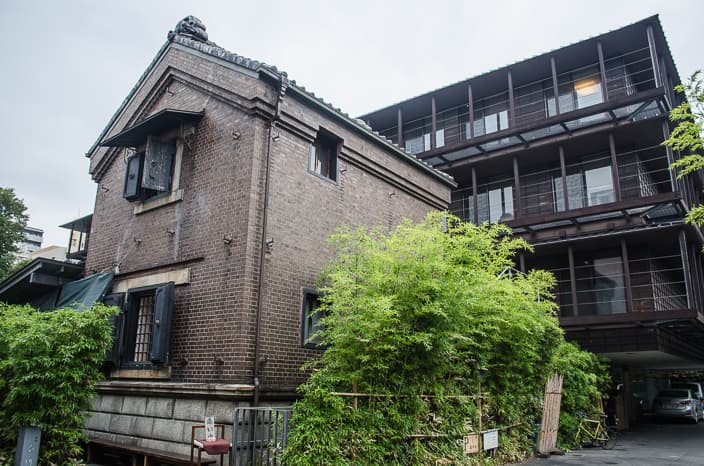 Kamachiku is a popular restaurant, and sometimes people queue up, so wooden chairs are lined up next to the stone storehouse as a waiting area. Since I went early on a weekday, I was alone and was shown to my seat straight-away, but there were several other customers waiting after me. The place gets crowded especially on holidays, so if you are planning to have lunch, I recommend coming early.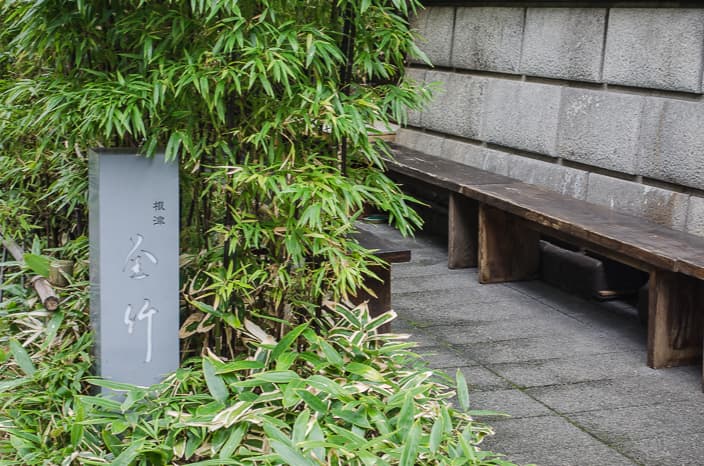 The exterior of the building has a wonderful sense of history and the interior is also beautiful. The garden that can be seen from the large single-panel table is lush and beautiful, and it seemed to wash away my heart. The building on the right is also a fee-based care facility designed by Kengo Kuma – it matches the garden perfectly!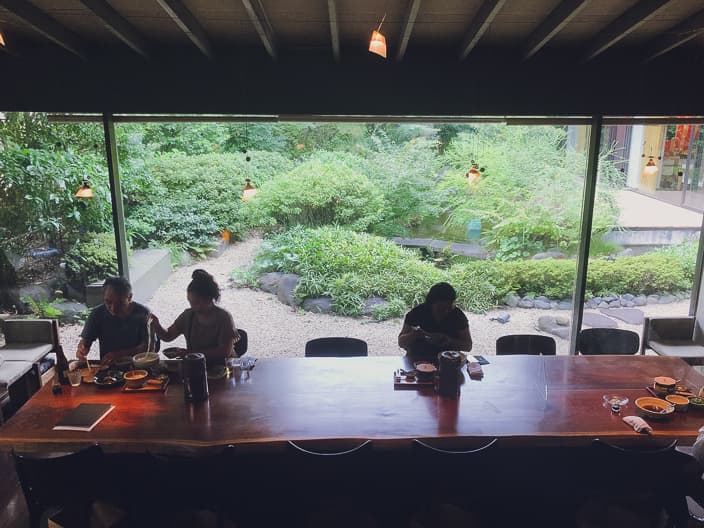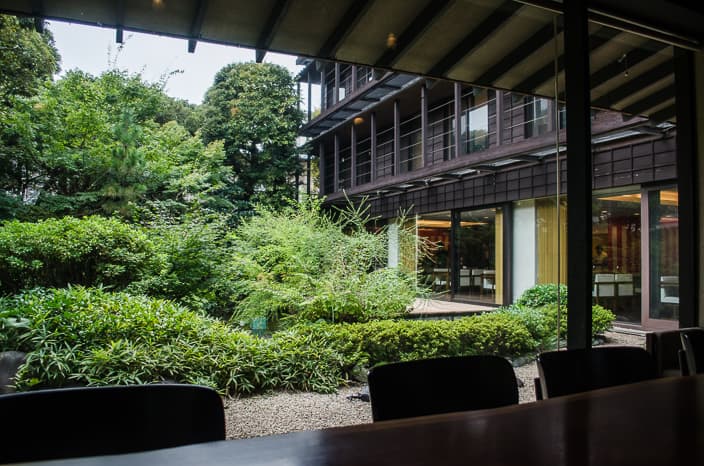 You can also eat in the stone storehouse: there is a tatami room, where were several groups of customers with babies were visiting. The ceiling, with its exposed beams, is high and open in design.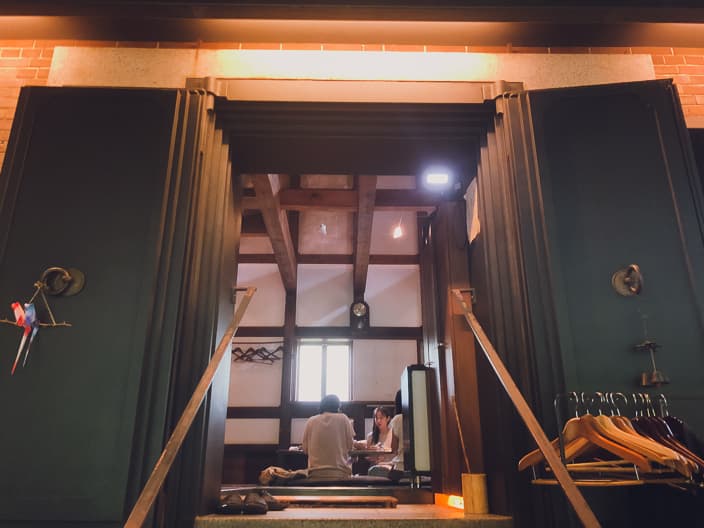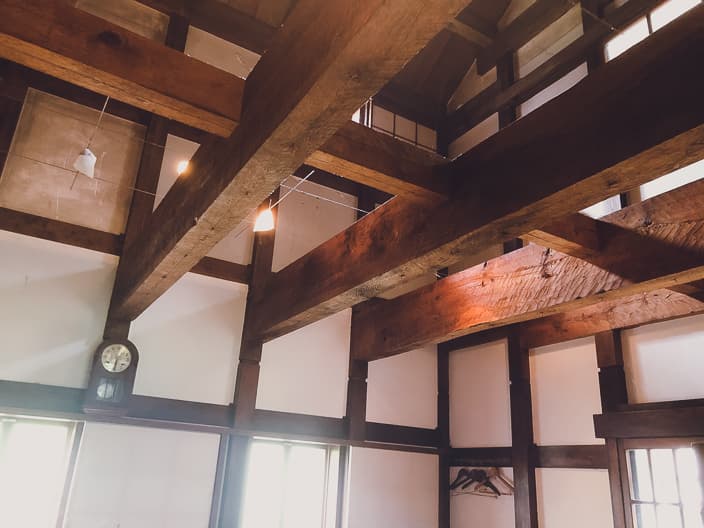 Kamachiku's menu is very simple: only kama-age udon and zaru udon (thin or thick) are available. The reason they can do this is because they are quite confident in the taste.
It was a hot day and I thought of having Zaru udon as it's cold but decided to order Kamaage udon because I wanted to have the house' speciality.
Condiments were brought in before the udon. Negi (green onion), tenkasu (deep fried flour from the left overs of cooked tempura), shichimi (seven spices) and ginger. It seems that the restaurant recommends eating the plain udon first and then add the condiments in order. When I saw the actual kama-age udon, it was very large, so I thought it would be worth adding condiments. The udon was chewy and tasty – I was convinced!
Each time you add condiments, the taste changes, so even if you eat a lot, you won't get bored.
The main course is just udon, but there are also izakaya menus and tempura as sides, so if you still have room in your stomach, by all means, please feel free to order more! They also had a wide selection of sake.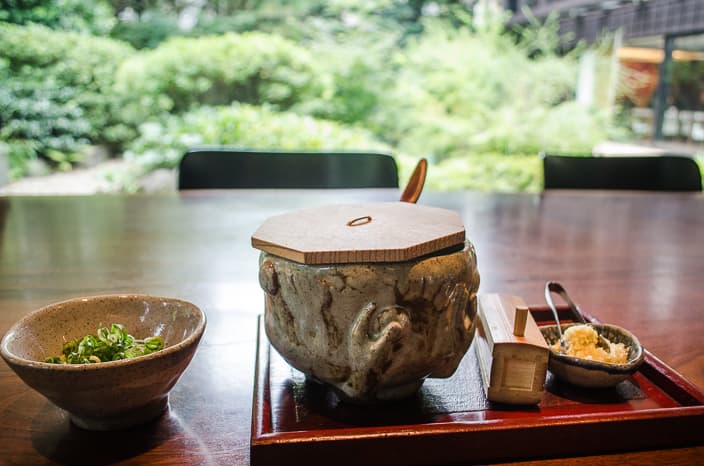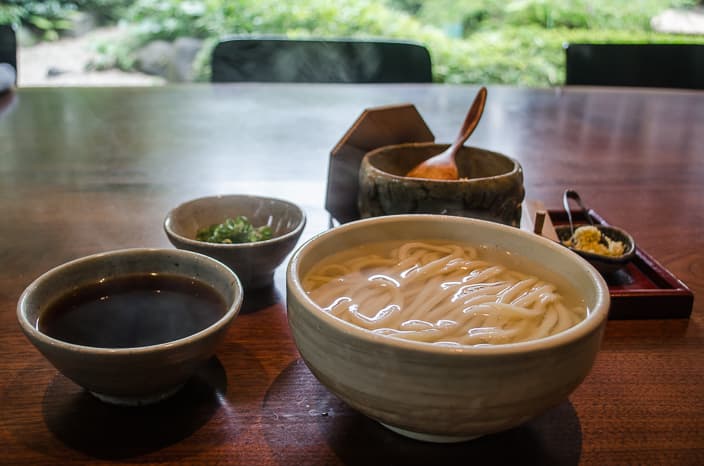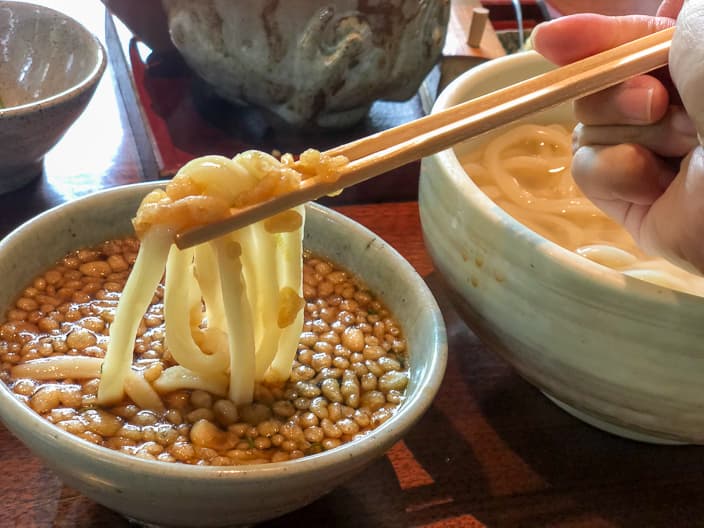 If you're in Nezu during lunch, be sure to enjoy the wonderful space and delicious udon.
Kamachiku
Address
2-14-18 Nezu, Bunkyo-ku, TOKYO
TEL
03-5815-4675
Open Hour
【Tue~Sat】11:30 – 14:30 (Last Order 14:00) / 17:30-21:00 (Last Order 20:30)
【Sun】11:30 – 14:30 (Last Order 14:00)
【Public Holiday】11:30 – 14:30 (Last Order 14:00) / 17:30 – 21:00 (Last Order 20:30)
* Once Udon is sold out, will be closed
Close
Sunday night, Monday
Website
http://kamachiku.com/top_en/
Previous Post