【Lake Kawaguchi】Houtou Fudou – Yamanashi local cuisine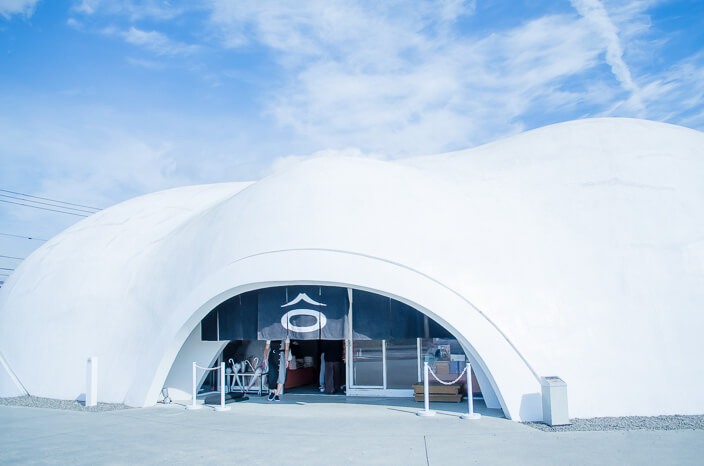 Speaking of local gourmet in Yamanashi prefecture, today I would like to introduce "houtou". There are many houtou restaurants in the Kawaguchiko area, which is a famous place on Mt. Fuji and I went to "Houtou Fudou Higashi Koiji store", a restaurant with an eye-catching appearance among the many of them.
When you get off the Kawaguchiko interchange on the Chuo Expressway and drive toward Lake Kawaguchi, you will soon find a unique building on your left.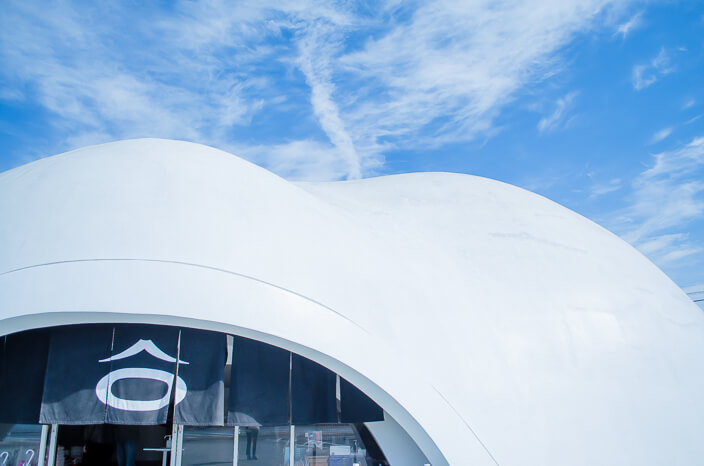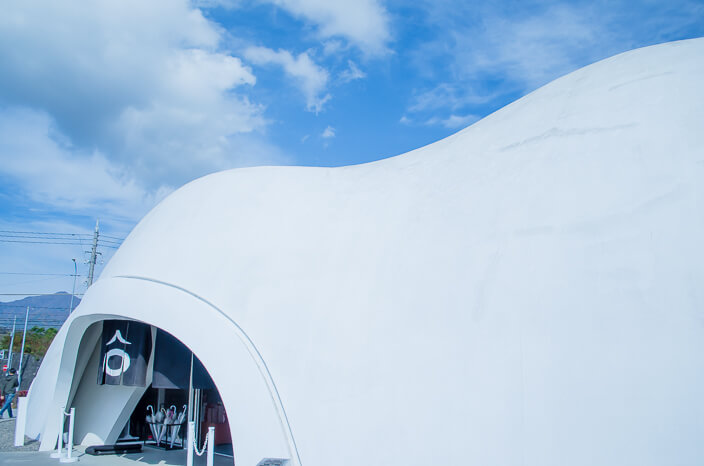 This is a work that imagines the clouds over Mt. Fuji. Certainly it looks like fluffy clouds are floating.
This building was designed by architect Takeshi Hosaka. It is an award-winning architecture, including the "Construct World Award New Generation" in Germany.
When you pass through the curtain and enter the building, you will find a space with a large cavity like a cave.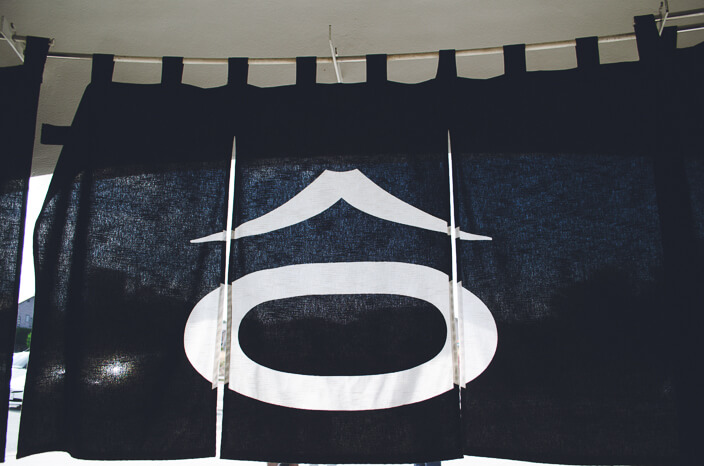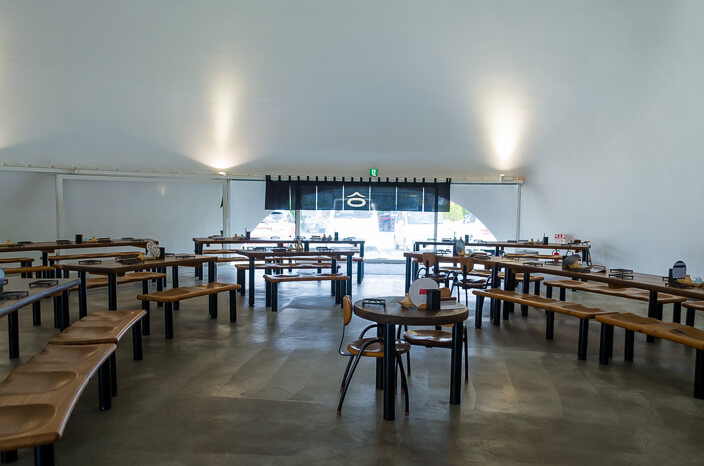 With 300 seats, there are counters, tables, round tables and various types of seats, ready to accommodate individuals and groups.
I visited around 11:30 (it opens at 11:00) and it was crowded with many people, athough it was a weekday. Looking at the license plate of the car, I felt that there were many tourists, but there were also locals.
This building is really strange, and the sound echoes through the walls, so the voice talking in the distance sounds like the voice of a customer next door. It felt like I was talking to a distant person on a tin can phone.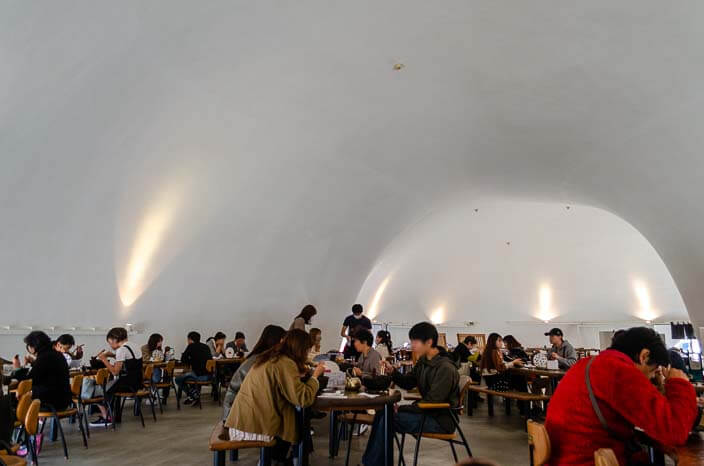 Let's have the main dish: Houtou. This is a local cuisine of Yamanashi prefecture, made by boiling thick noodles kneaded with flour and vegetables such as pumpkin in a miso-based soup. In Yamanashi prefecture, it seemed there was a saying that "you can't get married unless you can make the houtou".
The building is unique, modern and catchy, we may think this brings many customers but that's not true. The reason why so many customers gather is because the essential taste is delicious. As you can see from that confidence, there is only one houtou on the main menu! (There are several side menus though.)
Hot houtou was put in an iron pot and brought to me! This is my first time to have houtou. The ingredients are Chinese cabbage, carrots, pumpkin, onions, nameko, fried tofu – plenty of nutrition! The noodles are chewy, which is a consistance that many Japanese people like.
Before eating, the taste of miso seemed to be quite strong, and I wondered if I could eat it all, but the taste was actually very gentle taste and I had a good appetite.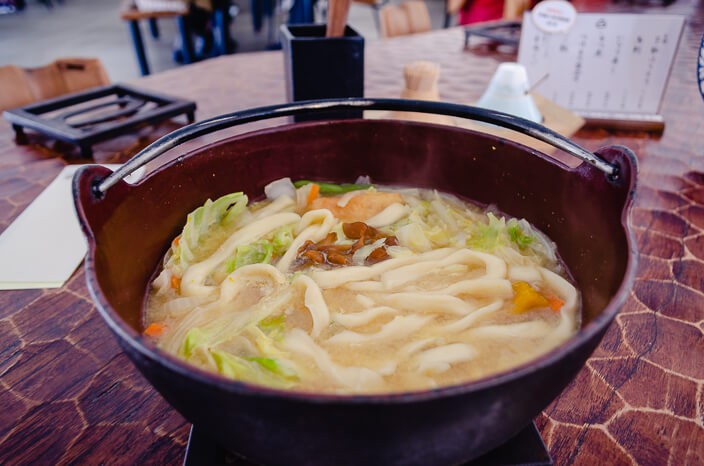 I arrived around 11:30 and was able to place an order smoothly, but after 12:00, I got the impression that it was getting crowded. So, if you want to have lunch at Houtou Fudou Higashi Koiji store, we recommend you go early! The payment is cash only, so don't forget to prepare it!
And oh yeah, you can also get Houtou Fudou original goods.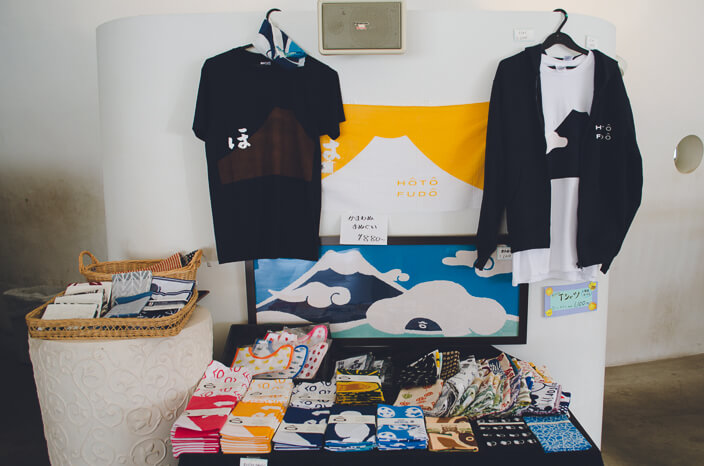 Houtou Fudou Higashi Koiji Store
Previous Post

Next Post