【Nagoya】Atsuta Horaiken – The birthplace of Hitsumabushi, Nagoya's local food
Nagoya is a gourmet city with its own unique food culture : Miso-katsu (deep-fried bread-crumbed port cutlet in miso), Tebasaki, Tenmusu, Kishimen, Miso-nikomi udon and etc., in Nagoya, there are many popular local dishes!
Among the variety of Nagoya-meshi, this time I tried Hitsumabushi.
Hitsumabushi
Hitsumabushi is a local cuisine from Nagoya City, Aichi Prefecture, consisting of broiled eel cut into pieces and served on top of rice in a rice chest. It can be enjoyed as unagi-meshi as it is, but it also comes with condiments and other ingredients so that you can change the flavor to suit your own taste.
The name "Hitsumabushi" comes from "mabusu", means to put eel kabayaki on rice in "ohitsu (rice chest)".
This time, I visited the Atsuta Horaiken Main Restaurant, the birthplace of Hitsumabushi.
In fact, "Hitsumabushi" is a registered trademark of Atsuta Horaiken.
Atsuta Horaiken Main Restaurant
The main branch of Atsuta Horaiken is located less than a 10-minute walk from Denmacho Station on the Meijo Subway Line. From the approach, you can feel the unique appearance of a long-established restaurant with 140 years of history.
How did Atsuta Houraiken's Hitsumabushi come to be?
Atsuta Horaiken, was founded in 1873 as a ryotei (Japanese kaiseki restaurant) and was famous for its kabayaki (eel) and kashiwa (chicken). The restaurant was also troubled by the many deliveries its made, as the delivery person often broke the empty rice bowl when dropping it off, so he invented an unbreakable wooden bowl and started delivering eel bowls for several people in a large rice chest.
However, the eel on top of the rice would disappear before the rice could be eaten, so the eel was cut into small pieces and mixed with the rice, which was so popular that it was also served as part of the kaiseki meal.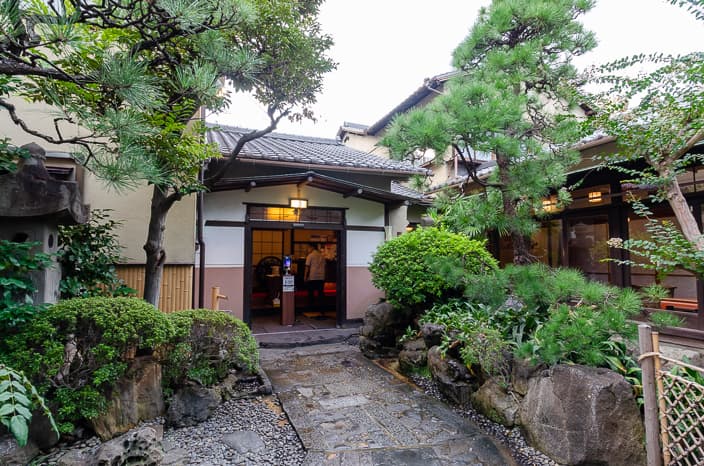 When I arrived at the restaurant, I was shown to a tatami room on the second floor. We arrived just after 5:00 p.m., early enough for dinner, but there were already many customers at the restaurant (it opens at 4:30 p.m.).
The clientele varied from families with small children, groups of college students, adult groups and couples.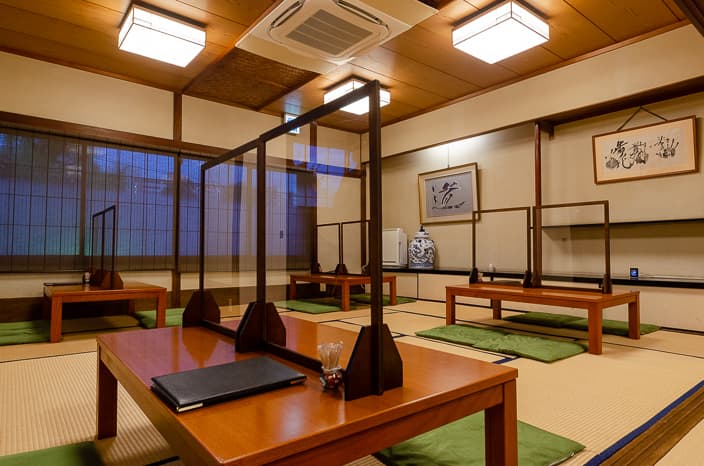 What I would have was of course "Hitsumabushi". After ordering and waiting for a while, I received this…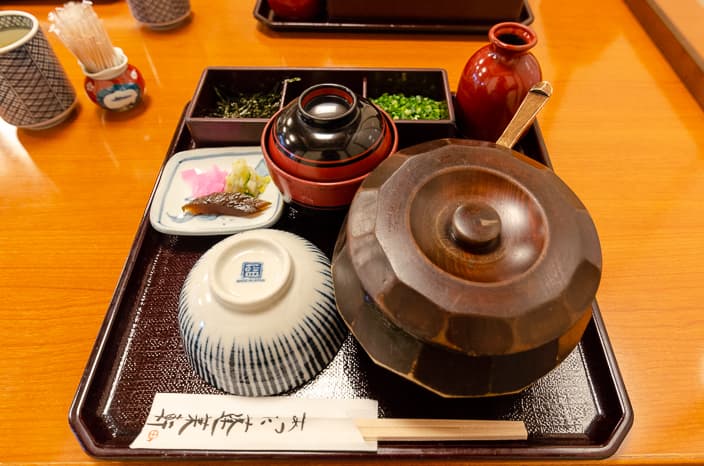 Lets's open it. Ta-da!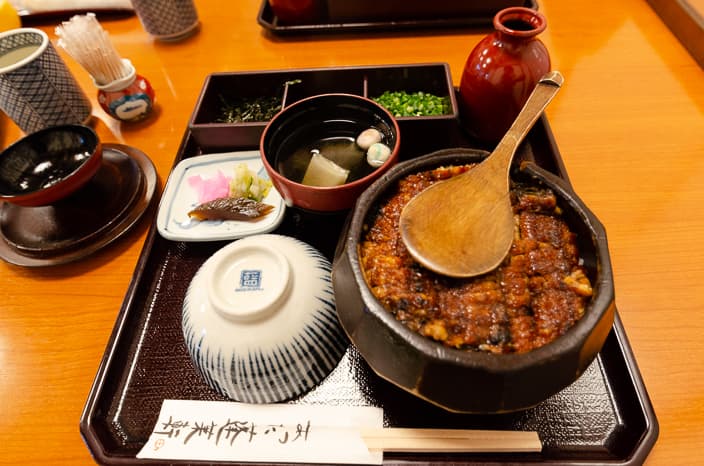 "How to eat Hitsumabushi" from Atsuta Horaiken:
The first step is to divide it into four equal (crosswise) slices with a shamoji. Then eat the first cup as it is, without dipping it in anything. Yes, the eel is tender and very tasty!
Needless to say, the secret sauce for kabayaki, which has been made in succession for over 140 years since the establishment of the restaurant, is excellent.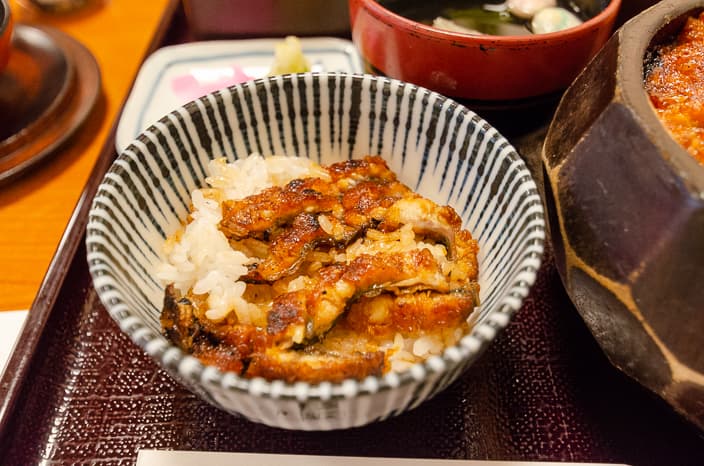 The second cup is served with condiments (scallion, wasabi, and seaweed) on top.
It tastes different from the first cup! Personally, the wasabi is a very nice accent, and I like it.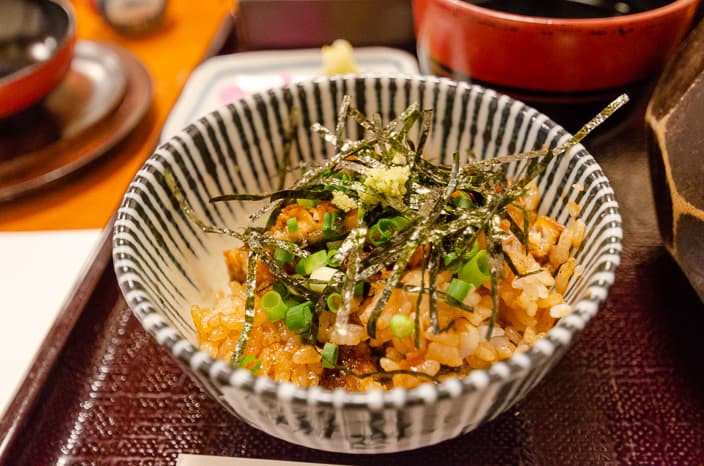 The third cup was ochazuke (pouring Japanese tea in the rice cup) with condiments and soup stock. I thought it would taste better with more condiments, so I added more wasabi.

Well, ochazuke is good! But personally, I prefer the taste of the condiments alone.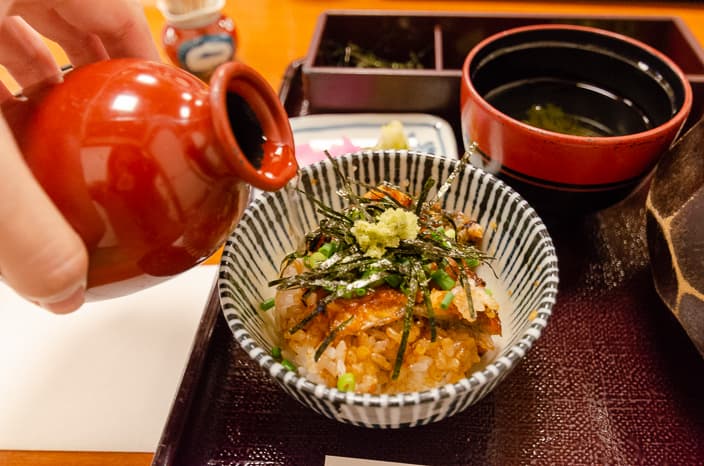 For the last cup (fourth cup), I was told that I could have it any way I wanted from the ones I had eaten so far, so I decided to have it with condiments, which I had for the second cup. I was already full due to the large amount of rice, but it was still delicious. The soup and pickles I had with it were also delicious.
By the time we left the store, the sun had already set. The stores standing in the dark are wonderful.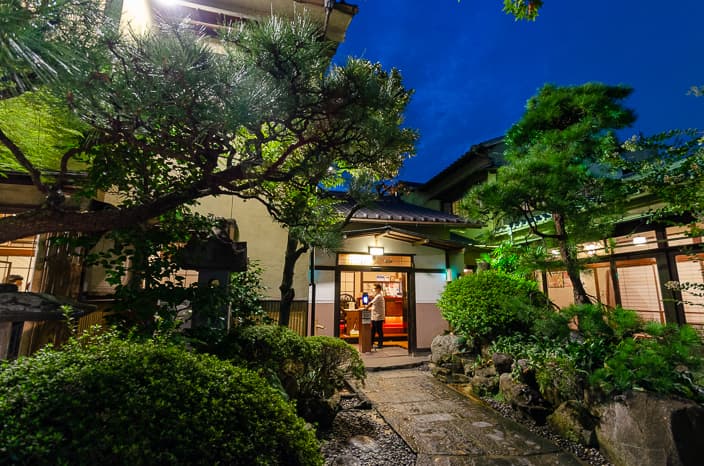 In addition to the main restaurant, Atsuta Horaiiken's Hitsumabushi is also available at the Jingu branch near Atsuta Jingu Shrine and the Matsuzakaya branch in Matsuzakaya Department Store in Sakae, Nagoya's shopping district.
Atsuta Horaiken Main Restaurant
Address
503 Goudo-cho, Atsuta-ku, Nagiya-shi, AICHI
TEL
052-671-8686
Open Hour
【Lunch】11:30 – 14:00 (L.O)
【Dinner】16:30 – 20:30 (L.O)
Close
Wednesday
The 2nd & the 4th Thursday (Open when holiday)
Seat
180 seats
Website
https://www.houraiken.com/honten/ (Japanese ONLY)
Previous Post

Next Post