【Misawa】Hoshino Resorts Aomoriya – Stay & Touch Aomori culture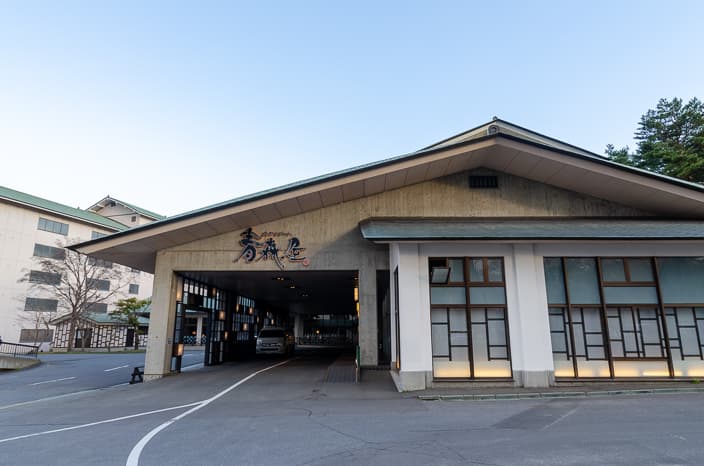 Tokyo Disney Land, Tokyo Disney Sea, Universal Studio Japan and etc. – each of these famous Theme / Attraction Park has its own view of the world. It is a dreamland where you can immerse yourself in another world and and its atmosphere for a moment. In fact, there is a theme park in Aomori where you can forget about your daily life.
That is "Hoshino Resorts Aomoriya". But wait, does it mean an accommodation is a theme park ?
Access
"Hoshino Resorts Aomoriya" is located in Aomori Prefecture, 15 minutes away by car from Misawa Airport and 15 minutes away on foot from Misawa Station (Aomori Railway).
A free shuttle bus service is available for guests from Misawa Airport and Misawa Station (reservation required at least 3 days in advance). A free shuttle bus service was also available to Hachinohe Station, but unfortunately this service was discontinued at the end of September 2021.
The Room
This time, I stayed at the standard room : "Azumashi" (43-51m). Even though, the spacious room is equipped with a large sofa and is comfortable enough for relaxing. At first glance, I felt that the interior was not particularly stylish and to be honest, I was a bit disappointed…
But when I took a closer look around the room, I realized they were decorated with Aomori crafts such as Hachinohe-yaki and Yawatauma, which gave me a warm feeling of nostalgia, just like the official website says.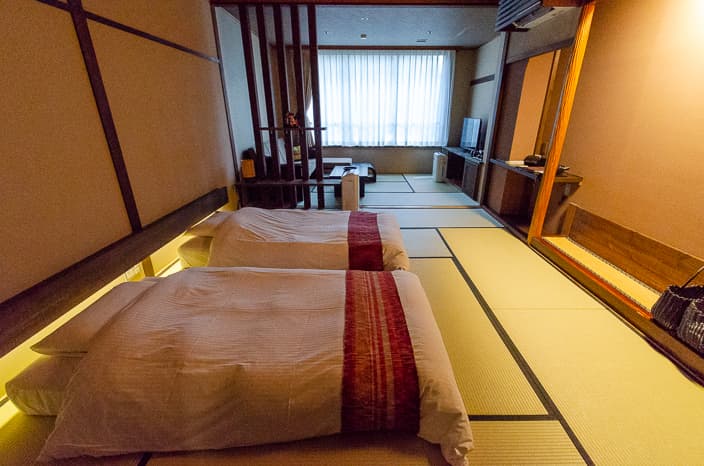 Welcome snack was Apple flavored Langdosha (Langue de Chat) – Apple is one of specialty of Aomori and because I'm not big fan of Japanese sweets like anko (red-bean paste), it was happy for me to be prepared Western confectioneries.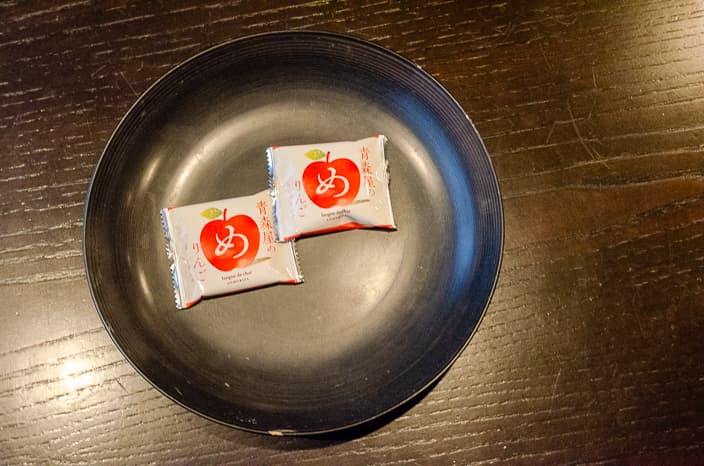 The room key was also in the shape of an apple at this facility where we can feel the abundance of Aomori.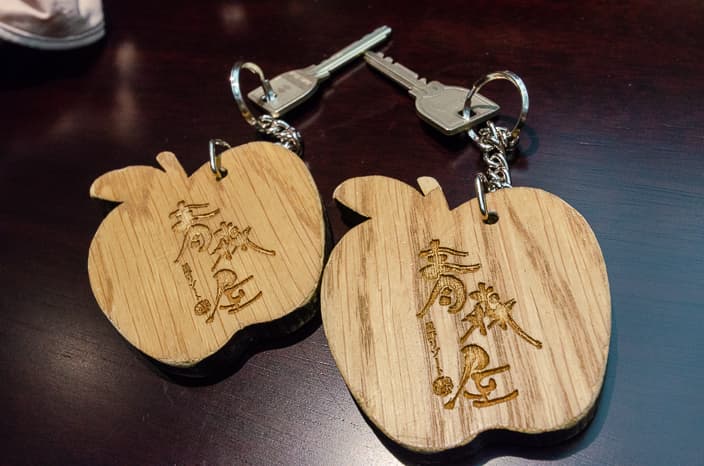 The green teacups are Hachinohe-yaki, which is a traditional craft from Aomori Prefecture. This green color is a characteristic of Hachinohe-yaki, which was popular among the common people until the end of the Edo period (1603-1868), although the date of its founding and who founded it are unknown.
It gradually declined in the Meiji era (1868-1912) and was later completely abandoned. In the Showa period (1926-1989), it was called "phantom pottery" because there was almost no literature left. After much trial and error, Hachinohe ware was revived in 1975 by Shozan Watanabe, who opened Shozan Kiln Watanabe Tohbo.
The coffee cup on the right side of the photo is "Tsugaru Kanayama Pottery", made by slowly firing pottery under high heat, using high quality clay and red pine as fuel. When water is pumped into a Tsugaru Kanayama pottery vessel overnight, it turns into water with high iron and calcium content, making it mellow and delicious.
The coffee made with this water actually also felt quite mellow.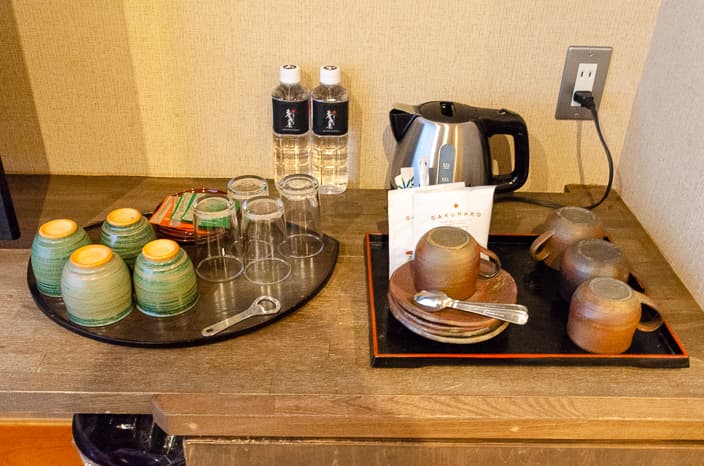 The rooms are equipped with samue (it's like a robe but not a yukata) and towels. If you want to go to the main bath, please bring this with you. A basket bag was also prepared, which was very helpful when we had to carry our luggage.
Now that I've rested in the room, let's take a walk around the facility.
The Facility
Guestrooms are located in the Main, the East and West building (Grey, Blue & Beige).
The yellow area, which connects the main building and the west building, is called "Jawa-Megu Hiroba", and is packed with Aomori culture. "Jawa-Megu" means "dancing in the heart" in Tsugaru dialect, and as the name suggests, this is a place where you can have fun.
Once you step inside, you are greeted with a space that looks like a night at a festival. The lanterns with various patterns are illuminated, Nebuta, the representative of Aomori's festivals, are displayed, and there are stalls set up, making you feel as if you have suddenly wandered into another world. Maybe because of the red and white lanterns, it made me feel as if I could understand the feelings of Chihiro in Studio Ghibli's "Spirited Away"… I'm exaggerating, but I felt "in Aomori Wonderland".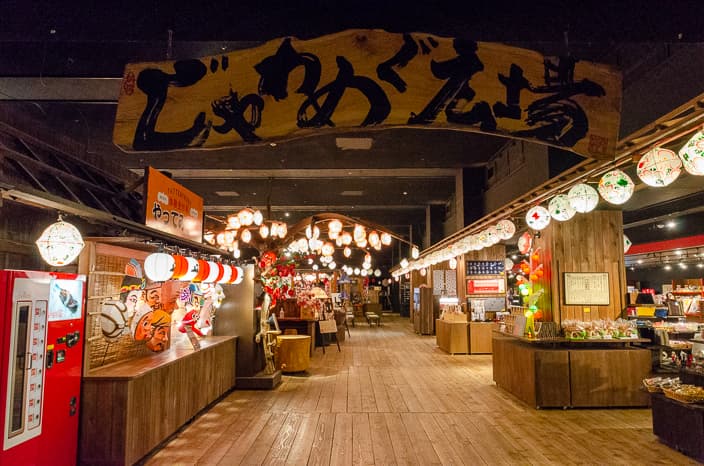 At the Jawa-Megu Hiroba, there are souvenir shops where you can buy local products from Aomori Prefecture, a tap that dispenses apple juice, a tap that dispenses sake, a "Yottemare Sakaba" where you can drink Aomori's delicious local sake, and Jawa-Megue food stalls.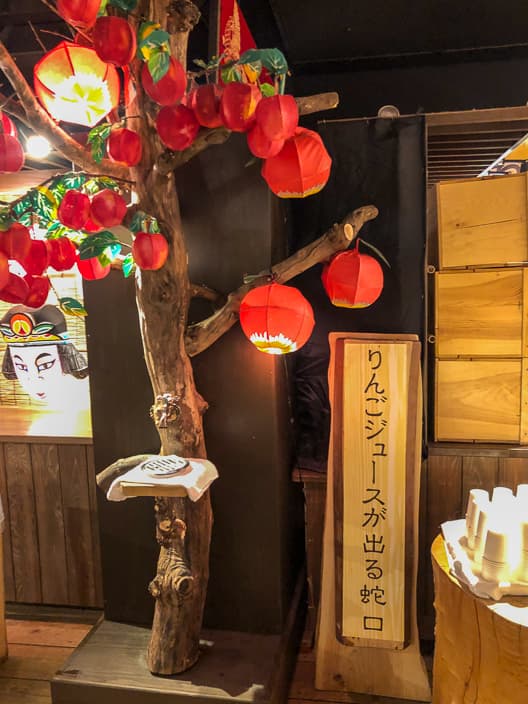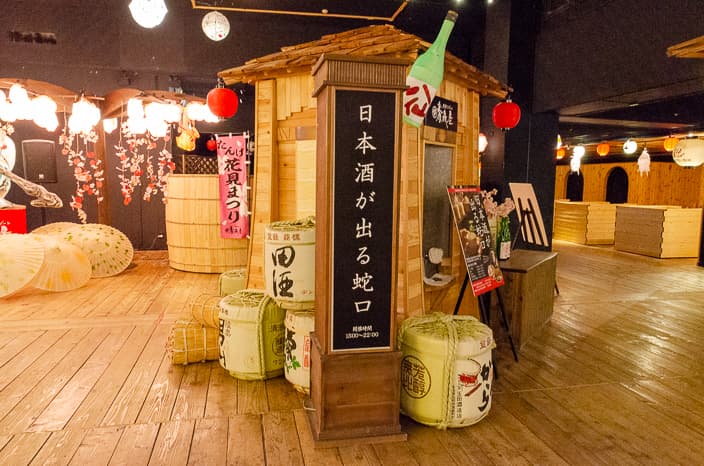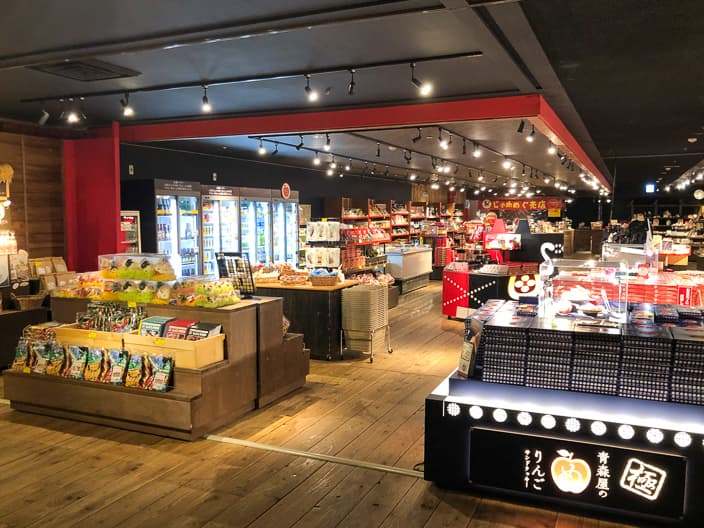 The large bathhouse is also located in the Jawa-Megu Hiroba. The bathhouse has an open-air bath called "Ukiyu", which seems to float on the water because the bath tub overhangs a large pond. It's nice to take a bath while feeling the many beautiful floating balls in the pond and the nature beyond. If you want to wear a yukata, you can rent one next to the entrance of the floating bath (for a fee). Although not provided in the room, there was also a samue for children.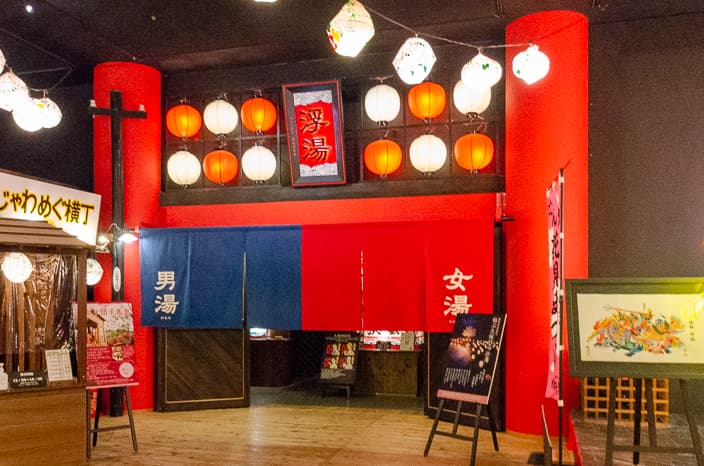 In addition, Michinoku Matsuri-ya, located upstairs from Jawa Megu Hiroba, was holding a "Four Great Aomori Festivals Show" where visitors could enjoy all the festivals in Aomori Prefecture at once. I was looking forward to this event where I could enjoy the Aomori Nebuta Festival, Hachinohe Sanja Taisai, Goshogawara Tachineputa, and Hirosaki Neputa Festival, but my daughter was startled by the sound of the shamisen and Japanese drums and started crying, saying she wanted to leave, so I had to leave immediately – disappointed !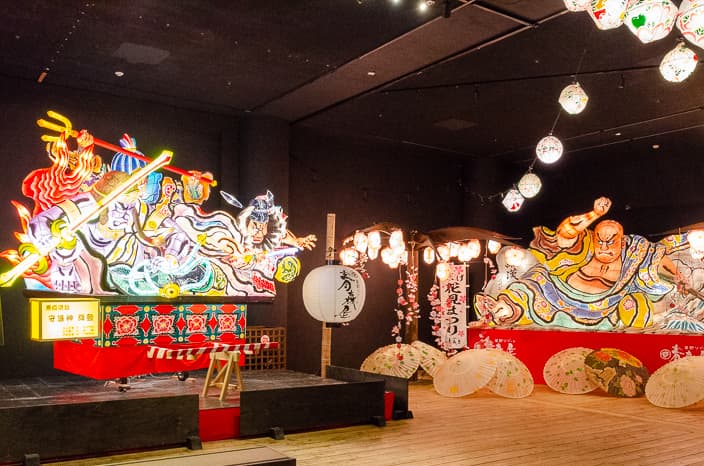 When I visited, if you wanted to see the "Aomori Four Great Festivals Show," you had to get a numbered ticket in advance indicating the time of the gathering, and you had to wait. The seating inside the venue was free, so you could take a seat wherever you wanted. The event is broadcasted on the monitor in the Irori Lounge, so you can watch the event while sipping coffee. (There was a free coffee machine in the sunken hearth lounge.)
This has been an introduction to the accommodation building, but this is not the only thing you can enjoy at Aomoriya. As you can see on the map below, there is a vast park of about 220,000 square meters. There are plenty of places to stop by, pony houses, free footbaths, carriage rides, and so much more to enjoy!
The Meal
There are several restaurants at Hoshino Resort Aomoriya, but I had my meal at the "Norere Shokudo" buffet restaurant. The seats are partitioned like semi-private rooms, so you can enjoy your meal in a relaxed and comfortable atmosphere. In addition to common buffet dishes such as salads and soups, there was also a local Aomori dish called "Senbei-jiru," which is a miso soup with rice crackers in it.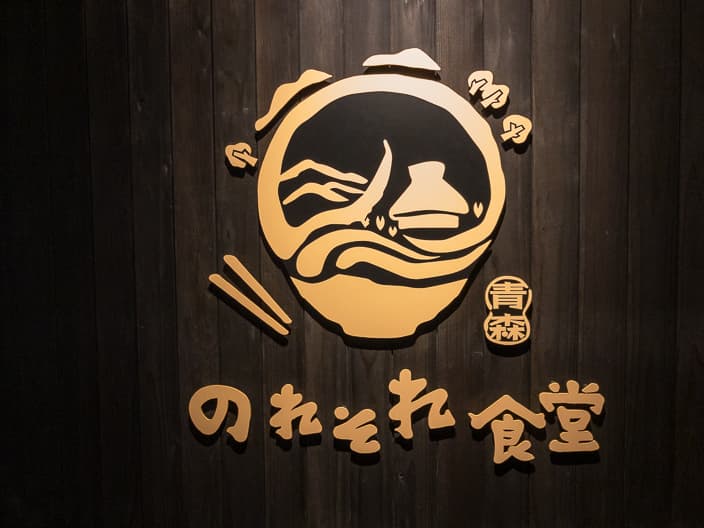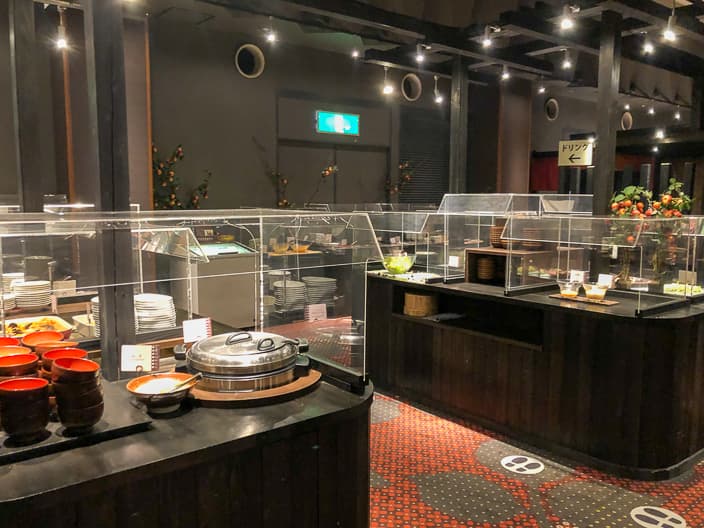 And then there's the other menu items that are prepared right before your eyes! Soy sauce pickled tuna buns, tempura, grilled scallops on the grill, teppanyaki steak, etc. were so delicious that I kept going back for more.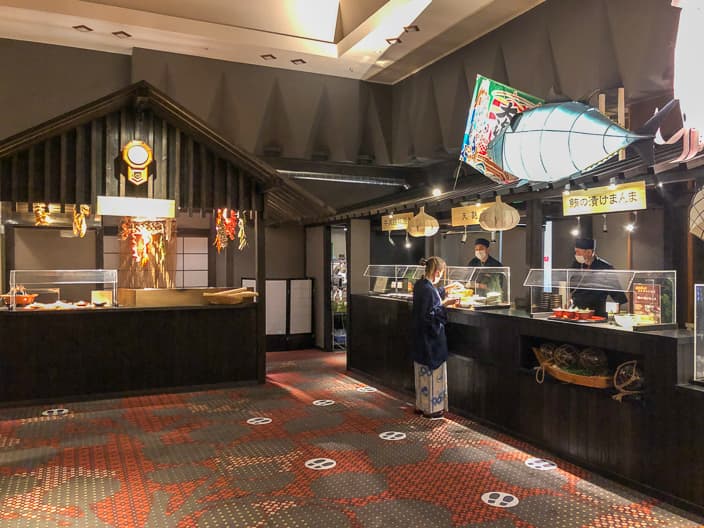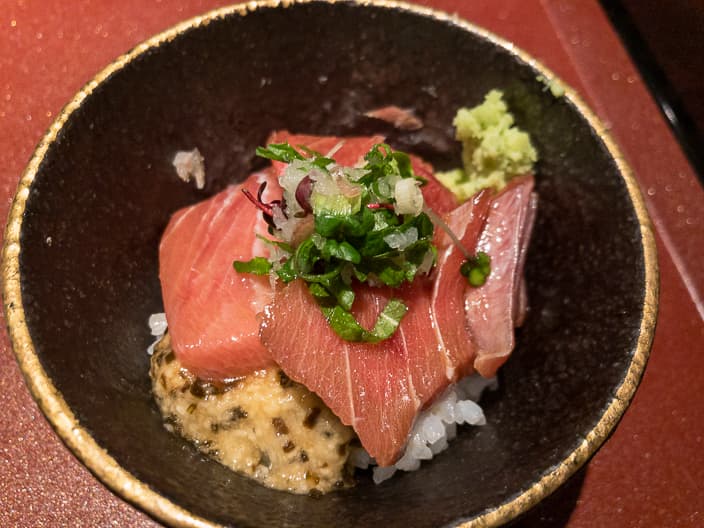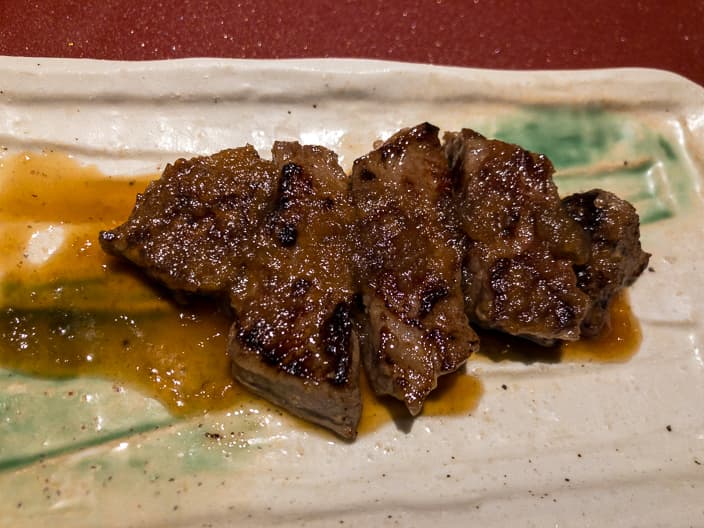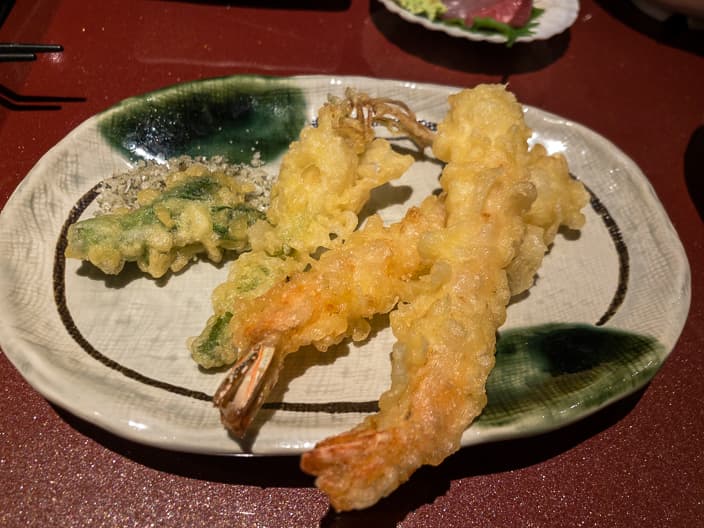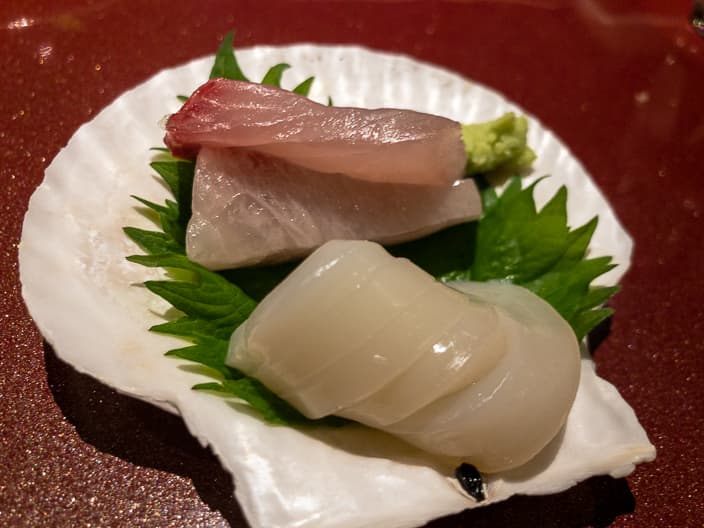 "Today, I already had so many meals so I'm not hungry", I said… but as the dishes were so delicious, I ate so much more than I expected. hahaha!

The next day, we had breakfast at the same restaurant, Norere Shokudo, apple curry, scallop ramen, and other delicious dishes that made us happy from morning.
Aomori's crafts, Aomori's gourmet food, Aomori's festivals, Aomori's culture, and Aomori's specialties are all introduced in abundance at the Hoshino Resorts Aomoriya, and I hope you now understand why this is Aomori's theme park.
If you have a limited amount of time and want to learn more about Aomori, why not visit?
Previous Post

Next Post