【Nasu】Art Biotop Nasu & "Water Garden" – Meditation in a precisely calculated garden
At Art Biotop Nasu, an art inn located in an area full of nature on the Nasu Plateau, there is a beautiful water garden where you can relax, just by looking at the trees and forget about the rush of modern times. I was finally blessed with the opportunity to visit this water garden that I had often seen in magazines.
Art Biotop Nasu
Art Biotop Nasu is an artistic inn located a little away from the center of Nasu in Tochigi Prefecture (only 10 minutes by car from Fujishiro Seiji Museum and 25 min from N's Yard). It is an inn with a full-fledged glass-blowing and pottery studio where you can work in the wilderness and forget about the hustle and bustle of everyday life.
While the residence building caters to long-staying guests and artists-in-residence, a sweet villa designed by world-famous architect Shigeru Ban opened in 2020 for short-term staying guests. Using stones excavated onsite, the fifteen lovely independent rooms blend in the surrounding nature and some even have a private outside bath and fireplace. I would love to stay there in winter time!
Since 2008, Art Biotop Nasu has been focusing on art promotion and implemented an "Artist in Residence" (AIR) Program. Selected artists can stay in Art Biotop Nasu for a certain period of time and receive production support in their dedicated activities (ceramics, glass, photography, video, dance, painting, sculpture, theater, etc.). Every year, regardless of genre, Art Biotop Nasu invites talents from home and abroad to become the next generation.
While In Residence, in addition to their Art production, Artists are also engaged in activities open to the community such as workshops and events.
The works of artists who stayed are also exhibited everywhere on the grounds of Art Biotop Nasu.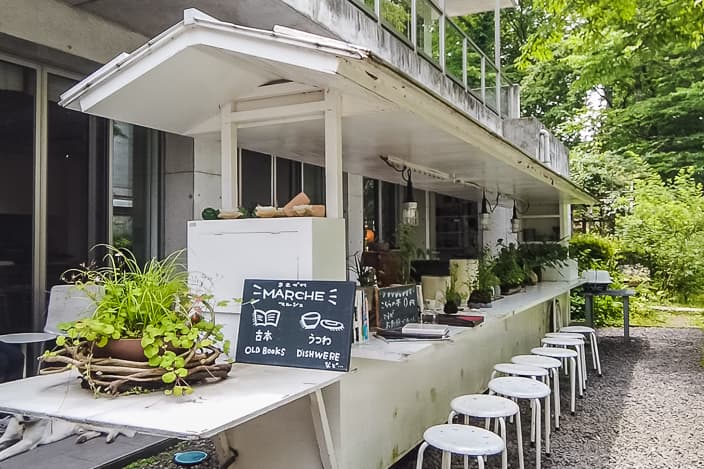 The Water Garden
This water garden was designed by architect Junya Ishigami in 2018. Junya Ishigami is an architect who has won various awards at home and abroad, such as the Golden Lion Award at the 2010 12th Venice Biennale International Architecture Exhibition.
The 318 trees planted in the water garden were originally on the land of Sweet Villa and are transplanted as they are. The planting position is calculated as precisely as in the painting, and none of the trees overlap. I actually looked at the trees from various places, but they certainly didn't overlap! Wow!
How to visit the "Water Garden"
"Water Garden" is available for everybody but advanced reservation is required. You can choose between three types for reservation as below:
1. Water Garden Tour with a guide (*)
2. Lunch at Restaurant μ & Water Garden Access (no guide)
3. Dinner at Restaurant μ & Water Garden Access (no guide)
I chose [1. Water Garden Tour with a guide] this time.
Because the official web-site said "there is the number restriction for children under 6 years old (before elementary school student)", I was a bit worried and asked Art Biotop Nasu but it was no problem that I brought my 2 years old kid. However, as the Water Garden is very delicate place, an adult should supervise a kid so that a kid wouldn't mess around, I thought it was better to pick my daughter up but I let her walk in the garden.
Upon arrival at Art Biotop Nasu, I made a reception, and after all participant gathered, we were head to the Water Garden. A guide told us about Art Biotop Nasu and the Water Garden (Japanese only) then we could explore around the garden by our pace.
(*) Note
The Guided Tour is conducted in Japanese language only and you may feel bored during the visit, in case you do not understand the guide's explanations.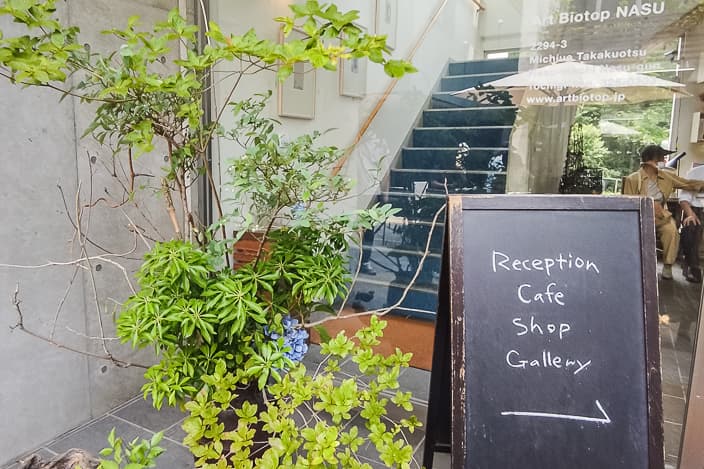 Inside the "Water Garden"
After listening guide's explanation, it's time to enter the Water Garden –finally! There are several entrances and you can choose any you like.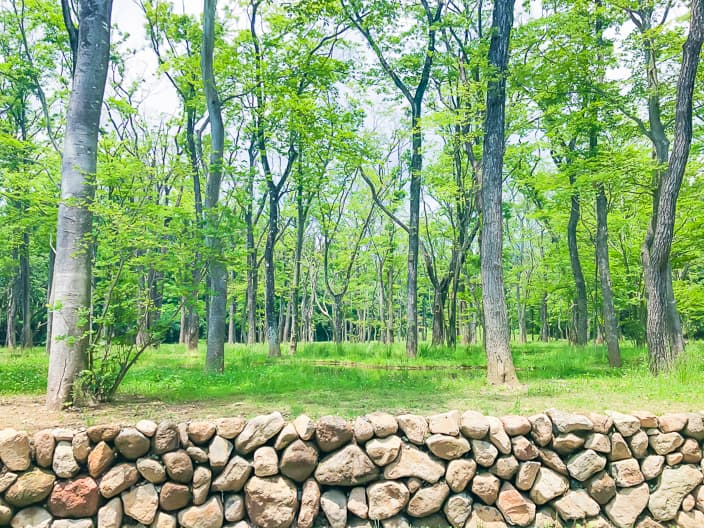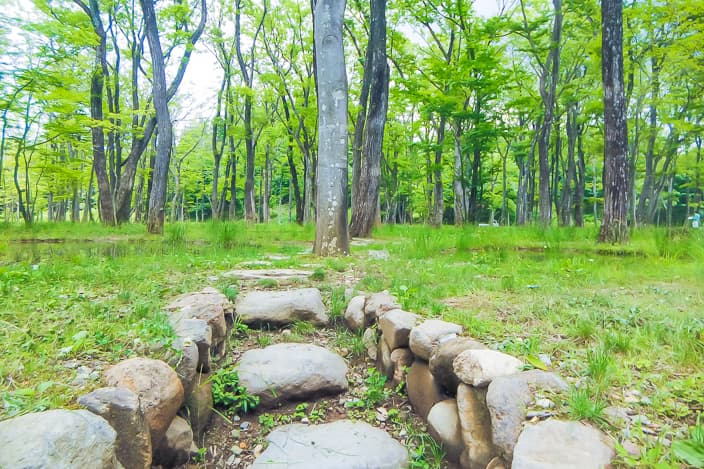 The garden looks natural, but it is interesting that it is actually calculated and man-made. Many ponds are also artificially built, but I found that in just several years since the opening in 2018, it is steadily changing from artificial to natural. Tadpoles And frogs live in the pond, plants grow naturally, and butterflies and grasshoppers fly around them. Isn't it the first time since elementary school that I've been delighted with such discoveries? I realized that I was turning into a childhood.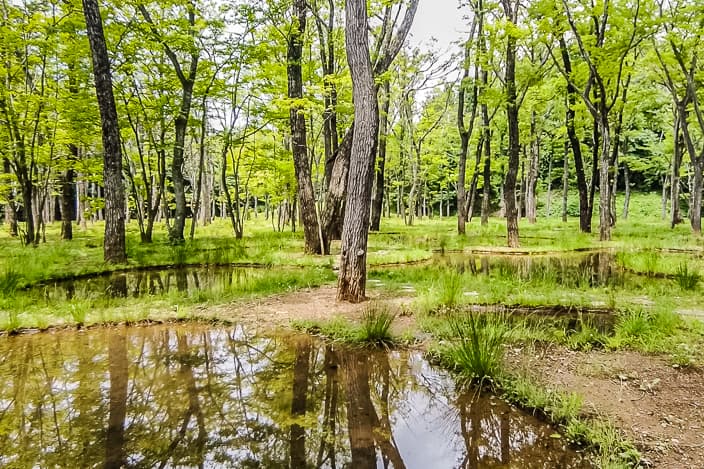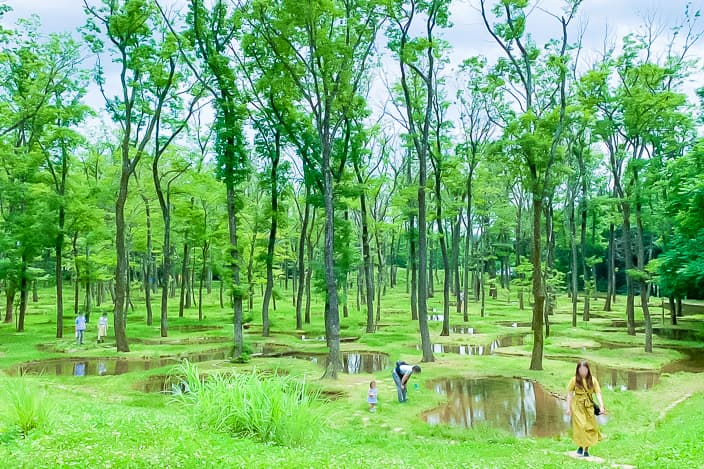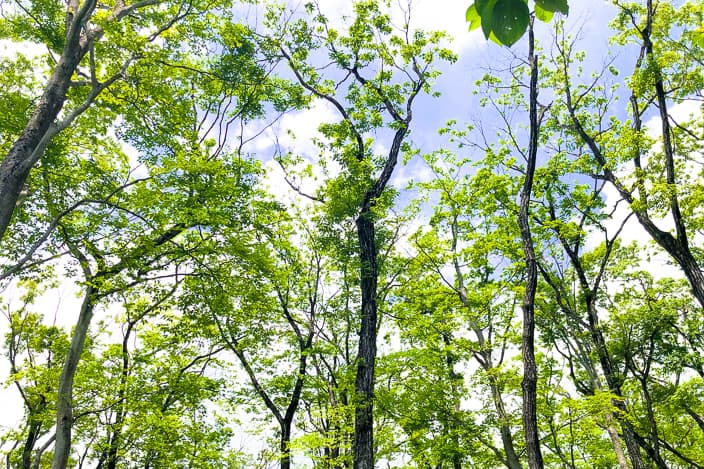 By the way, let's take a walk by stepping on the small stepping stones around the pond. The foothold is not very good, so come with comfortable shoes. I wore tall sandals, so I used the rental shoes (free of charge), but it was a little wet and not very comfortable, probably because the previous tour passengers also wore them… Therefore, I recommend that you come with easy-to-wear, non-slippery shoes.
There are several routes around the water garden, short course and long course and I went on the long one, which is quite long! On the way, I included a break at Azumaya, but I think that one hour had passed while I was taking a leisurely stroll and I regretted not having brought a drink. I came back before the reception and finally got some water, phew…
The sign I found just before I left was cute.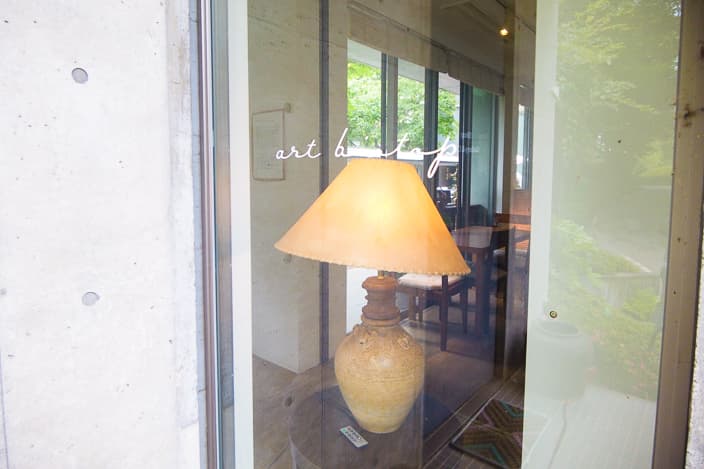 Conclusion
I thought that the beauty of gardening imagined and carefully calculated by architect Junya Ishigami and the process of assimilating it with nature are very interesting points. Adults can relax naturally and children can enjoy it like a treasure hunt.
Art Biotop Nasu is a difficult place to reach without a car and requires advanced reservation at a specified time, but it is one of the places worth visiting when you come to Nasu.