【Uozu】Uozu Buried Forest Museum – A museum where you can feel the mystery of nature – Too maniac?!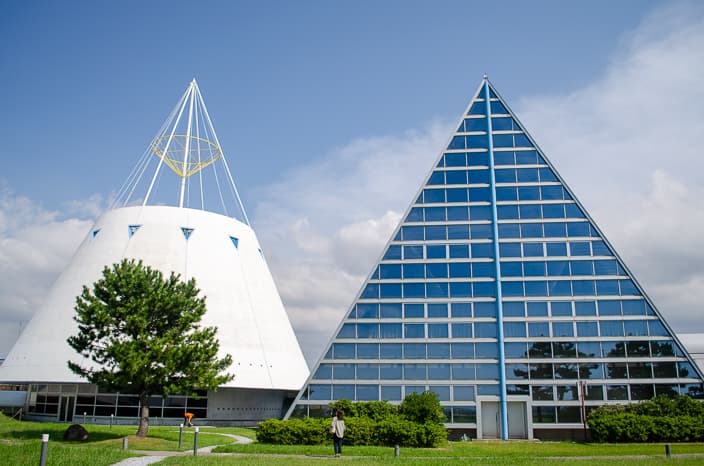 There is an unusual museum in Uozu City, Toyama Prefecture. I went to the "Uozu Buried Forest Museum", which I found was so "maniac" and unique at the same time, so I would like to introduce it.
A museum where you can meet a special natural monument :
"the Buried Forest"
As the name says, the Uozu Buried Forest Museum is a museum where you can see a buried forest. Buried forests have been found in Japan and around the world and there are various causes for forests to be buried, such as volcanic ash and lava from volcanic eruptions, sediment accumulation due to river floods, landslides, and sea level rise.
In other words, in a buried forest, the entire place where the forest grew is sealed underground, and not only tree stocks but also seeds, pollen, insects, etc. remain, which is a great clue to learn about the past environment.
It is believed that the Uozu Buried Forest was buried about 2,000 years ago when the sediment that flowed out due to the flooding of the Katakai River filled the primeval forest of Sugi, and then the sea level rose.
When the Uozu port was constructed in 1952 by excavating the sea, the buried forrest emerged. It was decided to preserve a portion of it in a specially built museum onsite. In 1955, Uozu Buried Forest was designated as a national special natural monument . In other words, this is a valuable museum where you can worship national treasures.
Underwater exhibition hall
At this facility, The buried forest is preserved and exhibited in a pool and through the glass walls, you can see the roots of a giant tree that towered 2000 years ago.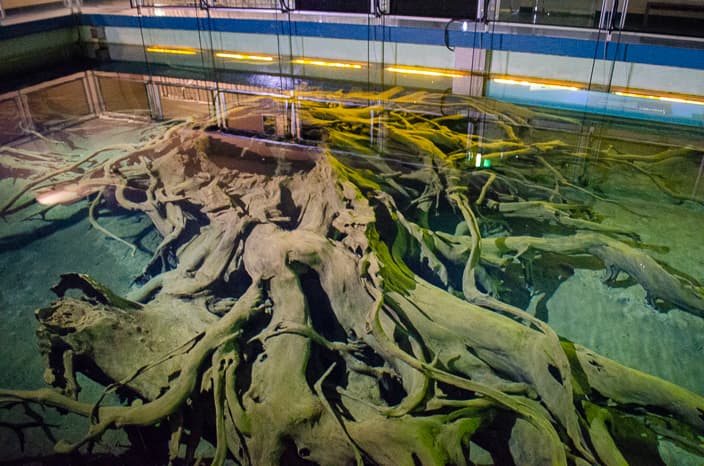 Normally, it rots when immersed in seawater, but I was surprised to learn that because the groundwater is so abundant, fresh water springs out from the seabed, filling the gaps in the sand and preserving it, like in a can.
It seems that nowadays, the excavated place is preserved by filling it with groundwater but the bottom is not completely closed, so it still takes in natural spring water.
Although it's only roots now, it makes me feel strange to think that this giant tree of 2000 years ago has seen the entire history of Japan.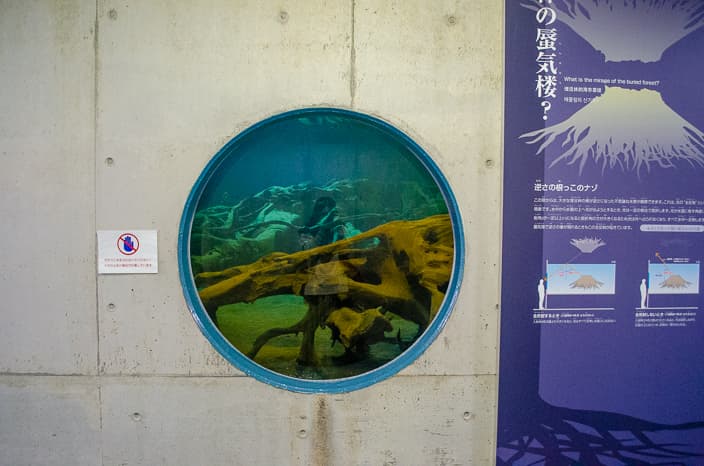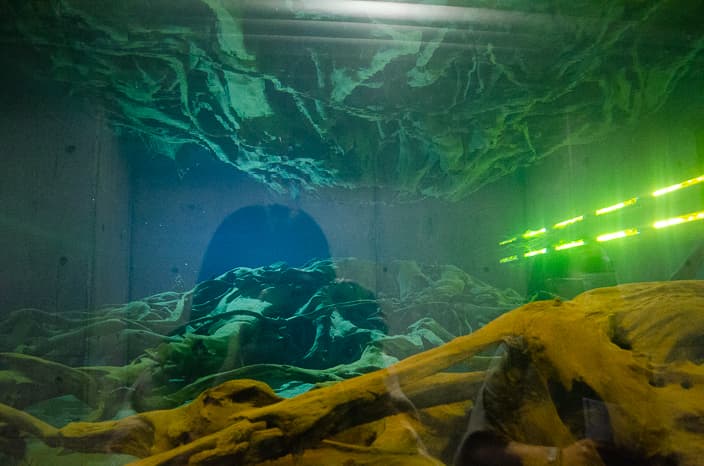 From the basement (below the water level), the roots are reflected on the surface, like a mirror. It's a very strange sight.
Dry exhibition hall
This is a place where the buried forest excavated at Uozu Port in the 1930s is exhibited. At that time, 200 trunks were excavated, but only 3 are on display. It seems that many of them burned during World War II and few of them still exist.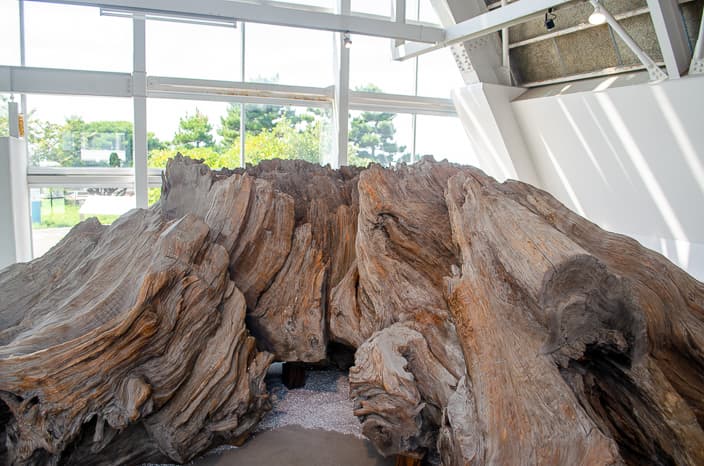 It's mysterious even if I look at it from up-close and I feel a little scared…
By the way, you can even touch this buried forest!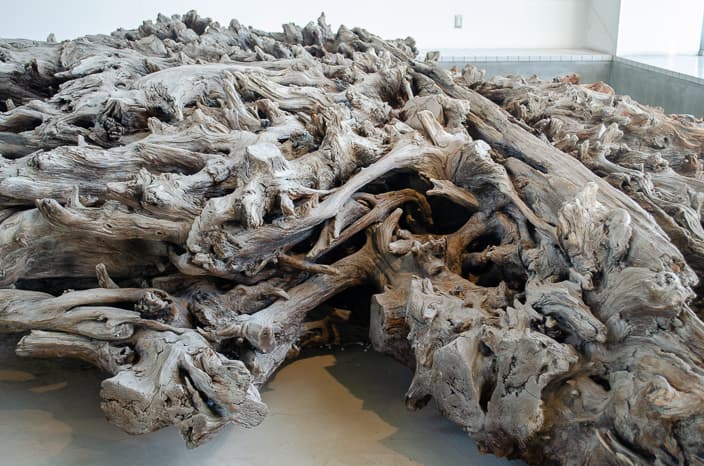 In addition to this, you can also enjoy the "Dome building" that displays the excavated state and the "HDTV Hall" where you can learn about the wonders of nature with images.
Uozu is also famous as a mirage town, so if the weather conditions are right, you may be able to see the mirage from here!? Unfortunately, I couldn't see it.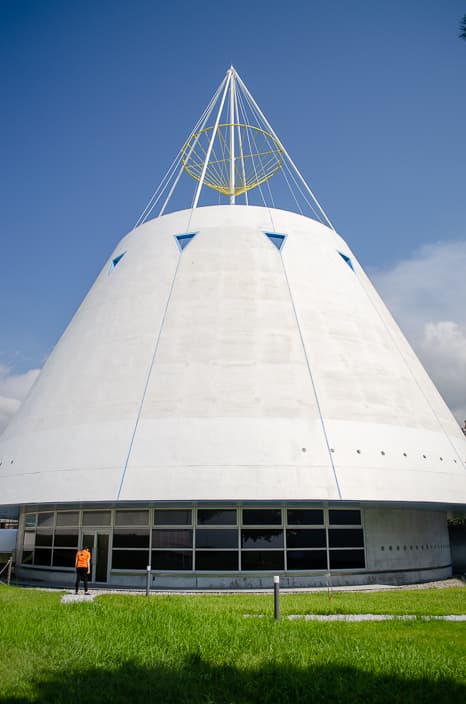 Have a break at a cafe "KININAL"
The Uozu Buried Forest Museum has a cafe, and in fact, it is a mechanism to enter the museum through this. This cafe doesn't look like this museum and is much more fashionable. (sorry, I'm rude !)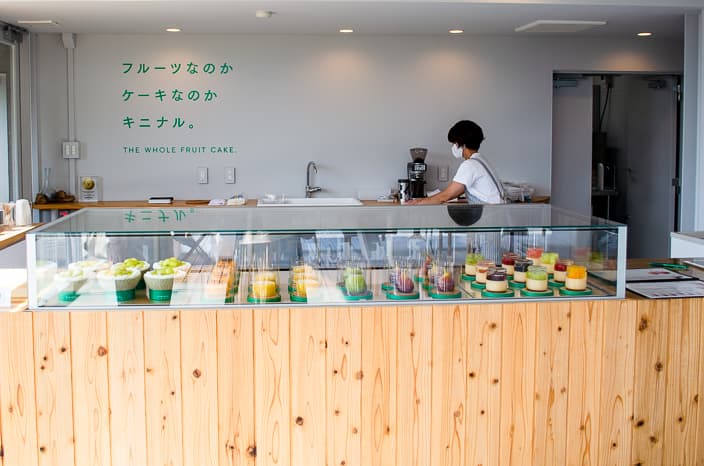 It looks like just a fruit, but it's actually a cake inside.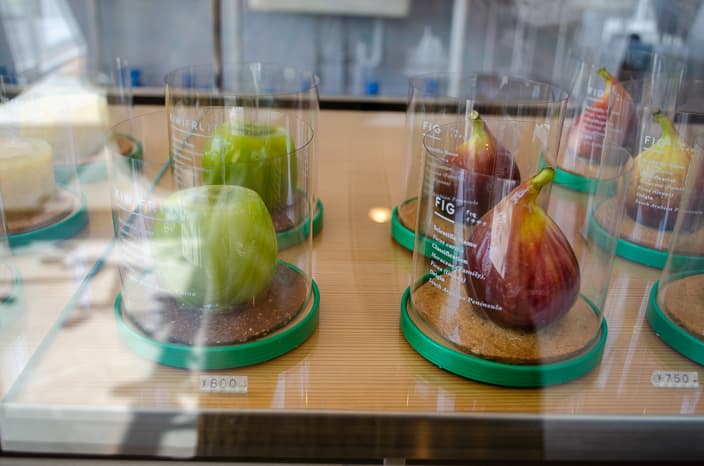 I was also very interested in fruitcake, but it was quite hot that day, so I had a soft serve ice cream with fruit jelly and pudding. I choose Muscat fruit jelly.
The soft serve ice cream is rich, but it's not too heavy at all and it's delicious! Even though I don't like milk, I enjoyed it very much. The fruit jelly at the bottom had a chewy and interesting texture like warabi mochi (Japanese sweets).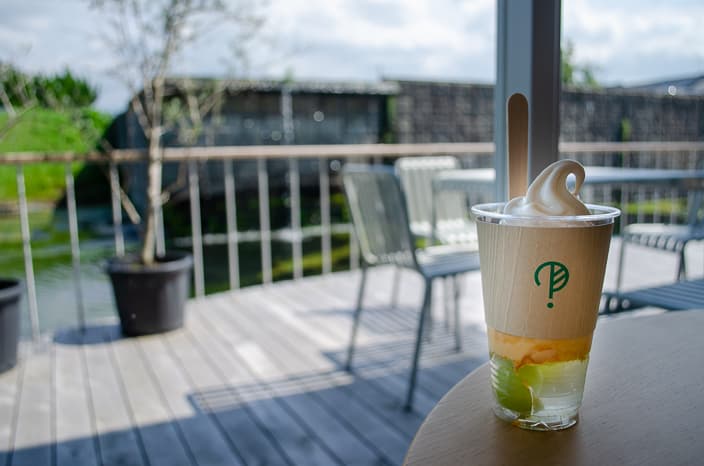 If you visit this museum, I recommended to take a break at this cafe.
Summary
The Uozu Buried Forest Museum is a museum where you can experience something different. I think it is recommended for those who are interested in nature and who want to experience a unique museum about natural phenomenon that we cannot see by ourself. On the other hand, the content is quite enthusiastic, so those who would not be interested, may even think "What is this?" and check it out.
I personally thought, "Wow, I've seen this tree all the time, it's amazing." But I wasn't interested in the buried forest itself, so I didn't say that the tension would rise. However, I am satisfied that I saw something that I could not easily see.
Uozu Buried Forest Museum
Address
814 Shakado, Uozu-shi, TOYAMA
TEL
0765-22-1049
Open Hour
9:00 – 17:00 (Last entry at 16:30)
Close
29th December – 1st January
Mondays during 1st December – 15th March (* if it's holiday, will be the next day)
* the cafe "KININAL" is closed on every Thursday
Admission Fee
【General (from High school student)】640 yen
【Elementary & Junior high school student】260 yen
Website
https://www.city.uozu.toyama.jp/nekkolnd/
Previous Post

Next Post