【Kawasaki】Fujiko F Fujio Museum – Let's go see Doraemon!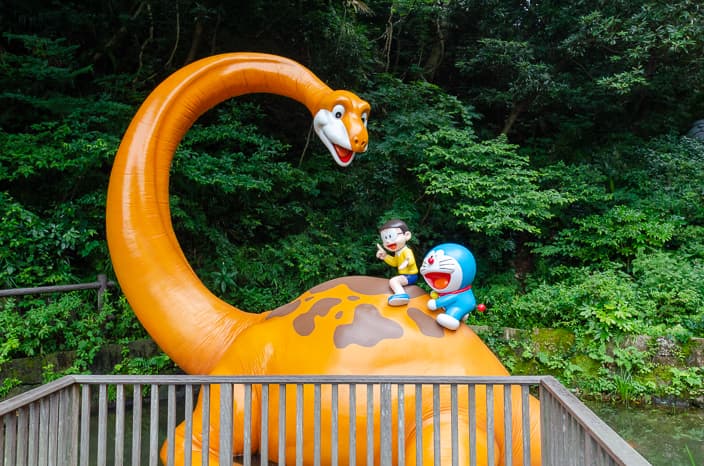 "Oh, I overslept. I'm going to be late." "I don't want to go out in the pouring rain and get wet."
Because I'm a lazy person, I sometimes think to myself : "If only Doraemon was here… he would save me!"
I'm sure I'm not the only one who sometimes have thought like that. I mean, if you know Doraemon, you've thought about it at least once, haven't you?
And if you don't know Doraemon, let me explain quickly: Doraemon is one of the most famous Japanese anime character and every Japanese person knows and love him. He is a robotic cat that travels back in time from the 22nd century to aid a youg teen boy named Nobita, from the many mishaps he gets himself into. That's why everybody love Doraemon!
But Doraemon doesn't appear so conveniently… Then, you'll just have to go and seek him for yourself!
And so I went to the Fujiko F. Fujio Museum in Kawasaki City… which is the birthplace of Doraemon.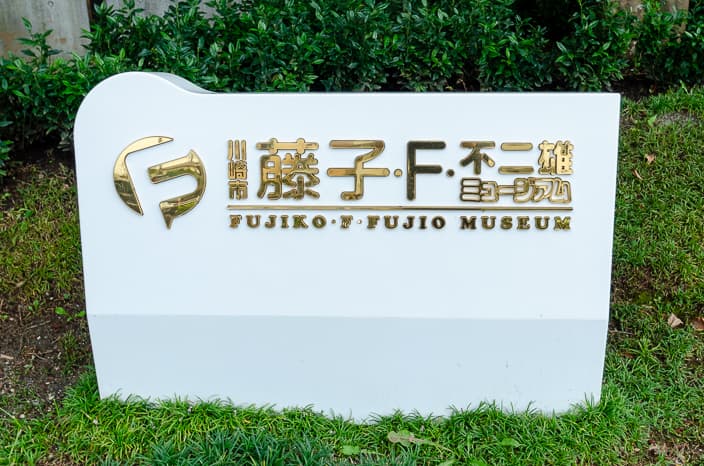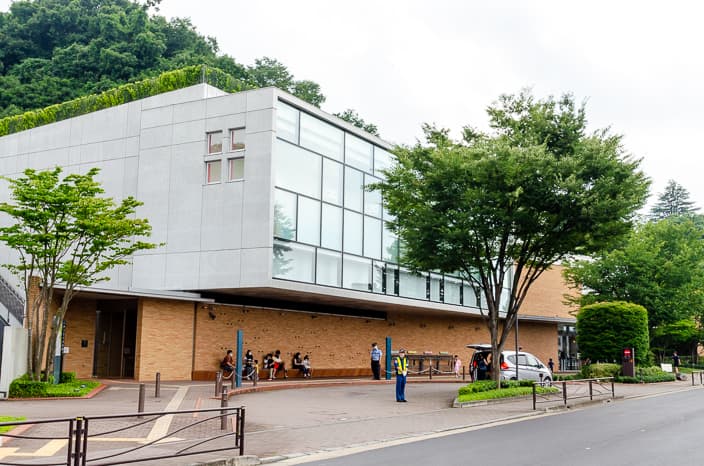 Access
The Fujiko F. Fujio Museum does not have a parking lot, so it is best to visit by public transportation. There are coin-operated parking lots in the vicinity, but they may be full (especially weekends) and are quite expensive – I calculated that the parking fee would actually be much higher than the entrance fee for my family visit!
So the best way to get there from Tokyo is using train and bus: it takes about 20 minutes from Shinjuku Station to Noborito Station by Odakyu Line and from there a direct bus (running every 10 minutes or so), that takes you to the museum in just 9 minutes. Convenient, isn't it?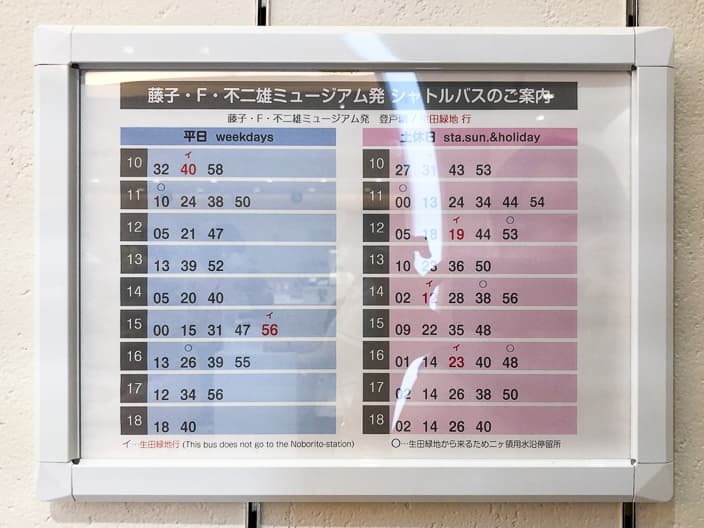 When I looked at the wall of the museum's bus stop, I saw Doraemon's eyes with various expressions.
I was getting excited even before entering the museum !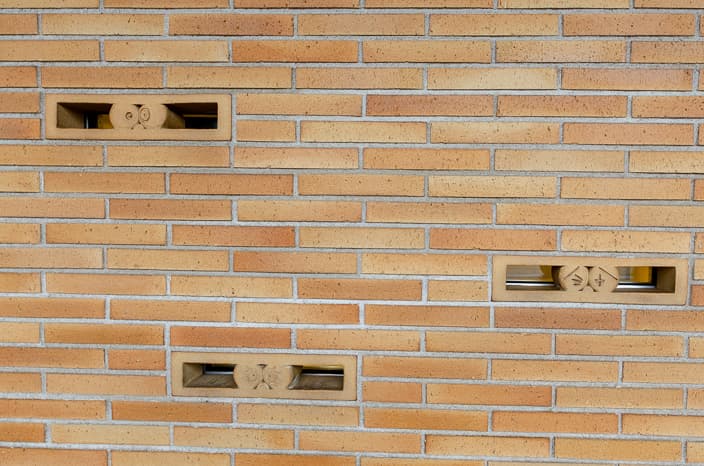 1st Floor
On the first floor, there is the entrance, a few exhibition rooms, Fujiko F. Fujio's History Road, his room, and a museum store. I wanted to introduce the entrance and the pictograms used to guide visitors around the museum, which are very cute and fun to find, but unfortunately photography is prohibited, so if you are interested, please visit the museum.
One of the exhibits on the first floor that I found particularly interesting was a corner that explained how to create a manga. When you look at the screen, Doraemon and Nobita appear and show you the process to complete a manga. They demonstrate how to divide a comic strip, apply solid colors, tones, and other things you've heard of but don't know how to actually do!
I was fascinated by the easy-to-understand and cute expressions. The exhibits are all in Japanese only, which can be difficult for foreign visitors and small children to understand, but this corner uses animation to explain, so anyone can enjoy the contents.
2nd Floor
On the second floor, there is an exhibition room, the "Animal's room" (where you can see animals drawn by Fujiko as three-dimensional works), "Fujiko・F・Fujio's Day Off" (where you can get to know your private teacher), a resting corner, a kikori no izumi, and a plaza for everyone.
Kikori no Izumi
Have you ever heard of the story of Doraemon, which is based on the fairy tale "The Golden Axe"?
In "The Golden Axe," a woodcutter drops his axe into the river, and a goddess appears from the river and asks, "Is this the golden axe you dropped? When the woodcutter honestly replies, "No," the goddess then brings out a silver axe and asks the same question. When the woodcutter honestly replied, "No," the goddess was impressed by his honesty and gave him all three axes.
In the Doraemon story, Big G (a friend/foe of Doraemon) accidentally falls into a river. Then, the goddess bring him back, but as a beautified version. Nobita and his friends panick and say, "No, no, no!" So, the goddess leaves the beautiful Big G behind.
This is the well where you can meet that beautiful Big G. When you lift the lever…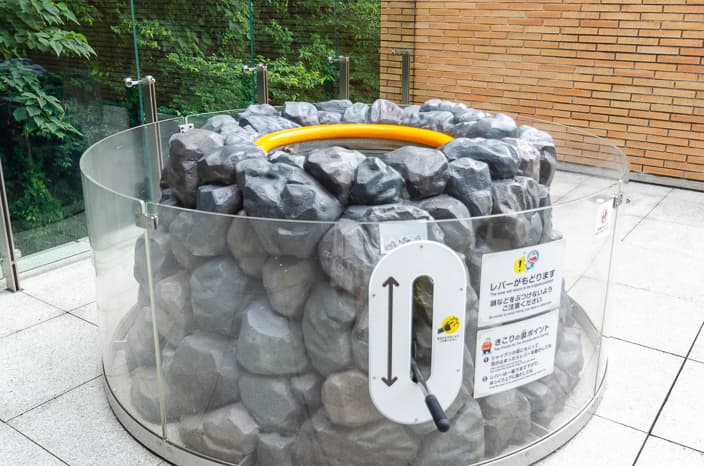 The beautiful Big G appear, making a buzzing sound! Also, if you take a closer look at the forest to the left of the Kikori no Izumi… what do you see? You'll have to go there to find out.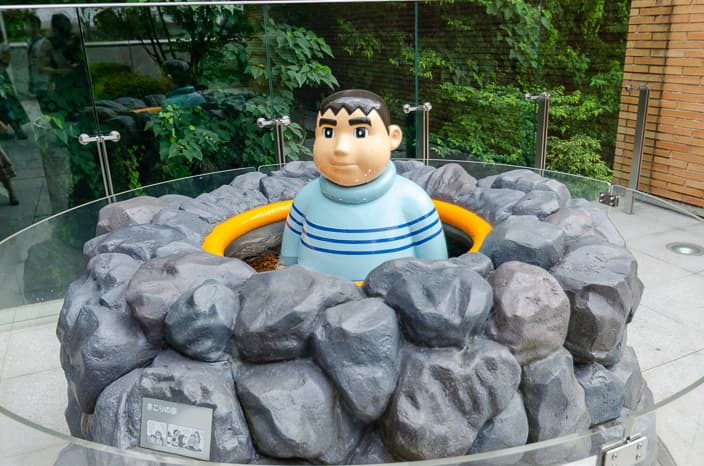 People's Plaza
At People's Plaza, there was a 1/5 scale model of Noby's house, which I had seen many times in the anime. I had seen it room by room before, but I didn't know it had this kind of floor plan. Using a special tablet, you can even take a peek inside the house.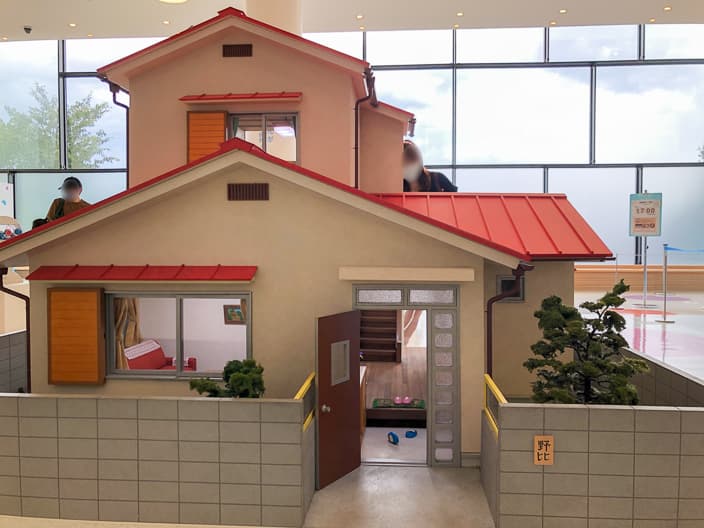 Fujiko F. Fujio Character Gacha Gacha!
This is a museum exclusive. My daughter, who knows only Doraemon and no other character from Fujiko F. Fujio's works, said, "I want to try it! So I took on the challenge, even though I was worried that I might be upset if another character came out.
The result was Perman, and I was thinking about how to follow up, but as expected of Fujiko-sensei, she has created characters that are familiar even to the uninitiated, so my daughter was very happy even though she didn't know it.
But Doraemon, holding a pen for drawing manga and wearing Fujiko's trademark beret, is still adorable!
If I ever get a chance to go back, I'm sure I'll be running the gacha-gacha again for Doraemon.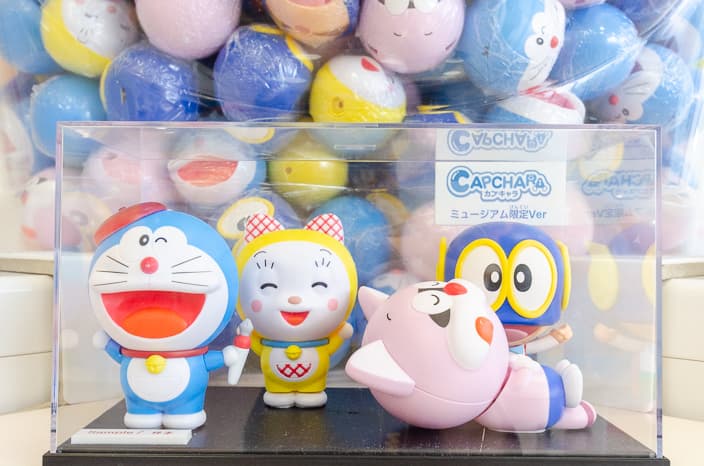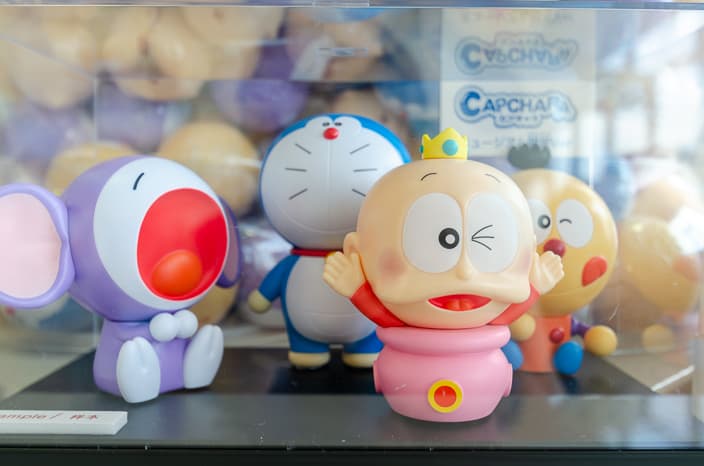 You can also make your own original stamp here. I made one as a keepsake !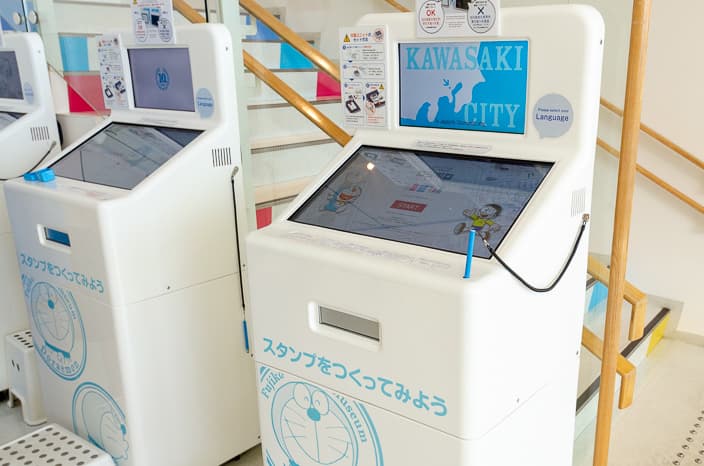 You can add illustrations such as Doraemon, Korosuke, and Perman, choose your favorite frame and layout as you like, and add text.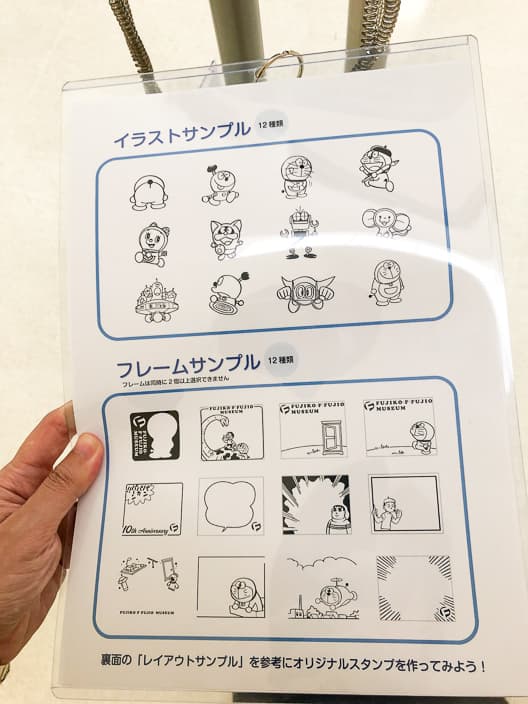 Here's the finished product under my daughter's supervision! I added a Doraemon and Noby frame with a Dorami (Doraemon's sister) stamp and the words "Well done".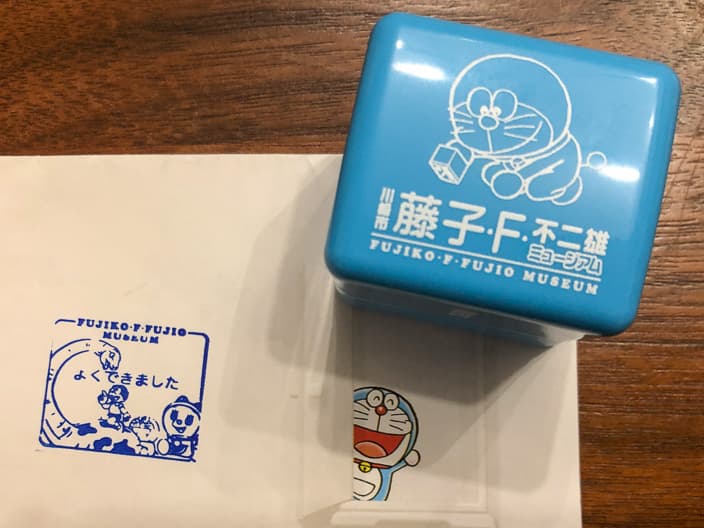 Fujiko・F・Fujio Theater
Fujiko・F・Fujio Theater is located at the back of People's Plaza. Original short movies are shown there every 20 minutes. If you want to see the movie, just gather near the time listed on People's Plaza.
By the way, you'll need to show your entrance ticket once again, so be careful not to lose it!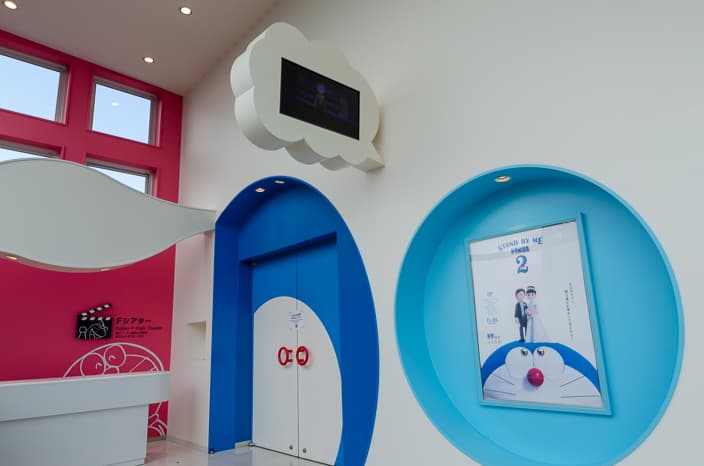 Manga Corner
The kids loved this space where they could read Doraemon manga! They were sitting all over the place, reading Doraemon manga, walking on the shelves, playing, and spending their free time.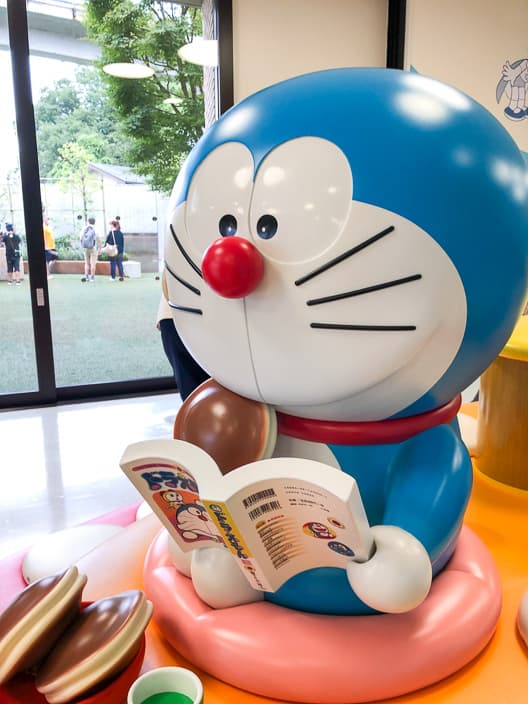 Kid's Space
This kids' space is a great help if you have preschoolers. It is a great place for kids to relax after a long day at the exhibition, with playground equipment in the shape of Doraemon tools (I recognized the Gulliver Tunnel!).
Some of the playground equipment and toys were probably removed to keep distances because of COVID19, but the space was spacious enough for the kids to play freely.
Both the first and second floor exhibition rooms are very interesting to look at, with a lot of information about Fujiko F. Fujio and his individual works, but kids don't take their time. So while the kids were playing in the kids' space, my husband and I took turns to enjoy the exhibition.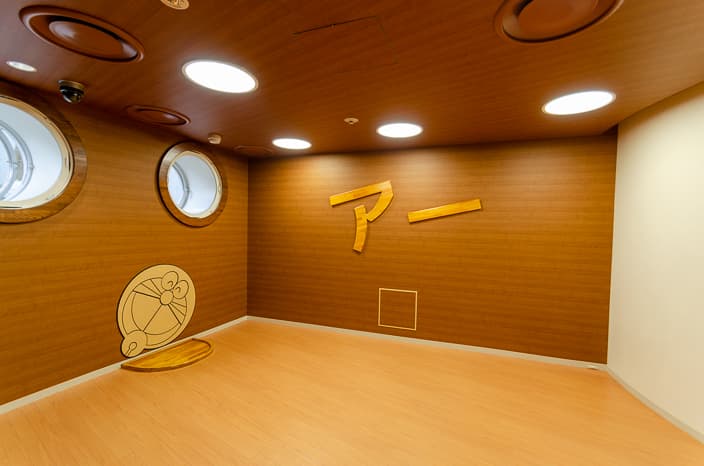 3rd Floor
Museum Cafe & Museum Gift Shop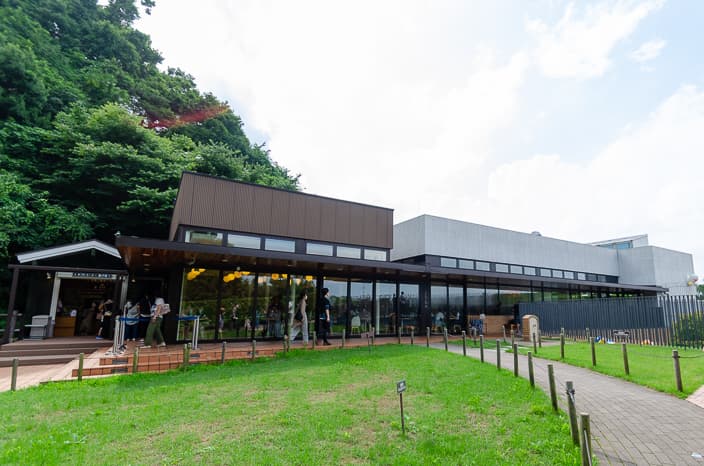 The building with the gabled roof on the left side of the photo is the "Museum Gift Shop Fujiko-ya". You can buy Doraemon's favorite "Dorayaki" and "Ankipan Rusk" here.
The square roofed building is the "Museum Cafe". I was hoping to have lunch here, but there was a long waiting list, so we gave up. If you want to eat or drink at the café, you might want to come here first and make a reservation before taking a leisurely stroll.
Rooftop Playground
When you go outdoors through the manga corner on the second floor, there is a spiral staircase that leads to Harappa, where you can meet various characters. It's a place where adults and children alike get excited and say, "There's that character! It's a place where adults and children alike get excited. Who's going to appear next? Who's going to appear next?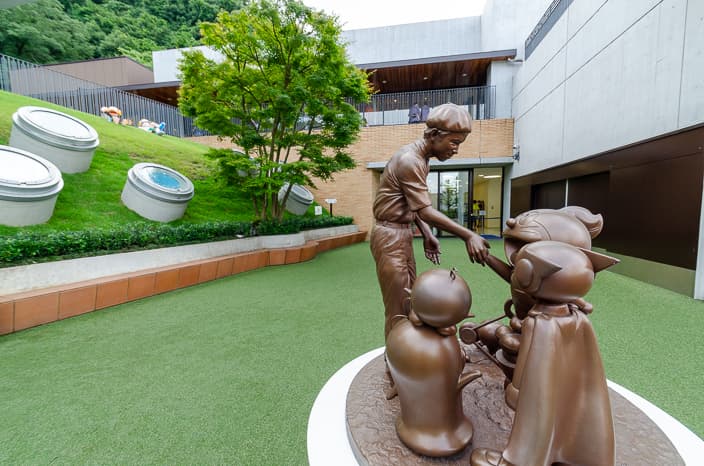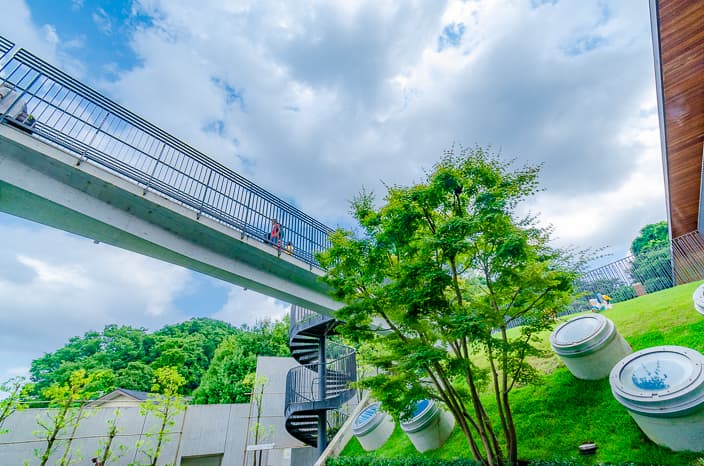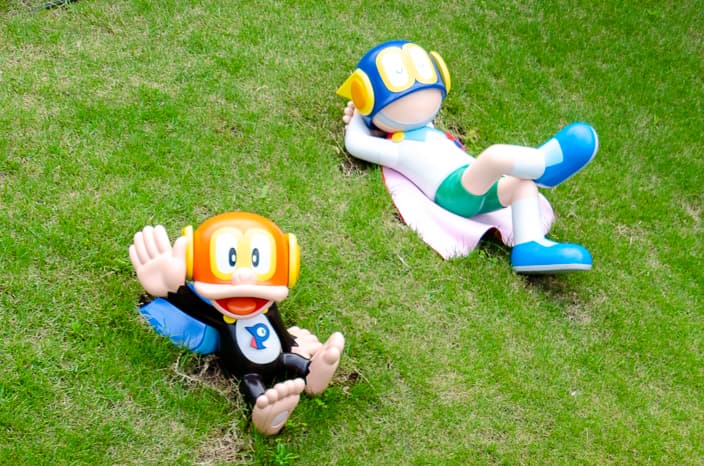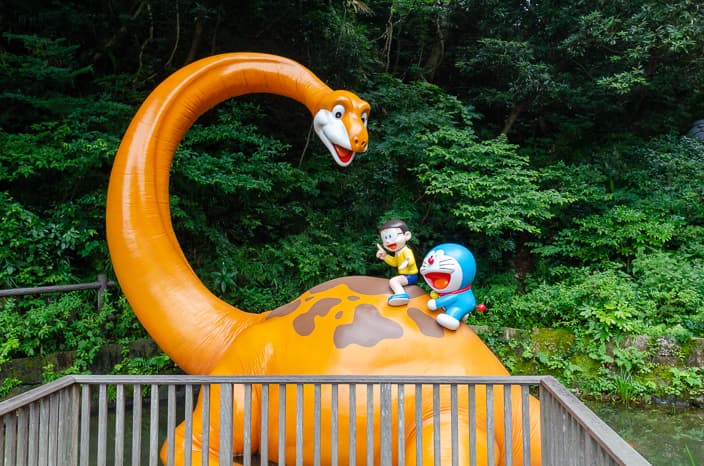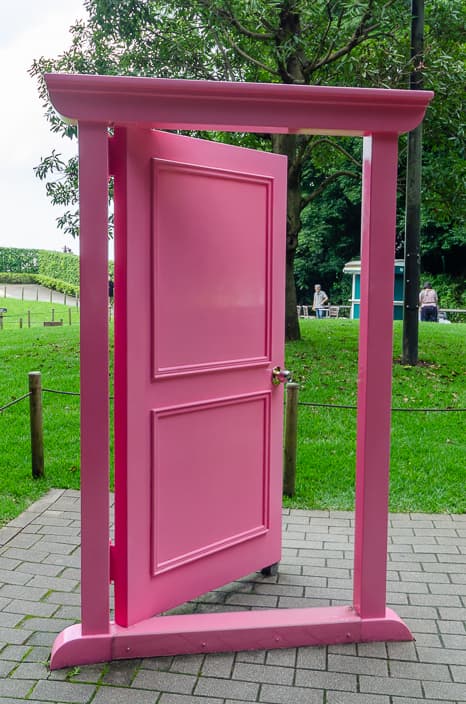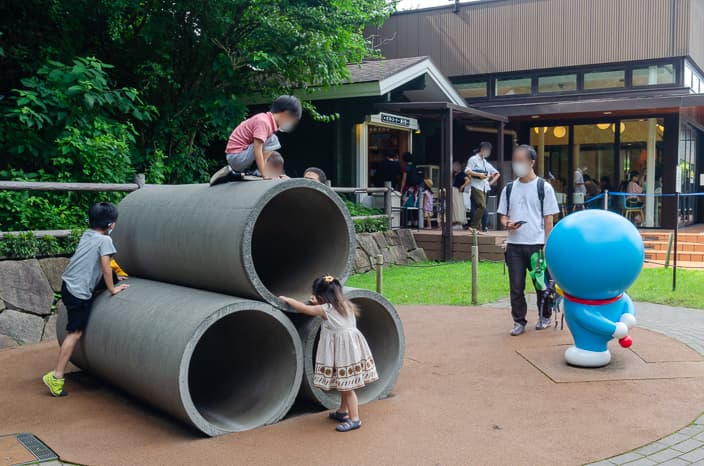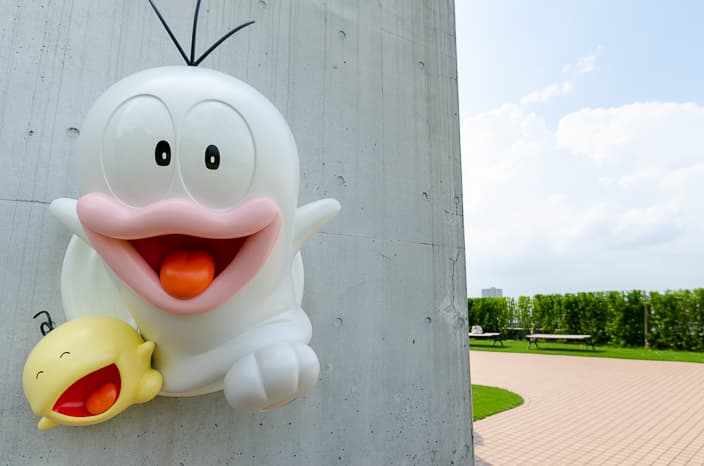 Although I have known the characters since I was a child, I felt closer to them and happy because through the exhibitions, I was able to know how they were born and what their story was.
The museum store we visited at the end of the tour was also a lot of fun.
The Museum is a bit far from the city center, but I felt so satisfied after my visit, that the inconvenience of traffic was no longer an issue. I highly recommend that everyone visit this place!
And if you want to trace the history of Fujiko F. Fujio even further, I recommend the Toshima City Tokiwaso Manga Museum in Toshima-ku, Tokyo. The museum is a must-visit for manga fans, as it recreates the apartment building where eminent members of the Japanese manga world such as Tezuka Osamu, Fujiko F. Fujio, Fujiko Fujio A, Shotaro Ishinomori, and Fujio Akatsuka lived.
Fujiko F Fujio Museum
Address  :2-chome 8-1 Nagao, Tama-ku, Kawasaki-city, Kanagawa
TEL    :0570-055-245
Open Hour:10:00-18:00
Close   :Every Tuesday except during the Golden Week(April 29th ~ May 5th) and summer holidays (July 20th ~ September 3rd). The Year-end and New Year Holidays (December 30th ~ January 3rd).
Reservation:The museum requires reservation so that every guest could thoroughly enjoy the museum. Each day, entrance time is divided into quarterly time-schedule. (1)10:00 (2)12:00 (3)14:00 (4)16:00
Website  :http://fujiko-museum.com/english/
Previous Post