【Kanazawa】21st Century Museum of Contemporary Art, Kanazawa – A Park-like Museum with Art close at hand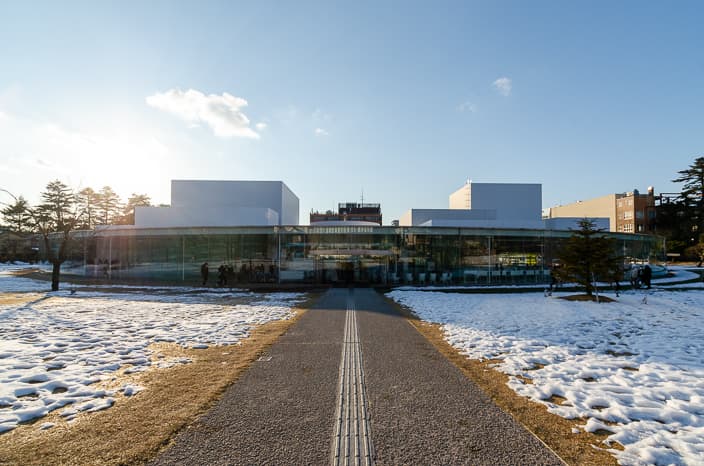 Since its opening in 2004, the 21st Century Museum of Contemporary Art, Kanazawa has been a popular destination for many visitors, both domestic and international. Designed by the world-renowned architectural unit SANAA (Kazuyo Sejima & Ryue Nishizawa), it has become a popular spot for arts and architecture lovers.
Architectural Concept
"Museum open to the city like a park"
Located in the center of Kanazawa (next to Kanazawa City Hall), the 21st Century Museum of Contemporary Art, Kanazawa aims to be a park-like museum where anyone can drop by, anytime.
For this reason, entrance to the site is open to all without any gate or barrier and the building is made of glass, creating a very liberating atmosphere. The architects focused on three points during the construction process :
① The Circle = Multiple Directions
Entrances are located on the North, South, East, and West sides of the building, so that visitors can enter from any direction and as a circular shape was adopted, there is no distinction between the front and back sides.
② Horizontality = Location of Facility
The exhibition rooms, café, library, and other facilities are almost all arranged horizontally.
It's a way to create a city-like expanse.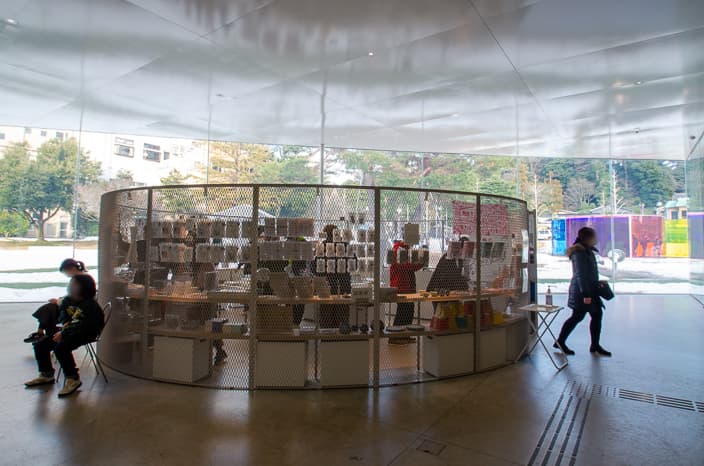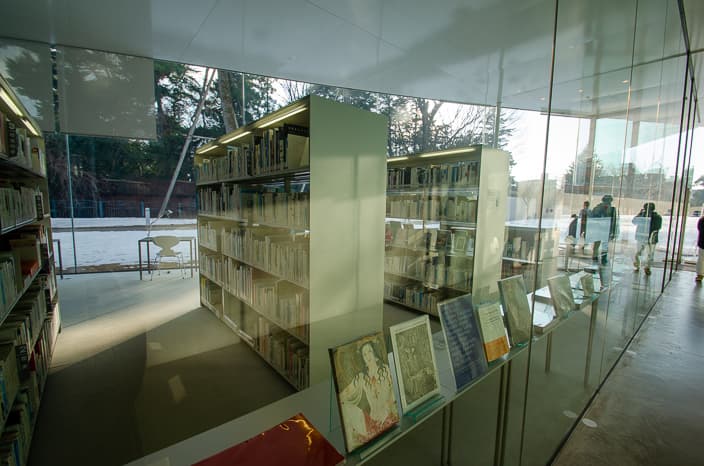 ③ Transparency = Producing Openness
The exterior walls and many of the building's interior walls are made of glass, which calls for "transparency, brightness, and openness.
Transparency also creates a sense of "encounter" where people inside and outside can sense each other's presence.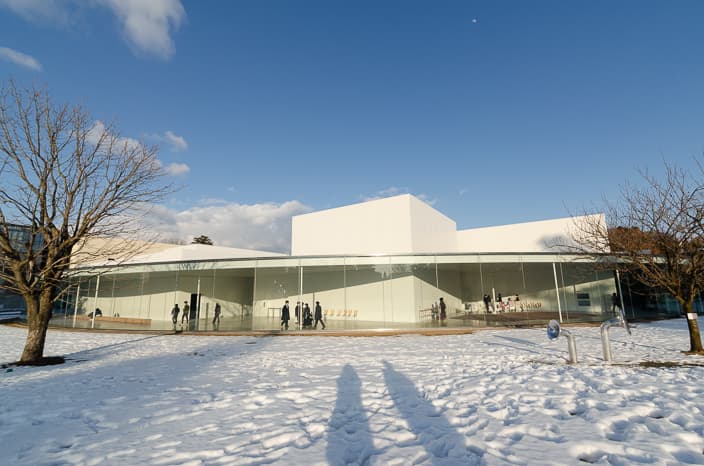 Experiential Art
The 21st Century Museum of Contemporary Art, Kanazawa often holds fascinating special exhibitions, but the permanent exhibits and installations are also very nice. The artworks on display are so beautiful that you will want to take pictures of them, and many of them are artworks that you can "experience" for yourself.
Blue Planet Sky / James TURRELL (2004)
"Blue Planet Sky," with its square-cut ceiling hovering above you, as you enter the room, is the work of light wizard James Turrell. As you look at the clean cutout in the ceiling, you can see the sky changing and feel the rotation of the earth.
At sunset in summer, there is a moment when the color of the sky and the color of the room are the same.
This is a phenomenon that can only be felt with the human eye, so I would like to see it with my own eyes someday.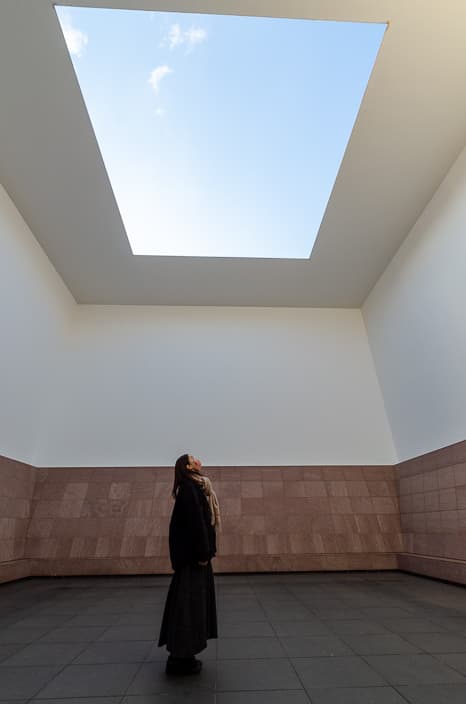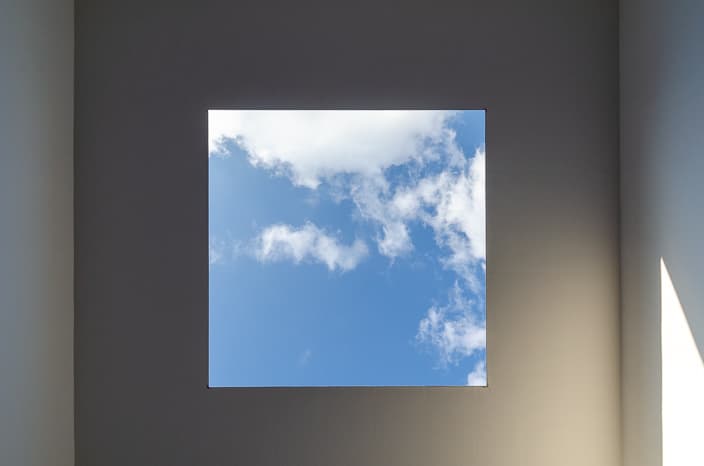 Colour activity house / Olafur ELIASSON (2010)
Although many colors can be seen in this work, only three colors are actually used. When you realize that the world you see changes depending on how the colors overlap, you may think that this colorful world you are seeing now is just a series of color films.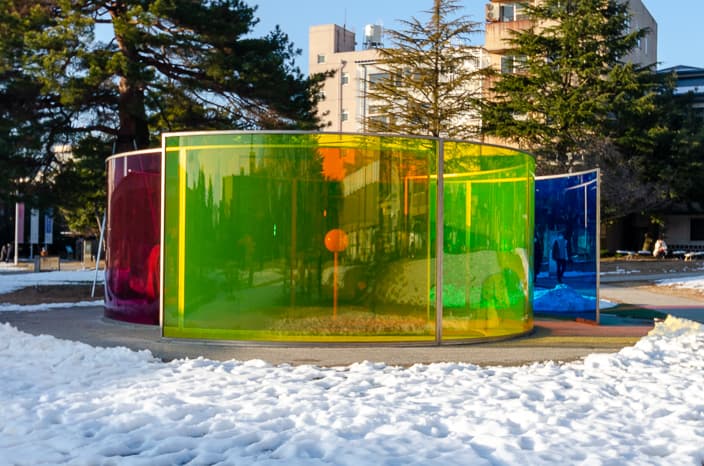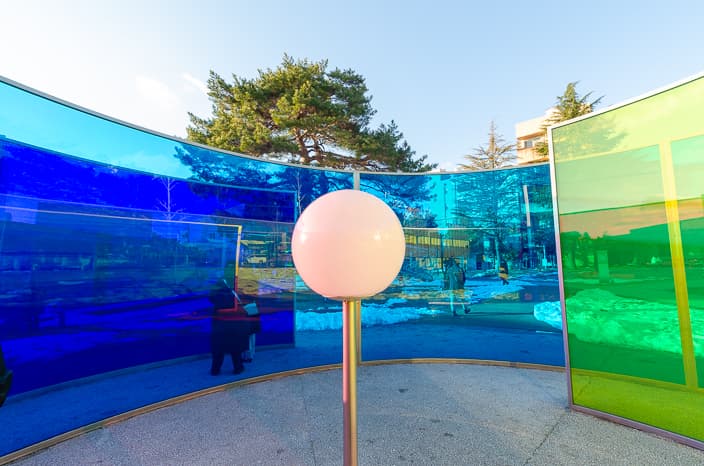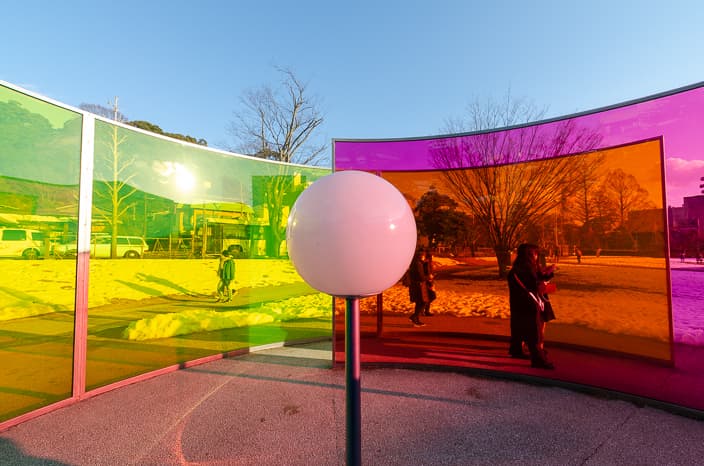 Rabbit Chair / SANAA
The chairs shaped like rabbit ears are a big hit with visitors!
If they were arranged in such a cute way, you would be tempted to take a commemorative photo.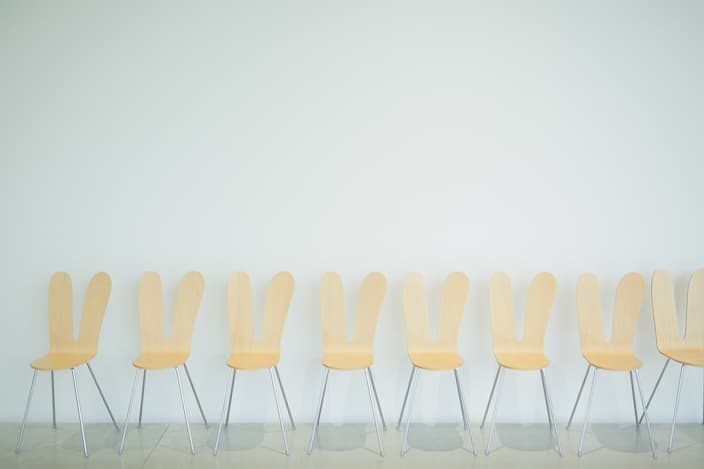 Klangfeld Nr.3 für Alina / Florian CLAAR (2004)
As you stroll around the site, you will see trumpet objects. There are 12 of them scattered throughout the site, each of which is connected to the ground in pairs. Since the trumpets are not necessarily connected to each other, if you shout into the trumpets, your voice may reach an unexpected place.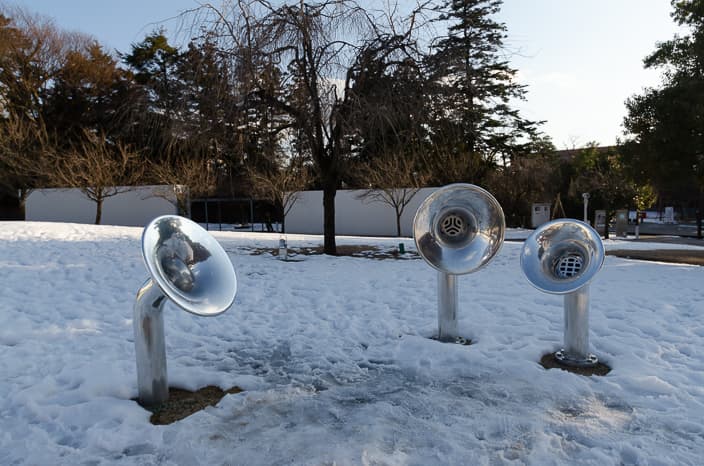 The Man Who Measures the Clouds / Jan FABRE (1998)
This work, standing on top of the building, was inspired by the film "Birdman of Alcatraz" (1961, USA).
The film is based on the true story of a jailed protagonist who kept small birds in his cell and became an ornithologist. At the end of the film, the protagonist, who has been deprived of his research freedom, is asked what he will do with his time, to which he replies, "I will spend it measuring clouds."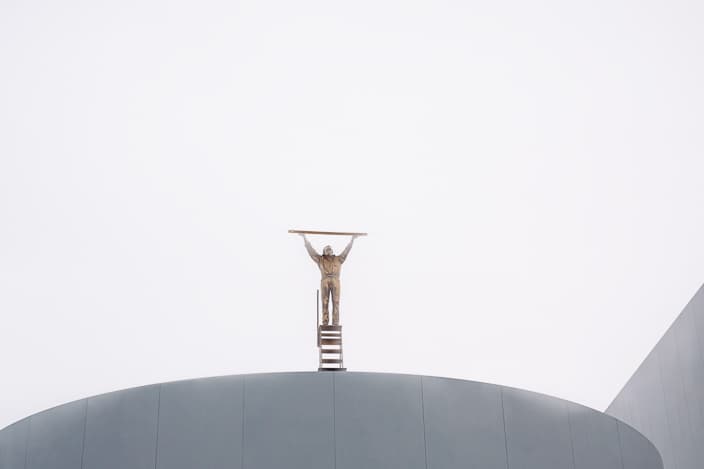 Maru (Circle) / SANAA (2016)
This cloud-like three-dimensional work can be viewed freely from both the outside and the inside. Please come and experience the mysterious landscape of countless reflections of yourself and your surroundings on the "Maru".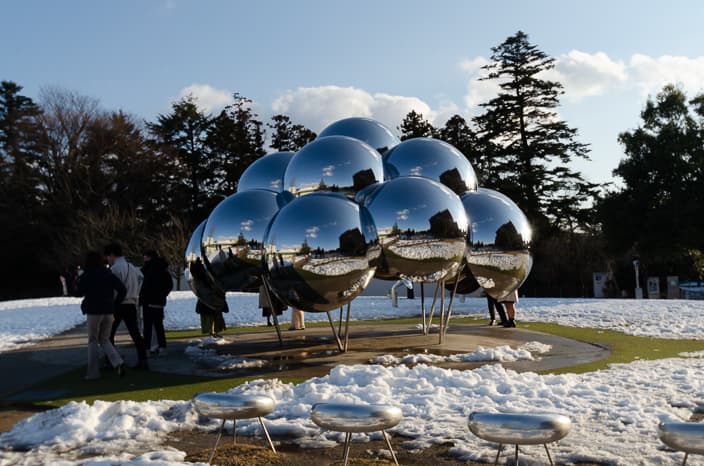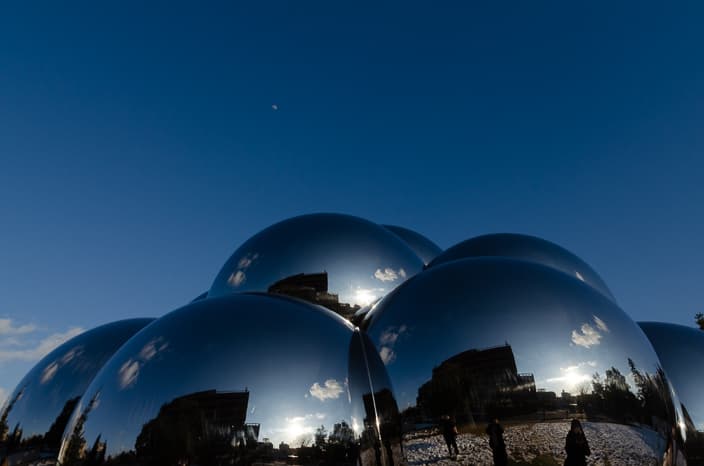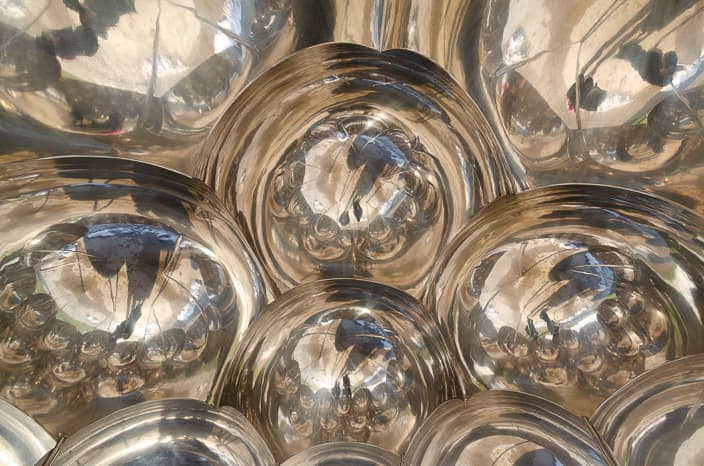 People's Gallery 09.10.04-21.03.05 / Michael LIN (2004)
The artist stayed in Kanazawa to research the production process of Kaga Yuzen before creating this work. Among them, he paid particular attention to classical designs, and this characteristic floral pattern was born from his research.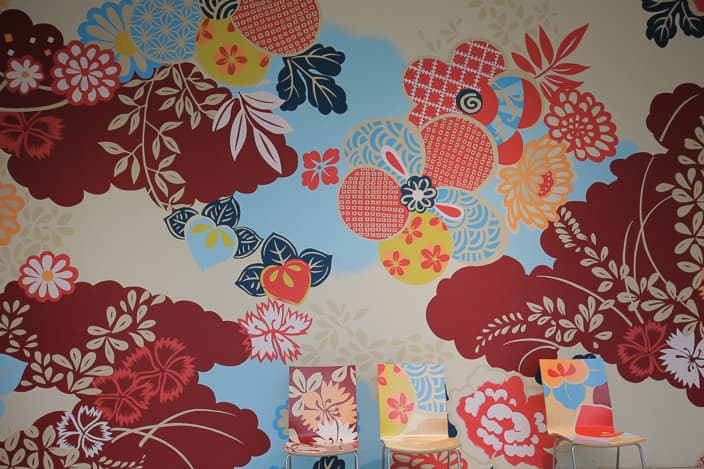 Like the 21st Century Museum of Contemporary Art, Kanazawa, Michael LIN's work was also seen at the Towada Art Center in Aomori Prefecture, designed by Ryue Nishizawa. If you like 21st Century Museum of Contemporary Art, Kanazawa, you will love the Towada Art Center!
The Swimming Pool / Leandro ERLICH (2004)
This pool is perhaps the symbol of 21st Century Museum of Contemporary Art, Kanazawa. At first glance, it appears to be an ordinary swimming pool filled with water, but when you get closer and look down, you realize that there are people walking at the bottom of the pool… In reality, there is only about 10 cm (about 4 inches) of water on top of a long glass panel, and a space below, for people to enter.
It is a work that offers a strange sensation both to the viewer peering into the pool from above and to those seeing the outside world, from inside – And of course, it's a lot of fun to take pictures from both sides!
Incidentally, the works introduced so far are all exhibited in the "Public Zone," which can be viewed free of charge, but to see this swimming pool up close, you must pay a fee.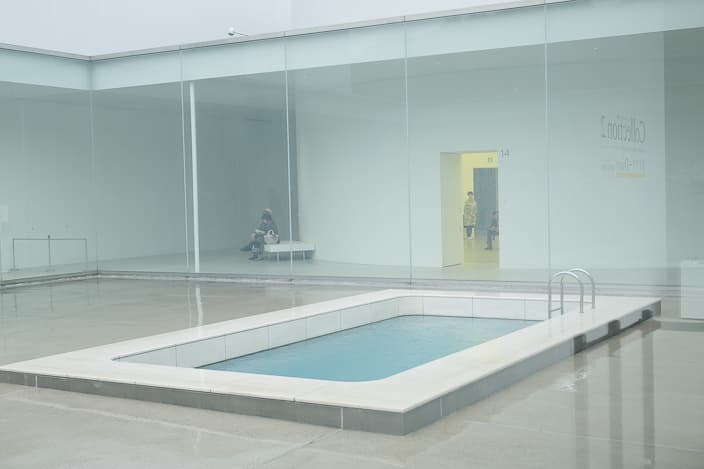 If you think you'll like Leandro Erlich's work, be sure to also visit the nearby KAMU Kanazawa!
It is a small and recent contemporary art museum, where you can see more unique and wonderful works of art.
The 21st Century Museum of Contemporary Art, Kanazawa has many more wonderful artworks and architectural highlights, but it would be too long to introduce them all here. It is a MUST-see spot when sightseeing in Kanazawa, so why don't you come and experience it for yourself !?
21st Century Museum of Contemporary Art, Kanazawa
Address
1-2-1 Hirosaka, Kanazawa City, ISHIKAWA
TEL
076-220-2800
Open Hour
【Exhibition Zone】10:00 – 18:00 *Open until 20:00 on Fridays and Saturdays
【Public Zone】9:00 – 22:00 *Open until 21:00 on Fridays and Saturdays
Close
【Exhibition Zone】Mondays *When Monday is a national holiday, closed on the following weekday instead. / New Year Holidays
【Public Zone】New Year Holidays
Admission Fee
【Exhibition Zone】Depending on the exhibition
【Public Zone】Free
Website
https://www.kanazawa21.jp/en/
Previous Post

Next Post