【Ginza】Restaurant Air – Modern French with a Twist and a Delight for All Senses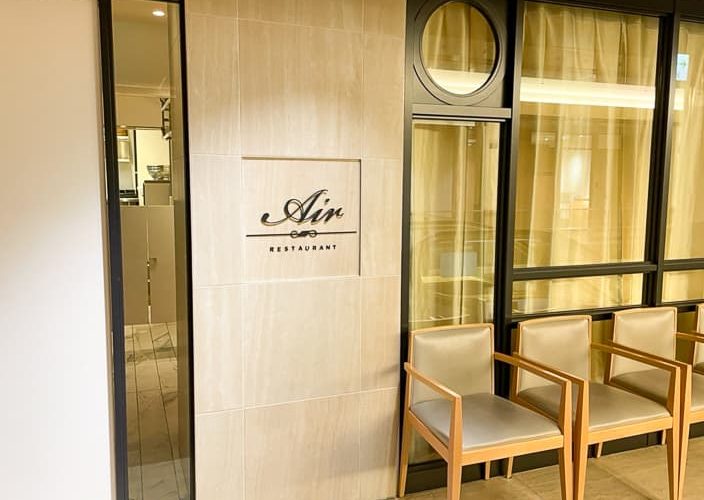 Ginza is a shopper's paradise with luxury brand stores, select stores, and flagship stores of Japanese brands, and it also has countless restaurants where you can enjoy dining after shopping. Among the many, I enjoyed the Chef's Omakase Lunch (7,150 yen) at Restaurant Air, a modern French restaurant where you can feel the six tastes (salty, sweet, bitter, sour, umami, and spicy).
The location is on the 8th floor of EXIT MELSA, a commercial building diagonally across from GINZA SIX.
I was a little surprised when I arrived, as I had assumed that it was in a building with one restaurant per floor.
I took the escalator up to the eighth floor, but the fifth and sixth floors were closed for store renovations, so I was a little surprised when I arrived. Am I in the right place? I was worried.
And yet, as I arrived, the actual restaurant was so nice, that I felt bad for being even a little nervous.
The restaurant is smaller than I imagined and has a relaxed atmosphere that makes you forget you are in a commercial building. We had made a reservation at 12:00 on a weekday, but the restaurant was fully booked and we could see how popular it was.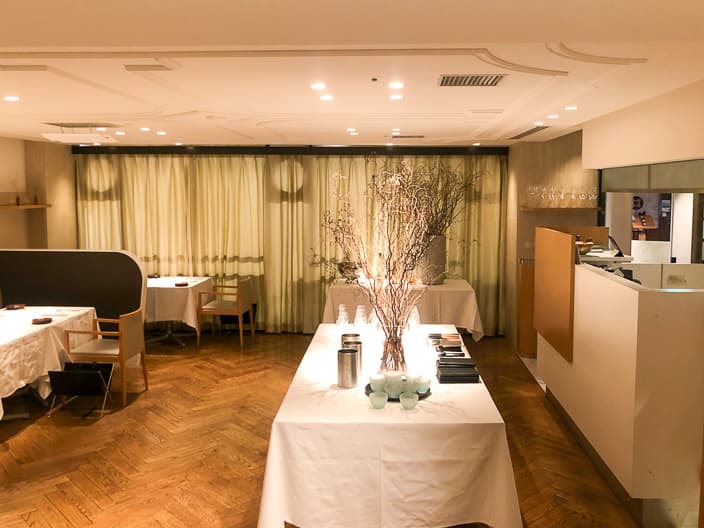 Just one glass of wine before we eat.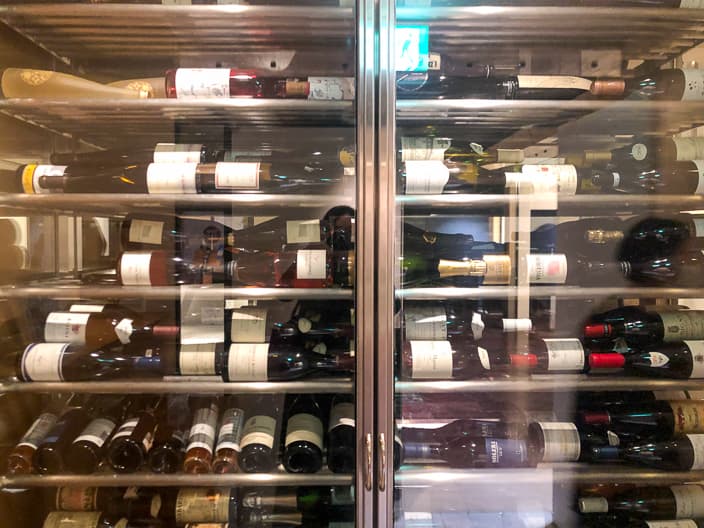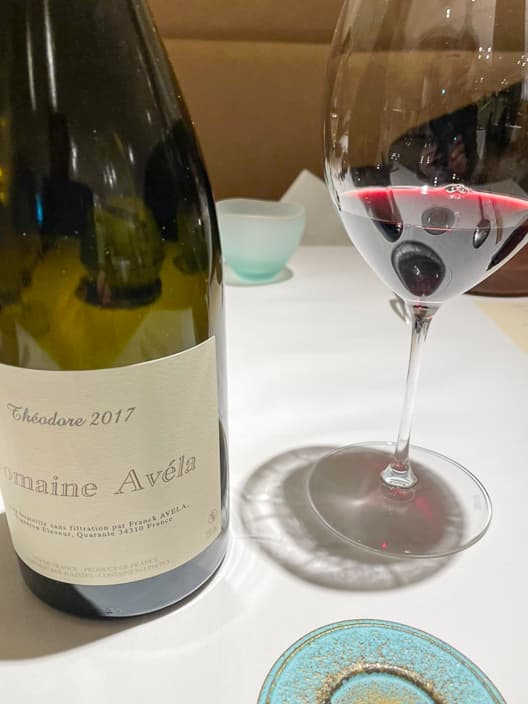 1. Appetizer (Odemukae)
The lunch course began with a "Odemukae". This was the first time I had ever seen this phrase on a French menu list, and a hatchet flew over my head. As I waited, a liquid was poured into my cup as if I was holding a teapot and brewing tea. This was mushroom soup. The warm soup and the aroma of mushrooms relaxed my mind and body.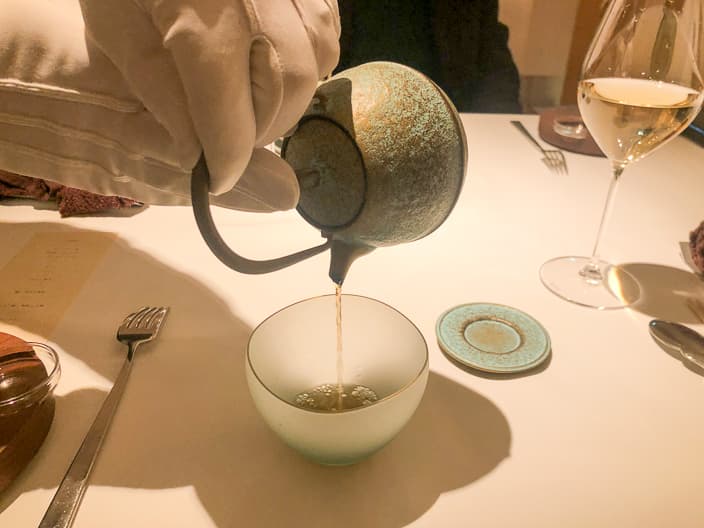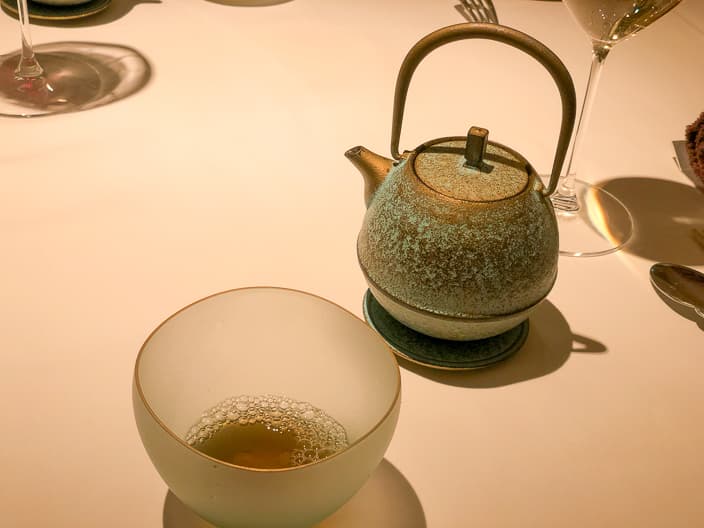 2. Foie Gras and Chestnuts / Sweet Prawn and Cake Salé / Pâté de Campagne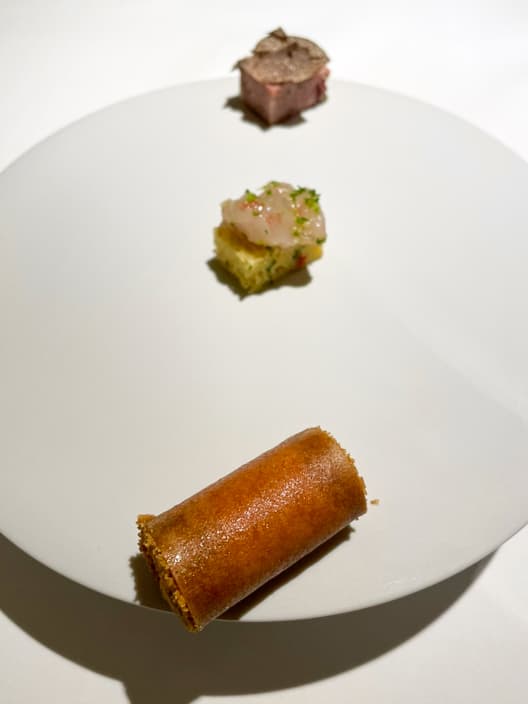 When we told them in advance that I couldn't eat raw food and they were flexible enough to change the sweet prawns to truffles. It was a blessing to be able to enjoy it together.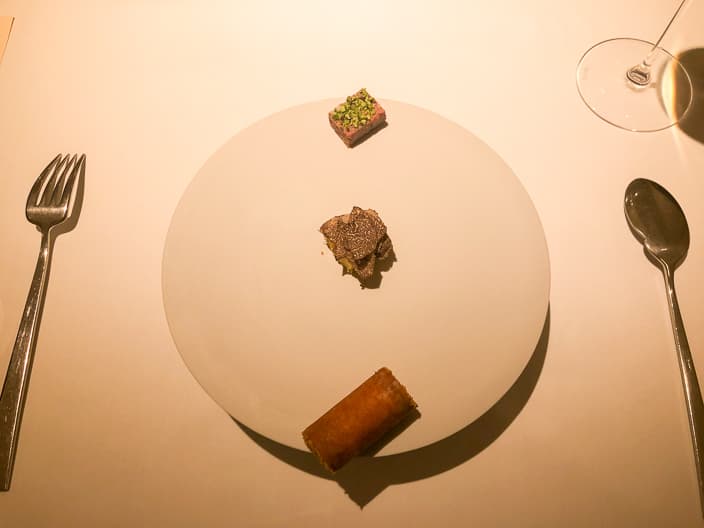 3. Air
Restaurant Air's speciality "Air" is like a parfait. It is so beautiful that it is a shame to break it up, but you drop the yolk into the glass and mash it to mix it. It has a great visual impact and it's not only impressive in appearance, it's also very tasty and a memorable experience.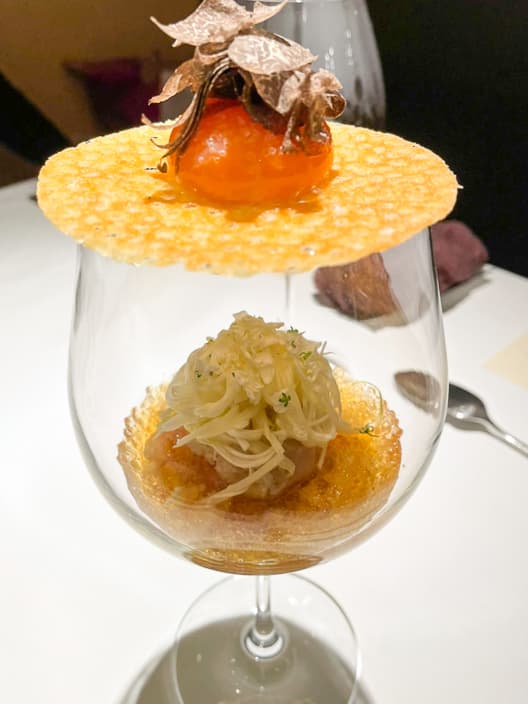 For those who don't like raw stuffs, you may have pistachio gelato instead.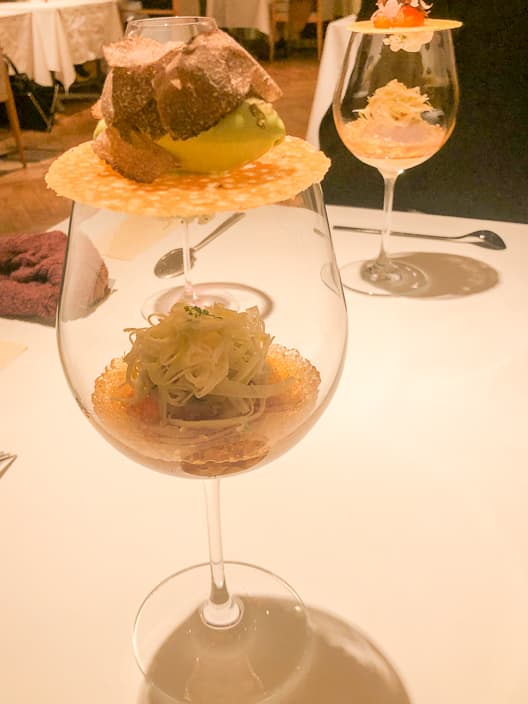 4. Milt and Kikuimo (Jerusalem artichoke)
The person I dined with was not a fan of milt, so he asked if he could change it just before this plate was served, and the staff gladly accepted. Great! Instead of the milt, he was served scallops.
Wow, that looks so good. As a scallop lover, I was a little disappointed and thought, "I would have preferred that…"
However, when I actually ate it, the albacore was also very tasty, so I was happy with the result.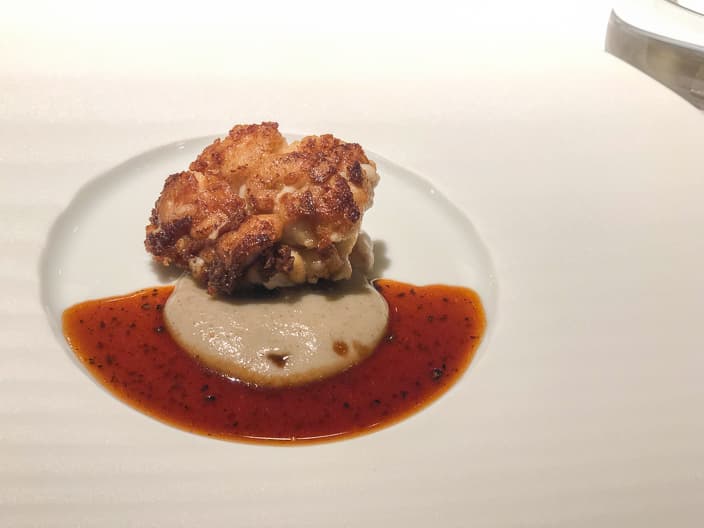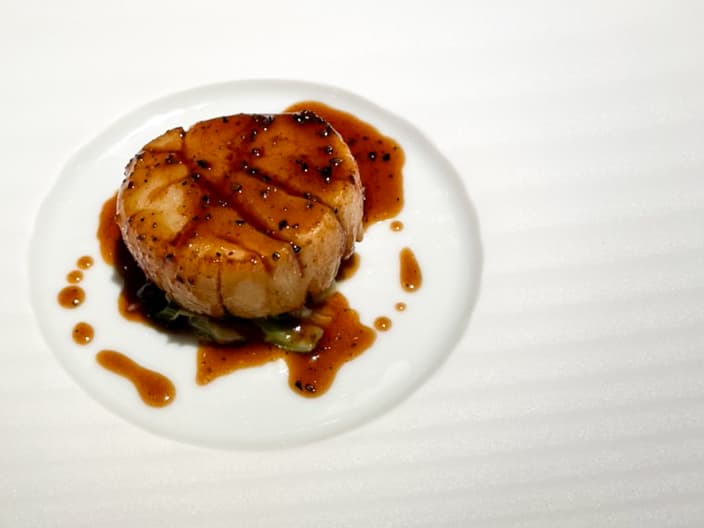 5. Japanese Spanish Mackerel and Aosa (Sea Lettuce)
The same goes for the "Milt and Kikuimo (Jerusalem artichoke)" dish I mentioned earlier, but the "Japanese Spanish Mackerel and Aosa (Sea lettuce)" dish was a lineup of ingredients that somehow didn't feel like a French dish.
It seems that many elements of Japanese cuisine have been incorporated into this dish, making it a new and very enjoyable experience.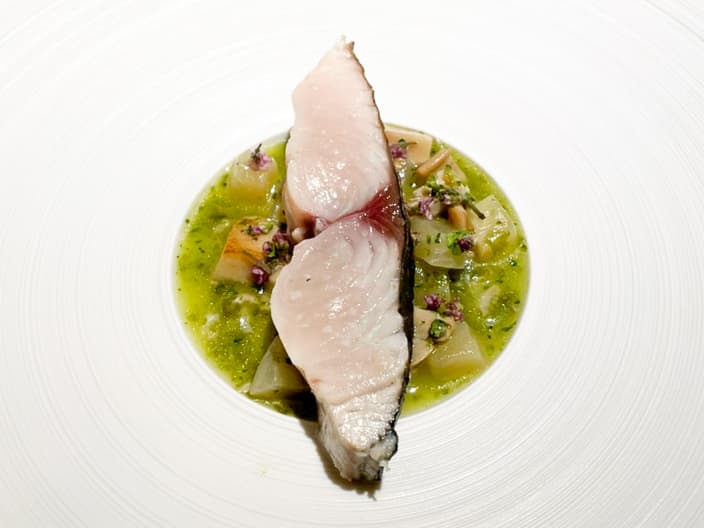 6. Sharan duck, Crown Daisy and Japanese Pepper
Sharan Duck is raised in the Sharan region of northern France. It was tender and easy to eat.
The sauce was soy sauce based, I believe, and again, a fusion of French and Japanese cuisine.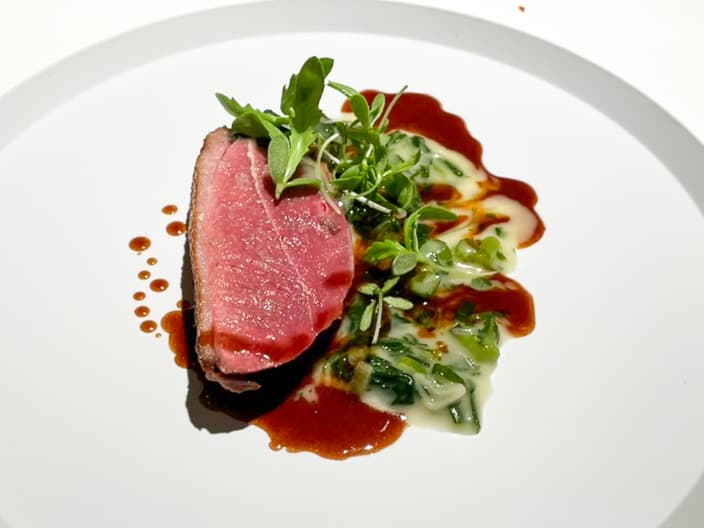 7. Tarte Tatin
The little apple-like or cherry-like thing on top is actually a sauce.
It is recommended to eat it without breaking it at first, and then break it up in the second half to enjoy the change in flavor.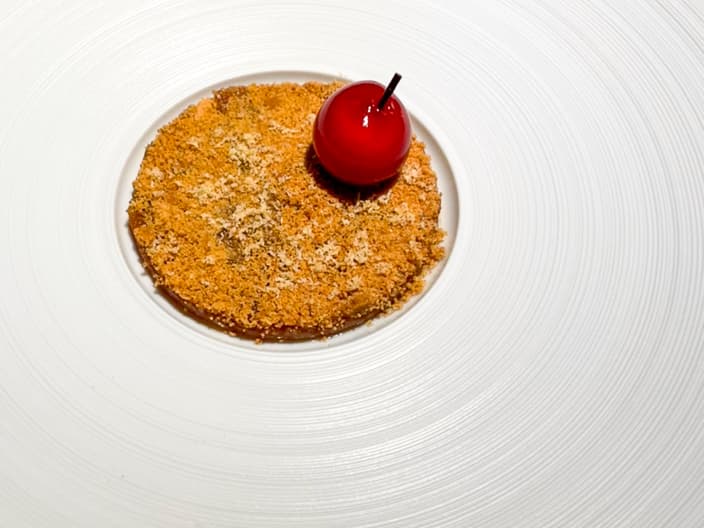 8. Tea cakes
We ended with small sweets and drinks (coffee, tea, rooibos tea, etc.).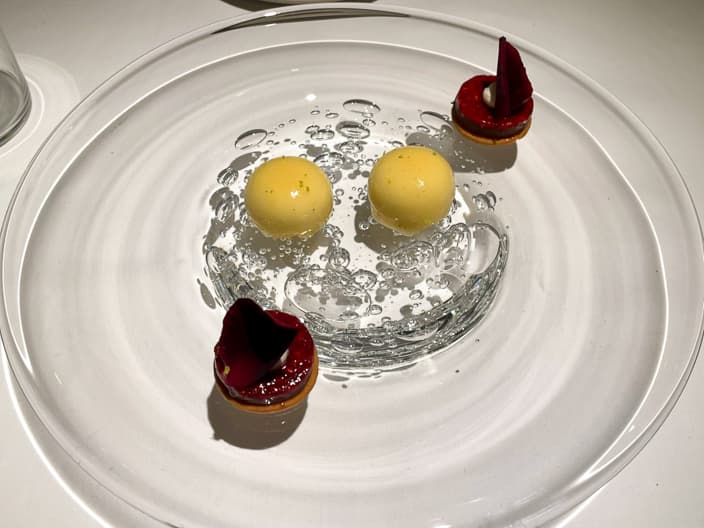 If you ask for it upon reservation, you can write any message you like on the flower-filled instagrammable box that is brought to you with your dessert. This would make a wonderful surprise for birthdays or anniversaries!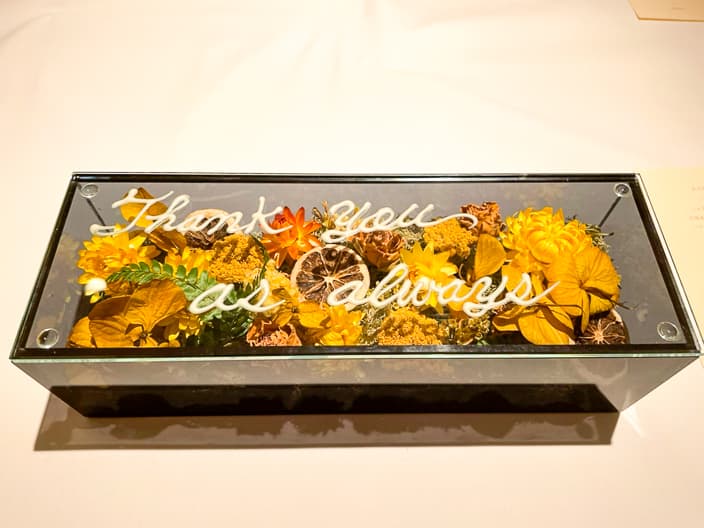 Before I came to the restaurant, I was a little worried about what I would do, if it only looked like the pictures posted on the website and SNS, but my fears were unfounded. The restaurant looks good, tastes good, and the service is good, so why not use it for your anniversary?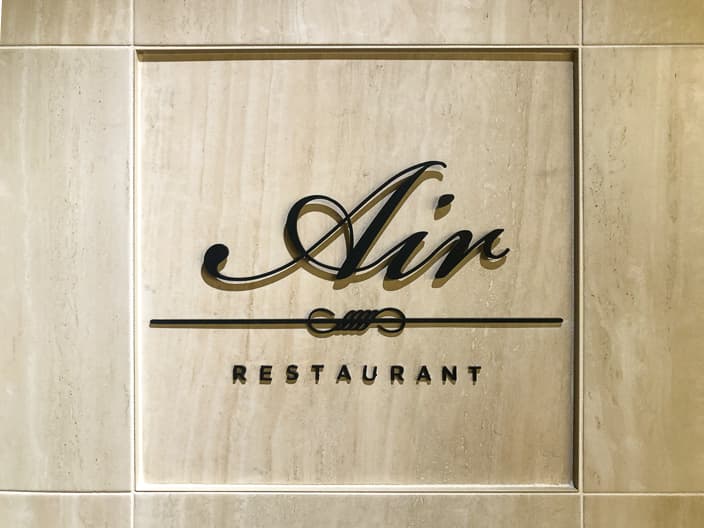 Restaurant Air
Address
5-7-10 EXIT MELSA 8F, Ginza, Chuo-ku, TOKYO
TEL
03-6264-5900
Open Hour
【Lunch】12:00 – 15:00
【Dinner】18:00 – 22:00
Close
The close day of EXIT MELSA (4 times a year)
Website
https://www.restaurant-air.com/ (Japanese ONLY)
Previous Post

Next Post