【Ginza】Opus – A great casual restaurant supervised by Michelin chef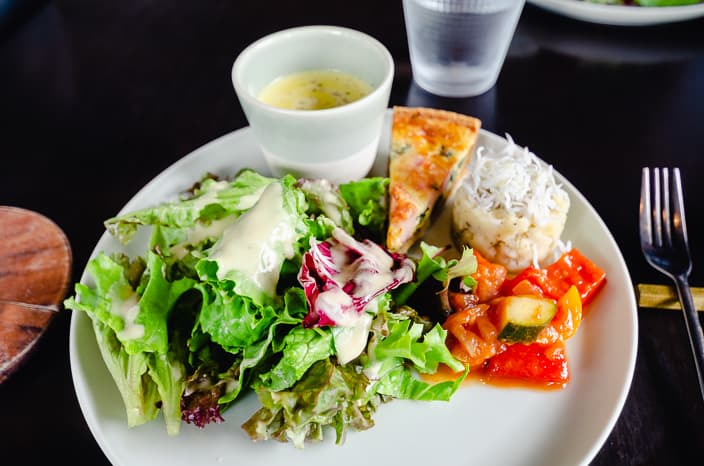 Ginza in Tokyo, is one of the most famous districts in the world, like Champs-Elysées and 5th Avenue. In addition to being a shopping paradise, Ginza is also full of art & architecture and when I came from the countryside to live in the capital city, its sophisticated image is exactly what I envisioned Tokyo to be.
Speaking of Ginza, the Chuo-dori is a pedestrian paradise on weekends and holidays (* Canceled when State of Emergency is in effect). It has been selected as one of the "100 best roads in Japan," selected as symbols of the modernization of the Meiji era, making it a very exciting place to visit during the weekends.
The other day, I had the pleasure of enjoying a mind-blowing lunch in such a mind-blowing city! We visited "Opus", a restaurant that opened in March 2019 on the top floor of The Royal Park Canvas Ginza 8.
As the name suggests, it is located in Ginza 8-chome, a little off Ginza Chuo-dori. The Royal Park Canvas Ginza 8 is located in a small alley right across the street from the Shiseido Parlor.
Supervised by Chef Yusuke Namai, owner of the popular Michelin-starred restaurant Ode in Hiroo, the Signature Dish is a modern seafood grill with ingredients imported from all over Japan and cooked in a special oven.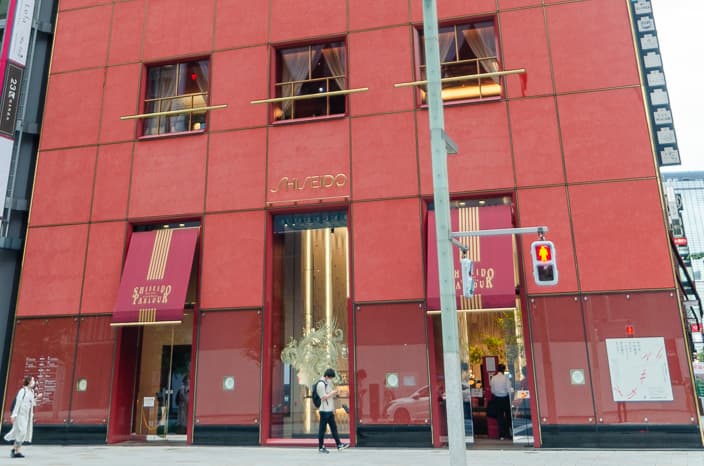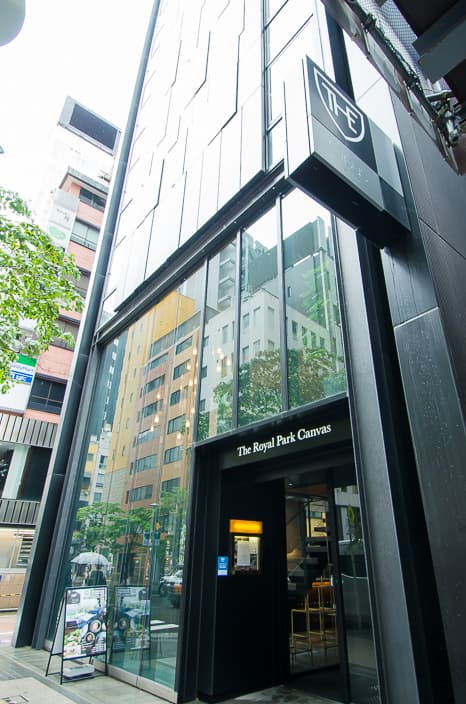 Passing by the nice hotel lobby, I took the elevator to the top floor, the 14th floor.
As soon as the elevator doors open, this stylish restaurant awaits you.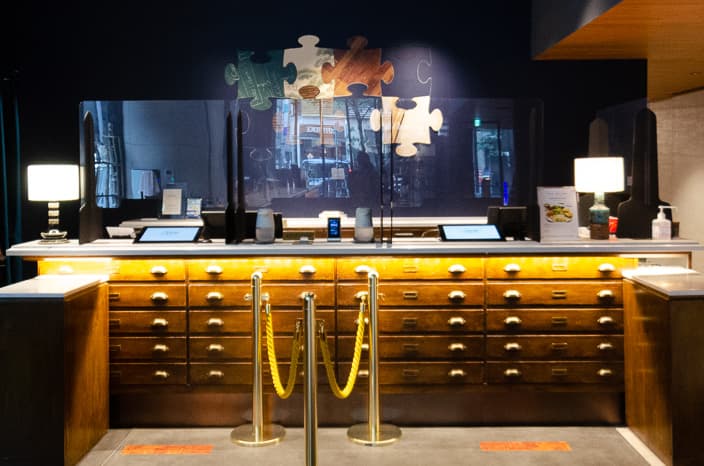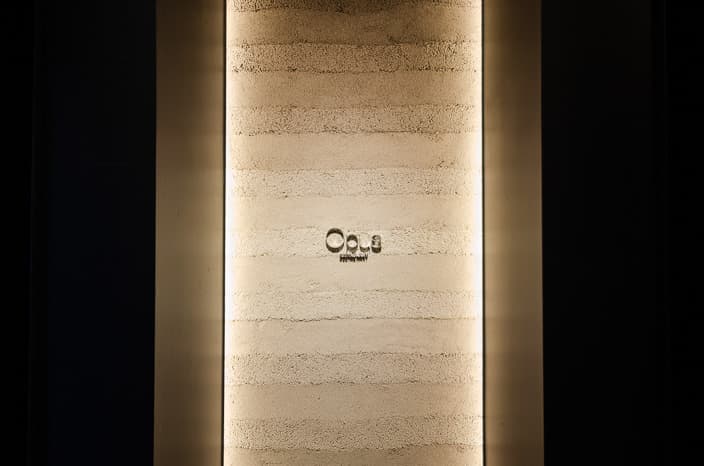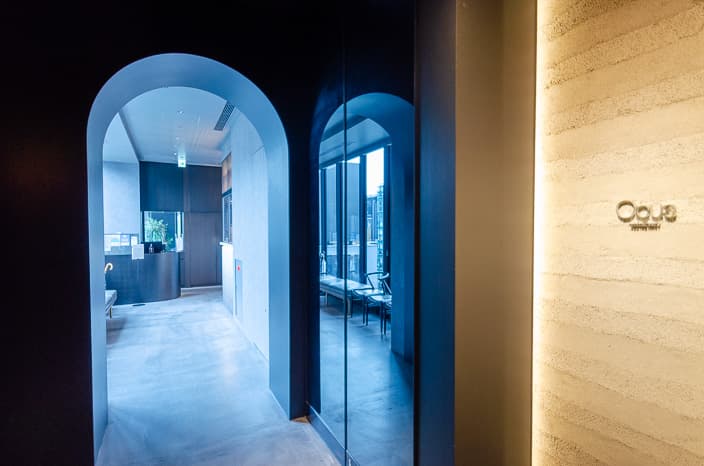 The interior of the restaurant has a modern atmosphere based on the signature gray color. The restaurant is cozier than I expected and easy to spend time in without being noisy. There are also terrace seats, but they were closed due to rain that day. On a sunny day, it would be very nice to spend time on the terrace.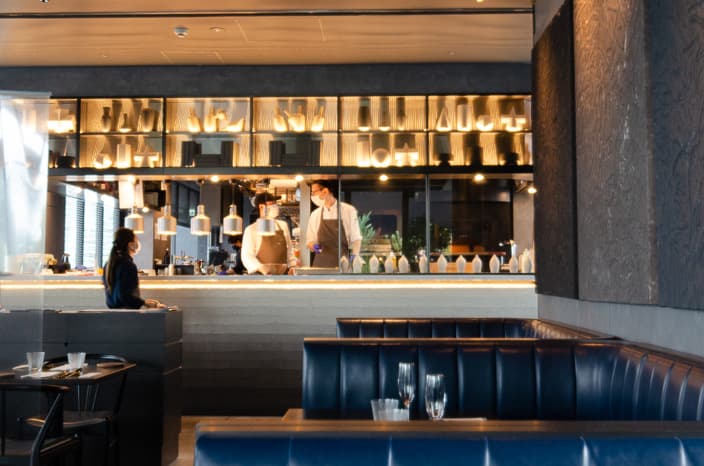 Lunch is [assorted deli + bread + drink (coffee or tea)] with a choice of main dish: pasta (2,300 yen), fish or meat (2,600 yen). Dessert is also available for an additional charge.
The photo is a bit blurry, but… this is what the deli platter looked like. There was a salad, ratatouille, potato salad with shirasu, spinach and bacon quiche, and corn soup.
Not only was it beautiful to look at, but it was all delicious and I especially liked the quiche. The focaccia bread was fluffy and delicious.
For the main course, we chose the fish dish, "Grilled sea bream with gribiche sauce and asparagus. Of course, it was also delicious. Also, when I informed in advance the person I was dining with didn't like corn, they changed the soup menu, which was I thought was good service.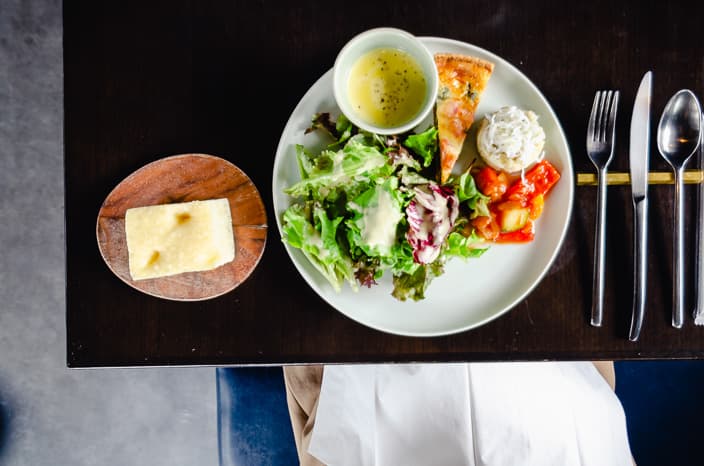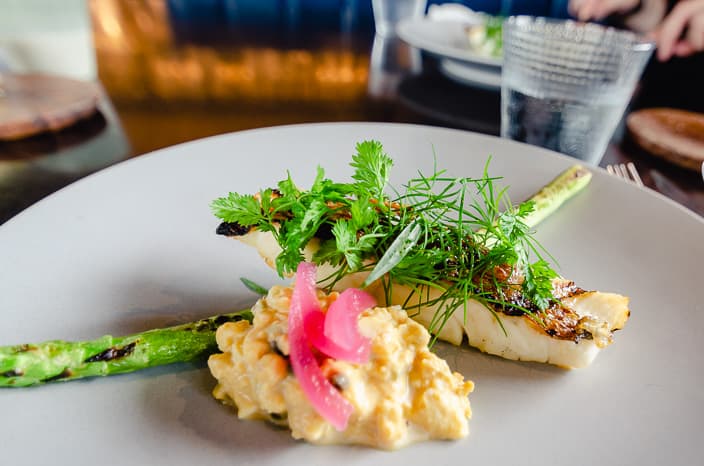 In addition to lunch, the restaurant is also open for afternoon tea and dinner, so I would like to visit again and especially, I'd like to try the dessert called "Gray," which is said to be their specialty (preferably on the terrace!).
By the way, breakfast for hotel guests was originally served buffet style at the Opus, but they have now stopped serving it since COVID-19. If you wish to have breakfast, they can deliver a breakfast box to your room.
There is also a bar and a tea salon on the first floor, so you can enjoy those as well. You can enjoy different menu items such as smoked mocktails made with tea.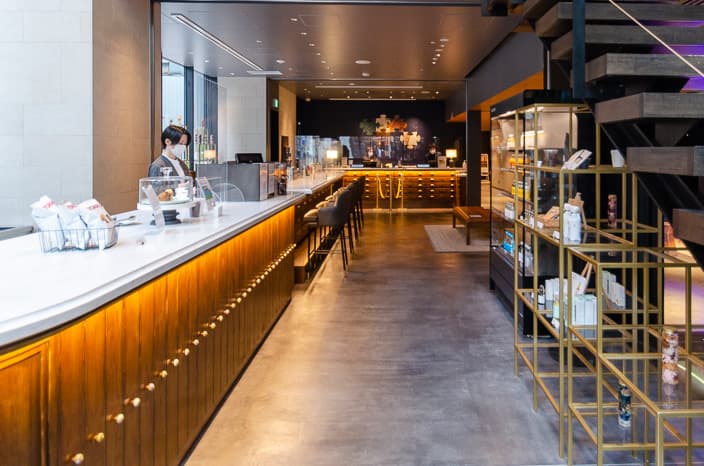 Opus (at The Royal Park Canvas Ginza 8)
Address
The Royal Park Canvas – Ginza 8, 14th Floor 8-9-4 Ginza, Chuo-ku, TOKYO
TEL
03-6263-8432
Open Hour
【Monday – Saturday】
7:00 – 10:00 / 11:30 – 23:00 (FOOD L.O. 22:00 / DRINK L.O. 22:30)
【Sunday】
7:00 – 10:00 / 11:30 – 21:00 (FOOD L.O. 20:00 / DRINK L.O. 20:30)
Website
https://www.canvas-ginza8.jp/en/restaurant/