【Nasu】Nasu-Ashino Stone Museum – Kengo Kuma's stone architecture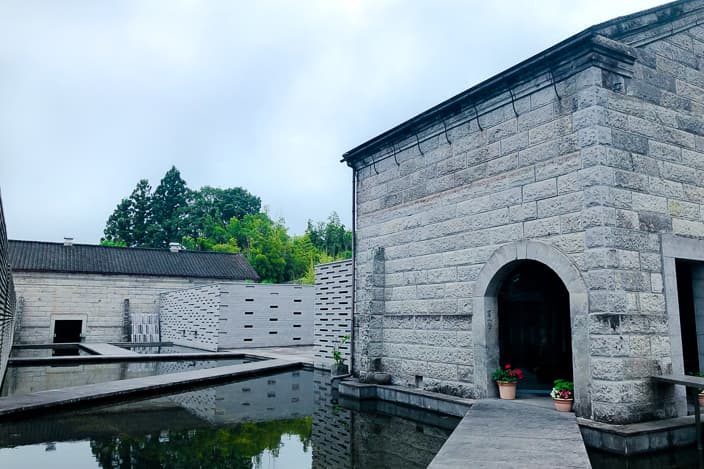 When thinking about the famous Japanese architect Kengo Kuma, the first thing that comes to mind is his extensive and innovative use of wood. A fine wooden structure is a trademark of Kengo Kuma, that continues to fascinate people with its lightness and inherent poetry.
However, Kuma has also worked with other materials and a beautiful example of it, is the "Nasu-Ashino Stone Museum".
What is the "Stone Museum"?
The Stone Museum is located in Nasu (Tochigi Prefecture), about 200 km north of Tokyo – it takes about 2 hours by train and 3 hours by car.
The project originated to showcase the town's historical use of Ashino stone and Shirakawa stone (quartz andesite), which were used by local residents for walls and storage houses, but also at Naritasan Temple, in Nikko (World Heritage Site) or, for example, in Shinbashi Station in Tokyo.
Standing in a residential area, there was a stone warehouse built from the Taisho era to the early Showa era. It was previously used as a rice brewery for agricultural cooperatives, but has been left unattended since the 1970s. The desolate stone warehouse seemed to be a symbol of a depopulated city. The 80-year-old stone storehouse has been reused, extended and ultimately revived as a place for exhibiting art and crafts made from stone. Not only is the theme of stone, but the building itself is also stone. It is a museum that expands the possibilities of this timeless material.
It uses the same Ashino stone as the original stone storehouse, and is characterized by showing a new look of the stone in order to extend the profound feeling of the stone.
The beautiful stone bridge over the water
The Stone Museum was built by reusing three existing stone warehouses. Each of them stand independently and when moving around, you need to cross a bridge over the water. It would be nice to immerse water in a place that was originally continuous and build a bridge! Maybe I just like water, but it's fun just to look at it. Why do you feel so well when the buildings are reflected on the surface of the water? It was a cloudy sky on that day, but if it's sunny, there is no mistake in the photo spot.
I was worried that it would be a little boring place for 2 years old kid but she enjoyed running around the bridge. We were delighted to discover a small tree frog near the water.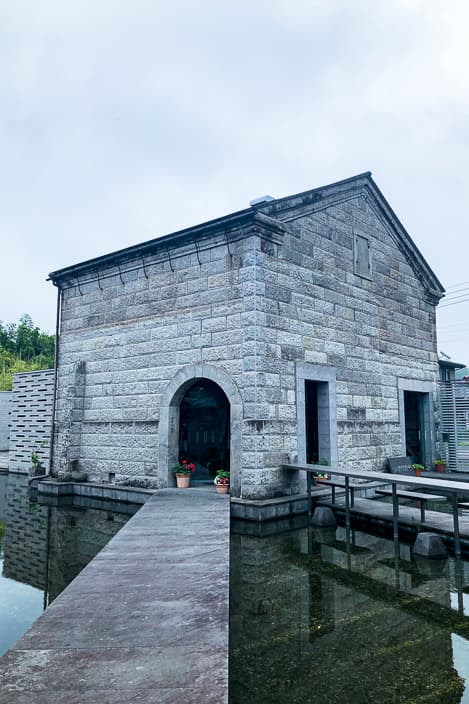 Although the material is stone, I could clearly feel that this is Kengo Kuma's work – as with his other creations, it is a combination of many small parts stacked onto each other, creating a sturdy, yet visually light structure.
The thickness, carving and polish of the stone changes from place to place, and the impression is completely different, so I feel that it really shows various expressions of the stone.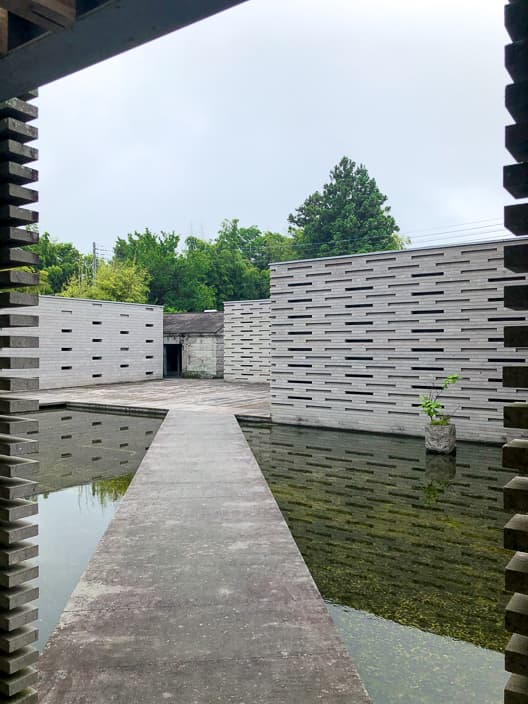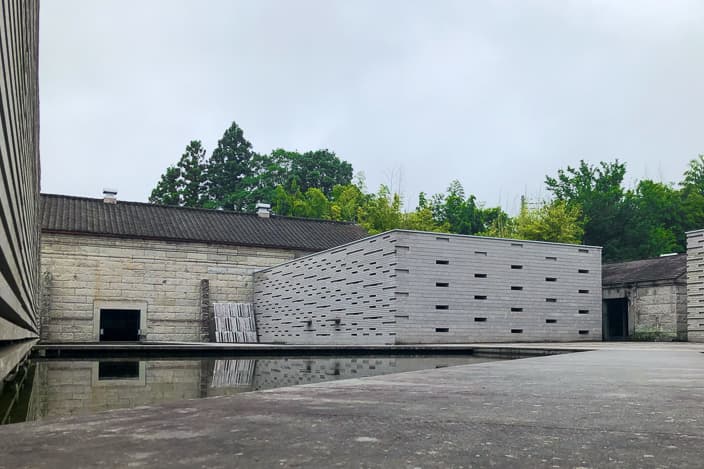 Inside the innermost building, you will find the story behind the construction of this museum and Kuma's other stone architecture. Beyond that, there is another building called "Gallery of Stones and Lights" (Building on the right side of the upper photo), where a photo exhibition was held that day.
As the name of "Gallery of Stones and Lights" suggests, it is a very nice space where natural light enters through the gaps in the stone-stacked building. A place where black-and-white photographs and BGM made me feel comfortable and vague.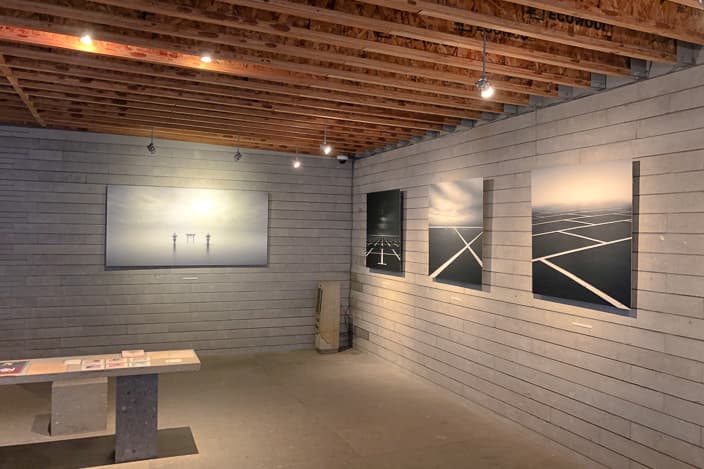 Summary
It was a very interesting place because it is a museum where I could learn how to use stones in different ways to create various feelings and emorions. And although I know many of Kengo Kuma's work, I was not familiar with his use of this specific material.
If you come to Nasu area and are a fan of Kengo Kuma, I really recommend a visit. Since it is a little far from the city, there are only few visitors is small and you can enjoy it calmly.
However, if you are not very interested in architecture, you may prefer to make best of use of your limited time and visit Art Biotop Nasu (Art Residence and "Water Garden"), N's Yard (Yoshitomo Nara's private museum) or Seiji Fujishiro Museum.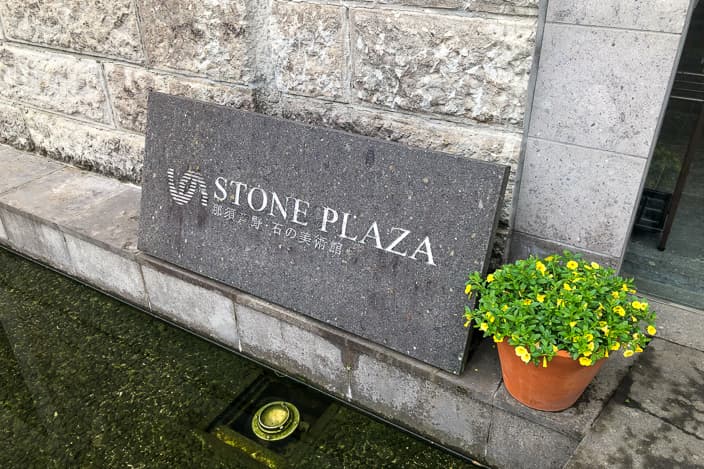 Nasu-Ashino Stone Museum
Address
2717-5 Ashino, Nasu-machi, Nasu-gun, TOCHIGI
TEL
0287-74-0228
Open Hour
10:00 – 17:00 (Last entry at 16:30)
Close
Monday (If it's public holiday, the next day will be closed.)
Winter Season (The end of December – The end of February)
* There may be a special closure
Admission Fee
【General】800 yen
【Elementary & Junior high school student】300 yen
Website
http://www.stone-plaza.com/information/infomation.html
Previous Post

Next Post