【Destination Guide】 Kanazawa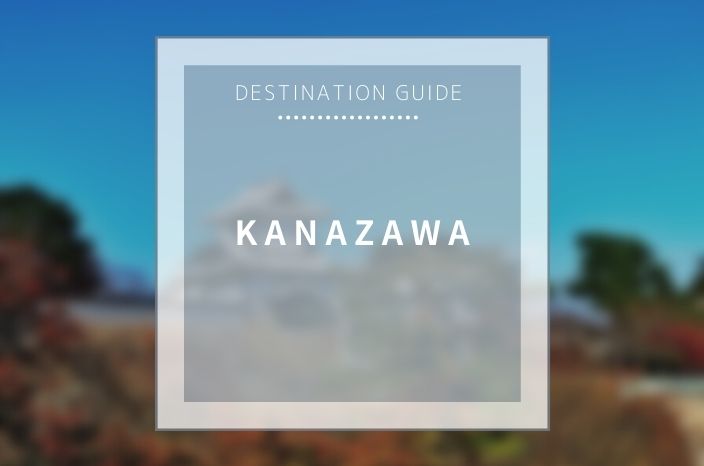 Introduction
History, Traditional Architecture, Crafts and more
Situated on the western coast of Japan – opposite to Tokyo – Kanazawa has long been a "forgotten destination" for international travelers. With the opening of a brand new bullet train (shinkansen) line in 2015, it quickly gained its spot on the travel map and the number of domestic and international visitors has steadily grown since then.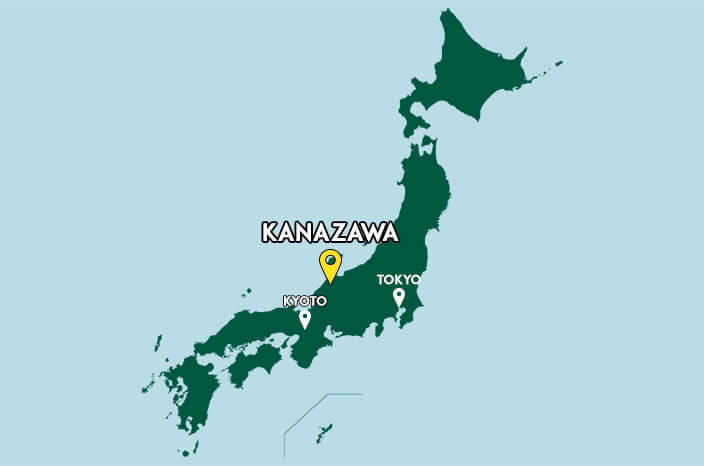 In this article, we would like to present you what makes Kanazawa such a charming city and ideal touristic destination besides Tokyo and Kyoto.
A long history and heritage, carefully preserved.
The present-day Kanazawa was part of what was called at the time, the Kaga Domain, ruled by the Maeda clan for over two centuries. These rulers couldn't militarily compete with the central powers and thus decided to focus on attracting skilled artisans and develop sophisticated arts and crafts, that were passed on to the next generations until the present day.
What also contributed to the unique heritage of Kanazawa, is the fact that the city has been spared from major earthquakes (and a cause of large fires that can destroy a whole city) as well as from bombings during the Second World War.
Where should you visit in Kanazawa?
First of all, if you are traveling from Kyoto or Tokyo, you will likely arrive to Kanazawa by train and we recommend you take a few minutes to admire the beautiful dome on the East Exit (towards the city centre). It has been voted one of the most beautiful stations in Japan for a good reason. The glass and steel dome protects travellers from the (frequent) rain and from a distance, it looks like a samurai helmet. It is prolonged by an impressive "Mon"(Gate) that opens up to the city. This "Mon" is shaped in the form of Tsuzumi, a traditional hand-held drum. From here, your exploration in Kanazawa will be started.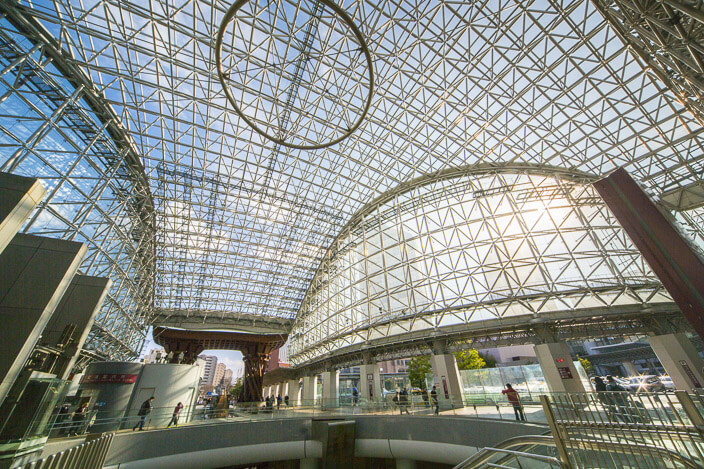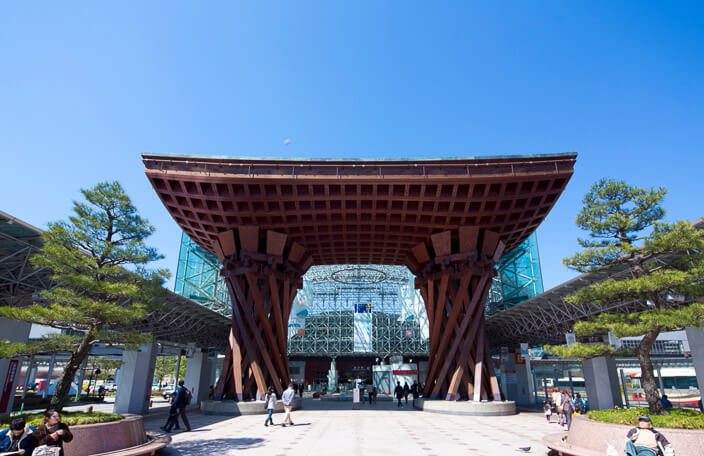 Main Spots
Kanazawa is great city where has history, culture, art, architecture and etc., so there are many attractive spots to visit. In this post, among these attractive spots, we will introduce the most major and must-see places.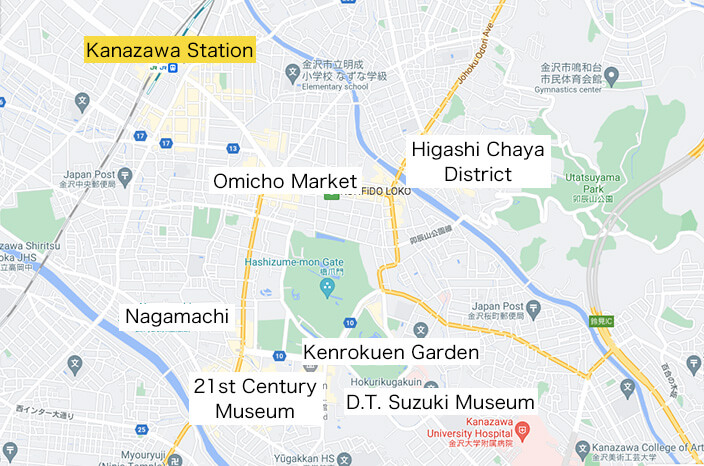 Kenrokuen Garden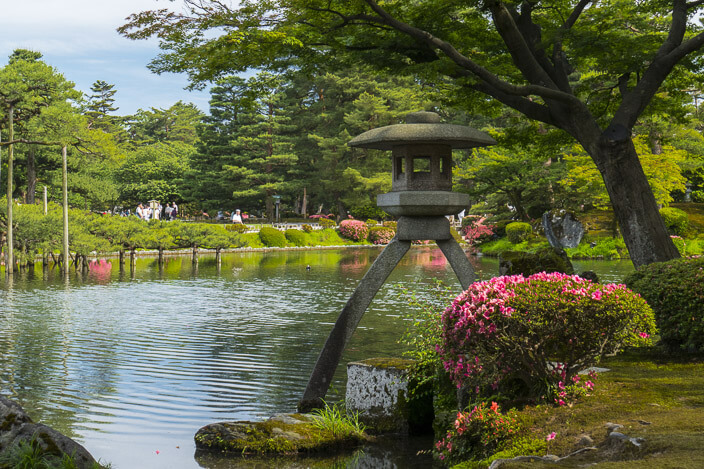 Assuredly the most famous feature of Kanazawa, Kenrokuen is a large garden adjacent to what is now the remains of Kanazawa Castle. Considered as one of the Three Great Gardens of Japan (along with Kairakuen in Mito and Korakuen in Okayama), it used to be the strolling garden for the Lords of the Maeda Clan and has been carefully designed and extended from the 1620s to the 1840's.
The garden derives its name "Ken-Roku-En" for the use of six (antagonist) attributes of perfection (space/seclusion, man-made/natural, waterways/panorama). The garden is beautiful in every season, whether covered by snow in winter, for the Cherry Blossom & Irises in early/late Spring or the Autumn leaves in the Fall.
There are many interesting features to be discovered and having a guide will immensely help you understand the most interesting points. As Kenrokuen is a large garden that has several distinct areas (including the ancient Seisonkaku Villa, also well worth a visit), we recommend setting enough time aside: 45-60 minutes for a quick visit and 90-120 minutes for a complete tour, if you are a garden lover or an avid photographer.
Higashi Chaya District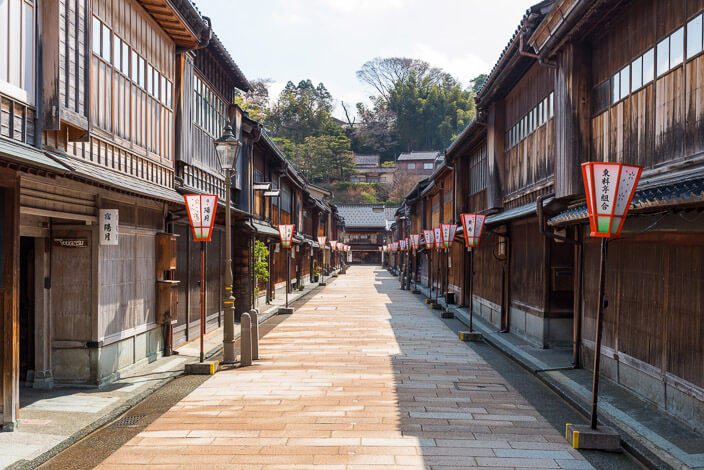 A good example of the town's historical preservation is Higashichaya – the Eastern Tea House district. This was one of the three "entertainment" districts in the 18th and 19th century and you will be amazed to see the houses have been preserved and renovated since that time. Two Chaya (litt. Tea Houses or figuratively entertainment houses), the Shima Teahouse and Kaikaro Teahouse, are open to the public while other buildings have been converted into cafés, restaurants and souvenir shops selling traditional Kanazawa handicrafts, such as Gold Leaf, Ceramics and Laquerware. We recommend visiting one of the Tea Houses and enjoying a stroll in the back alleys of Higashichaya to feel the ancient atmosphere. If you are after quality craftsmanship, you will also thoroughly enjoy your time here.
21st Century Museum of Contemporary Art
Located just next to the Kenrokuen Garden, the 21st Century Museum (as locals call it) is one Japan's most popular art museums, not only for the quality of its installations and exhibitions, but also for its architecture.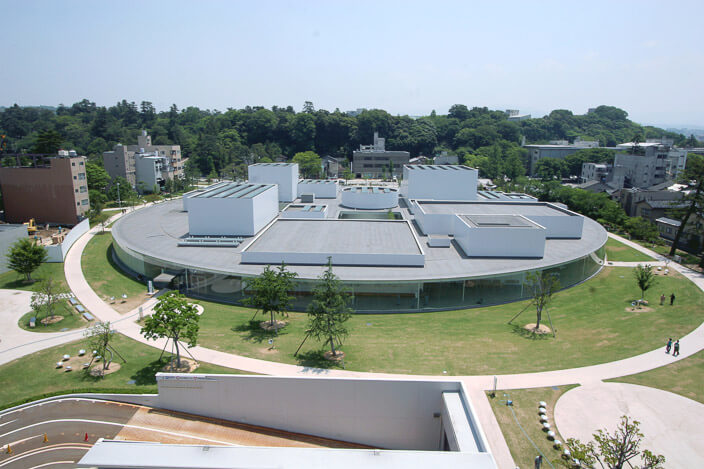 Built by Sanaa, an architect firm that won the Pritzker Prize of Architecture in 2010, the building is totally round and has no outer wall: it is totally covered with floor to ceiling windows. One great thing about this museum is that you can traverse it without paying and see some of the admission-free areas featuring art installations from Leandro Ehrlich, James Turrel and other international artists. The central paid exhibition space hosts temporary exhibitions from renowned Japanese and International artists as well.
D.T. Suzuki Museum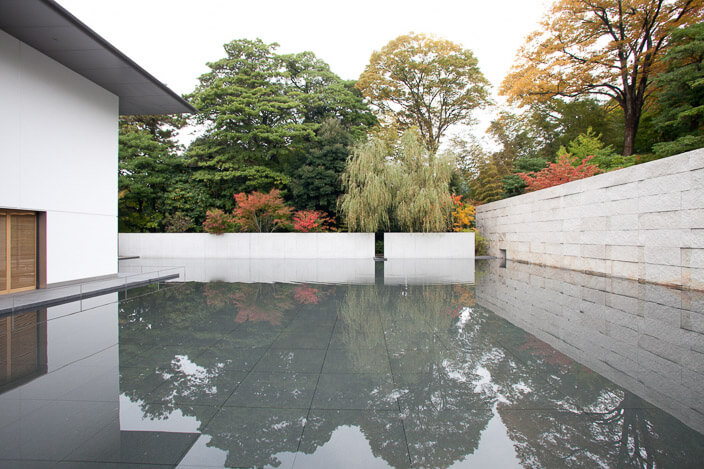 Although it is a mere 10 minutes walk from Kenrokuen and the 21st century, the D.T Suzuki Museum is tucked away in a discreet corner and is a much small space than the other two. Dedicated to a modern Zen philosopher and writer who introduced Zen to the Western world. Even if you are not into Zen, we recommend paying it a visit, as it's architecture is stunning in its beautiful simplicity.
Omicho Market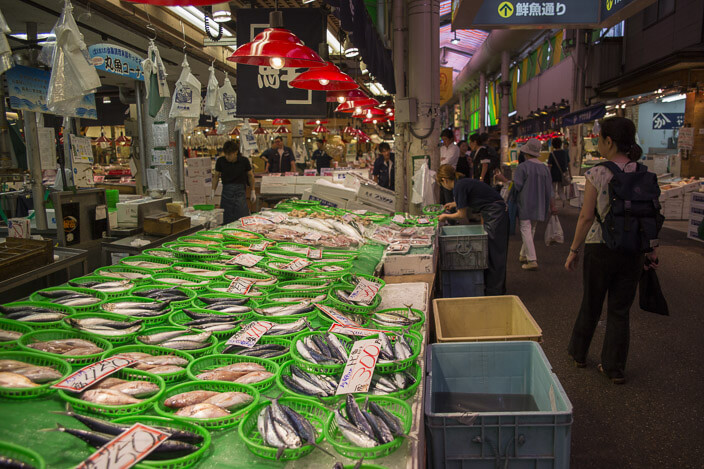 Considered by the local people as "the kitchen of Kanazawa", this quaint market is a perfect place to see, smell and taste the local vegetables but also (and especially) the seafood of the region. Here you may enjoy a delicious lunch at one of the restaurants or simply you can marvel at the giant crabs, local oysters and sea urchins.
Nagamachi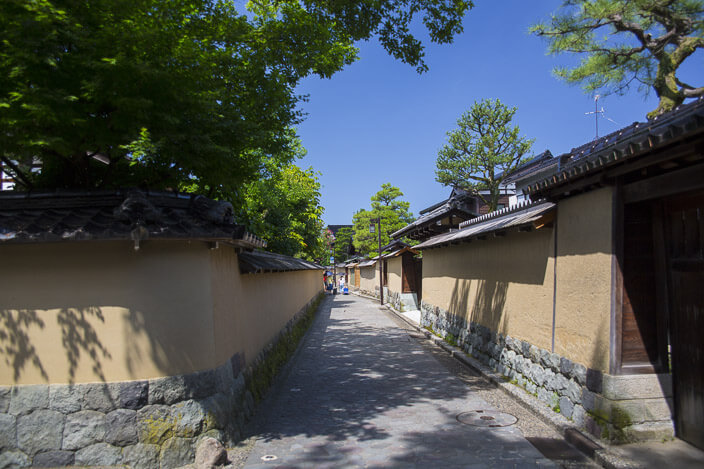 Walking through this ancient Samurai district will show you the traditional part of Kanazawa and tangible evidence of the city's prosperous past. In a tranquil setting, the narrow, rock-laid street bordered by earthen walls and decorative gates exude an ambience of feudal times. A visit to Nomurake, a former Samurai House, gives a great insight into Traditional Architecture.
To conclude…
As you see, Kanazawa may be a small-medium sized town, but there is a lot to discover and learn about the city's history. We recommend at least a full-day but ideally, 1,5 to 2 days to fully appreciate what the city has to offer. Enjoy your stay in Kanazawa!