【Echigo Tsumari】Matsudai NOHBUTAI & the Artworks around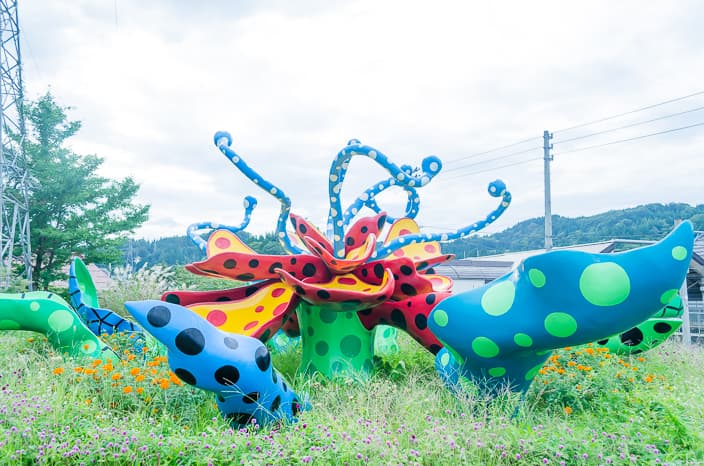 This is the final part of my trip to Echigo Tsumari, where an important International Art Triennale is held. I enjoyed plenty of artworks in Echigo Tsumari surroundings, Gorge Kiyotsu and the Contemporary Museum of Art KINARE and now I arrived in the Matsudai area.
Matsudai NOHBUTAI
Matsudai NOHBUTAI is a cultural facility to discover and promote Echigo-Tsumari's local assets. It was designed by Dutch architect MVRDV. The building itself and the rooms ARE the artwork.
NOHBUTAI is also a central hub for exploring the Matsudai area and you can cover a lot of artworks from here around.
Matsudai NOHBUTAI / MVRDV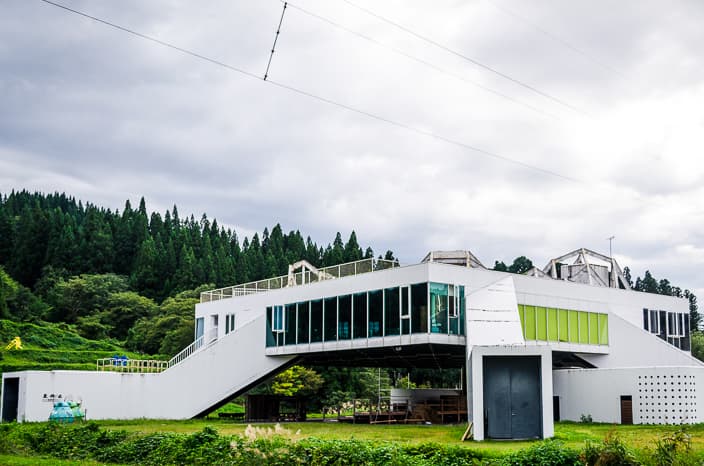 Café Reflet / Jean-Luc Vilmouth
Echigo-Matsudai Satoyama Shokudo in NOHBUTAI is the space for this art work. On four circular lights designed by MVRDV, he displayed photos taken from the windows of the building during the four seasons.
Even though there is no proper restaurant (just a cafe), if you look out from the window, art coexists with nature, and I felt that the scenery is unique to Echigo-Tsumari.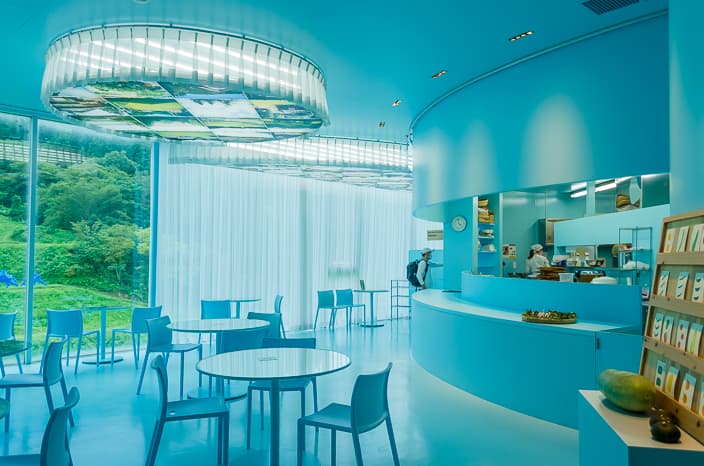 Relation—Blackboard Classroom / KAWAGUCHI Tatsuo
Desks, chairs, everything in this class room is covered with blackboard. Visitors wrote some note or drew pictures – and so it became an art work that we all make together.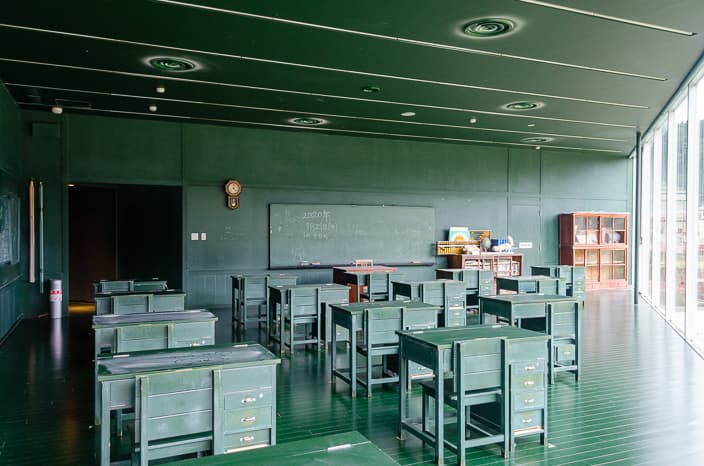 The globe is also a blackboard.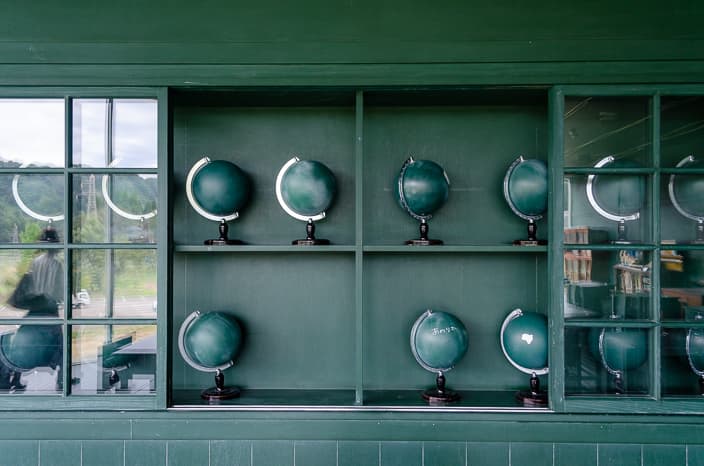 Art works around NOHBUTAI
I had only limited time, so could see just a few artworks, but here are some of them.
The Rice Field / Ilya & Emilia Kabakov
A work that expresses the traditional rice cultivation scene with text and sculpture. The text is about NOHBUTAI (Japanese only), so be sure to look for a spot where you can see both the text and the sculpture, to apprehend the combination.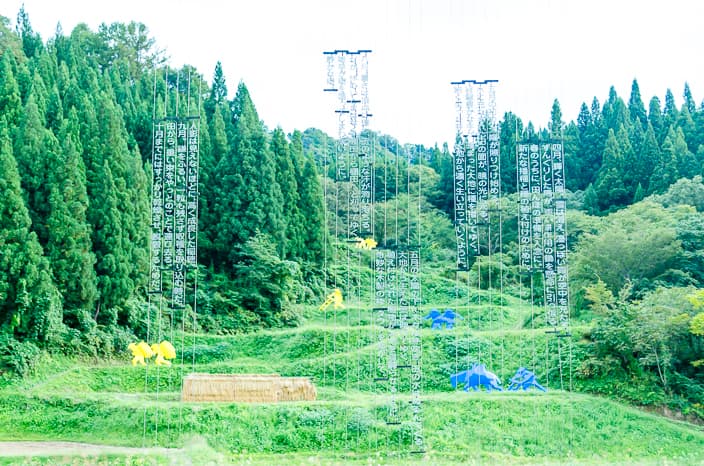 Bloom in Tsumari / KUSAMA Yayoi
A work that according to Yayoi KUSAMA herself, is her own favorite.
This sculpture truly expresses that "Tsumari is a place of forgiveness that expands the major companies and freely wraps up any work." Yayoi Kusama's work is really eye-catching!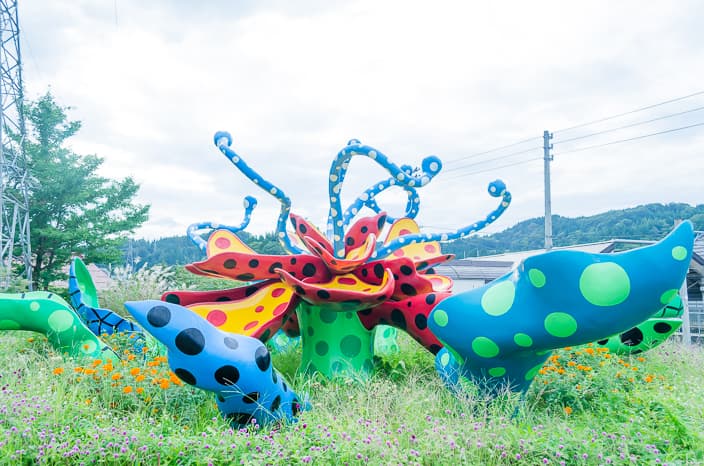 There are many other fascinating works that I wanted to see, but couldn't, because time had run out. Let's keep them for next time!
Inagohabitambo / SHIOZAWA Hironobu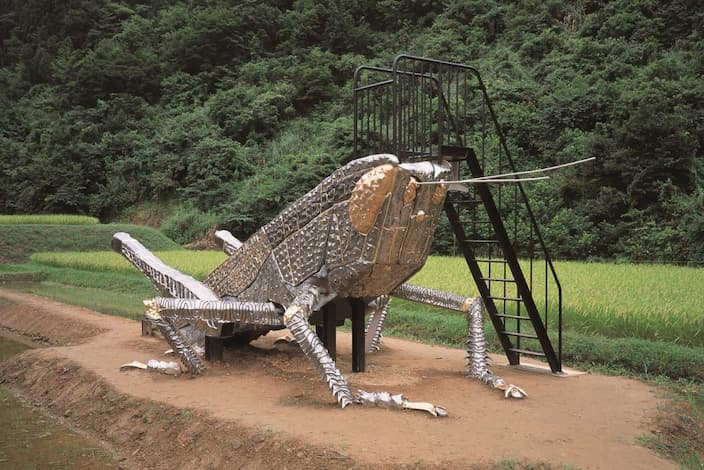 Reverse City / Pascale Marthine Tayou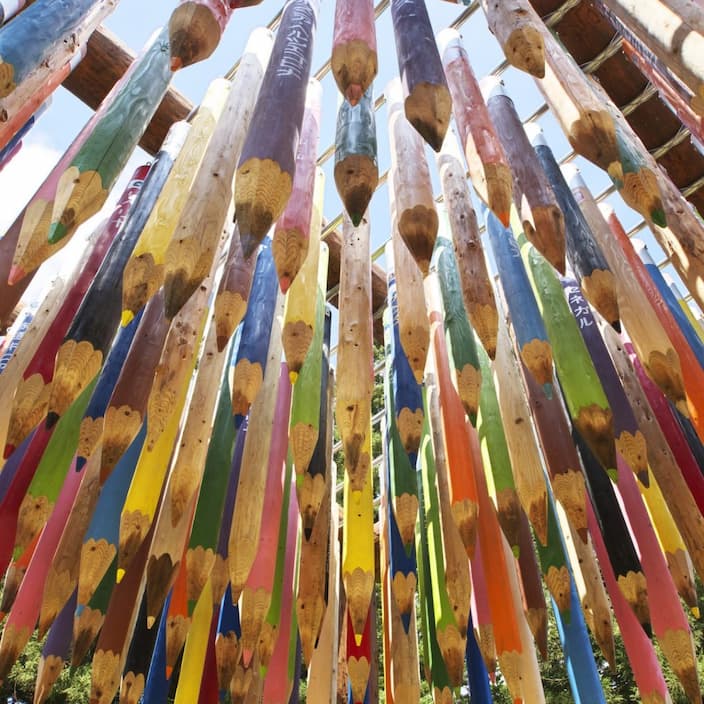 Summary
I thought that NOHBUTAI and the surrounding Matsudai area is a must-see that gathers wonderful works. I stayed for about an hour, but it wasn't enough! Even if you move around quickly, it will take at least an hour and a half and you will need a couple of hours or half-a-day, if you want to have enough time to look carefully.
In my opinion, Matsudai area is definitely a recommended place where you can see various works with different expression methods at once.
Previous Post

Next Post