【Destination Guide】Tokyo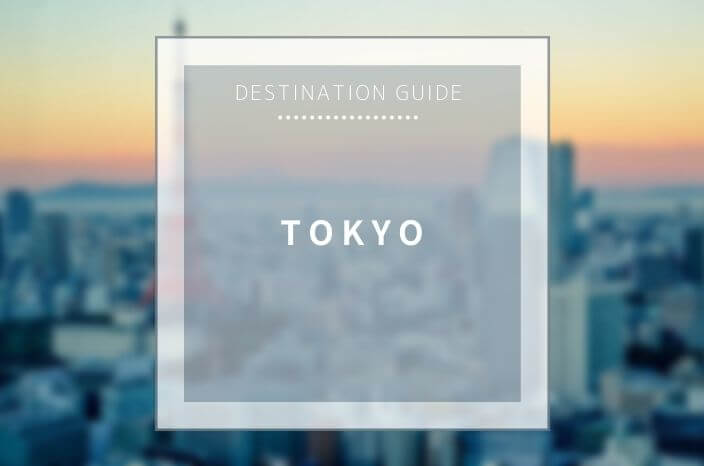 Introduction
The capital city of Japan is famous for being the largest city in the world. But did you know that it has not always been that way? There were actually many other cities designated as capital city before Tokyo, some of which do not exist anymore and other, more famous, like Nara and Kyoto.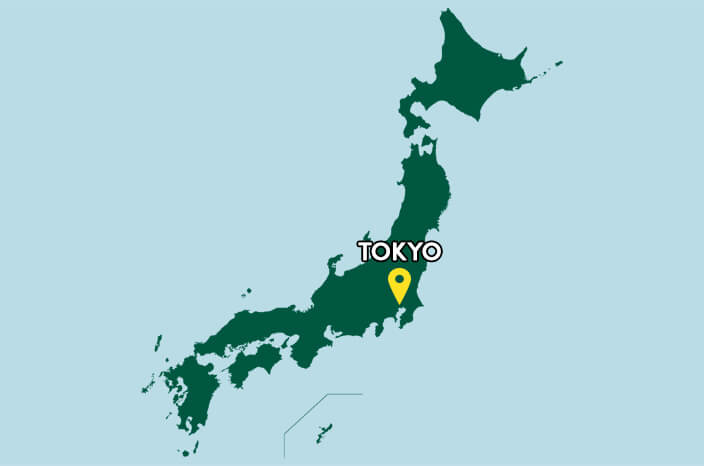 Before being designated as the capital city in 1868, Edo – as it was known at the time – was a simple fishermen's village, until it wa fortified by the Edo clan, which built a castle and military garrison in the late 12th century. By the 1630s, Edo had a population of 150,000. And over the next century, the small fishing village grew into the largest metropolis in the world, with a million residents by 1721.
When the Shogun took power over the Emperor, he decided to relocated the capital city from Kyoto to Edo, and changed the name to Tokyo-to (the capital of the East) to mark his political strength.
Now, as a sprawling metropolis of 35 million inhabitants, it is interesting to stroll around and see the combination of the past (pre-war old houses), the present (residential districts) and the future (high-tech buildings).
Main Areas
What is commonly known as Tokyo is actually referred to as "the Greater Tokyo"and the Tokyo city itself is composed of 23 wards. However, most travelers and tourists actually visit just a few.
Of course, there are many other wards and districts in Tokyo but for this blog, we will focus on these main areas.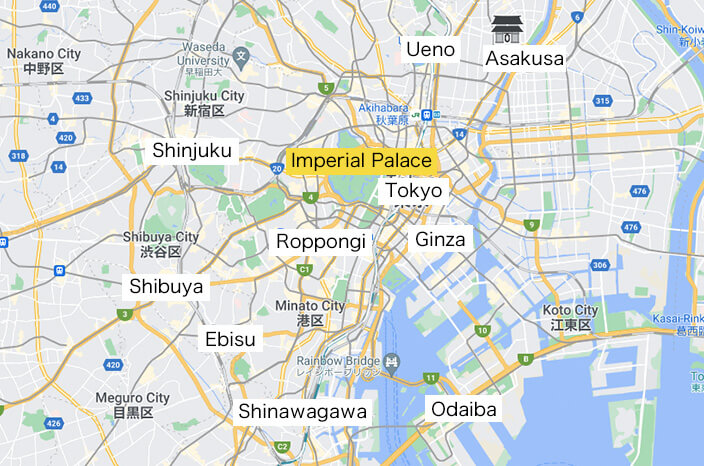 Asakusa
The name Asakusa may not be very familiar to you, but if you have seen images of a huge lantern in Tokyo, that was very probably in Asakusa! Many people consider Asakusa to be the center of Tokyo where the past and traditions have survived.
A great way to arrive in Asakusa (other than subway), is to take a Sumida river cruise boat from Hamarikyu Garden and enjoy the view of the city from a different angle for about 45 minutes (it's also a good way to rest your legs!). Upon arriving at the pier, it's a two minutes walk to Senso-ji, the most famous place in Asakusa.
Senso-ji, is a huge temple complex that forms the heart of Asakusa. At the entrance of Senso-ji is the Kaminarimon or the "Thunder Gate" (that huge lantern mentioned earlier), leading to Nakamise dori – a shopping street whose merchants were given the right by the temple to set-up shops for pilgrims for many centuries.
Although they now mostly sell sweets and souvenirs, it still has a picturesque atmosphere and it's worth taking at least a little time to watch people make traditional sweets, such as dorayaki (and try them too!). At then end of Nakamise-dori, you will then arrive in front of the Senso-j temple itself (there are several buildings, including a 5-storied pagoda).
Please read this about Sensoji Temple
If you like cooking and want to step deeper into the world of Japan's culinary arts, do not miss Kappabashi, also called "Kitchenware Town" to check out some professional-level kitchen utensils. You may marvel at the beauty (and the prices) of professional Japanese kitchen knives or bargain-hunt some beautiful ceramics and tableware.
Also interestingly quirky are the wax food samples sold to restaurants to display in their windows. The choice is huge (from fake beer to sushi, omelets and spaghetti dishes) and they are surprisingly real-looking!
Ueno
Famous for Ueno Zoo, where you can see Pandas (the mascot of this area and beloved by the Japanese!), there is also a bustling shopping street called Ameyoko, which was a famous black market place after the war. Even to this day, some of these shops and atmosphere remain, although it is much smaller than it used to be and items sold may be different and new.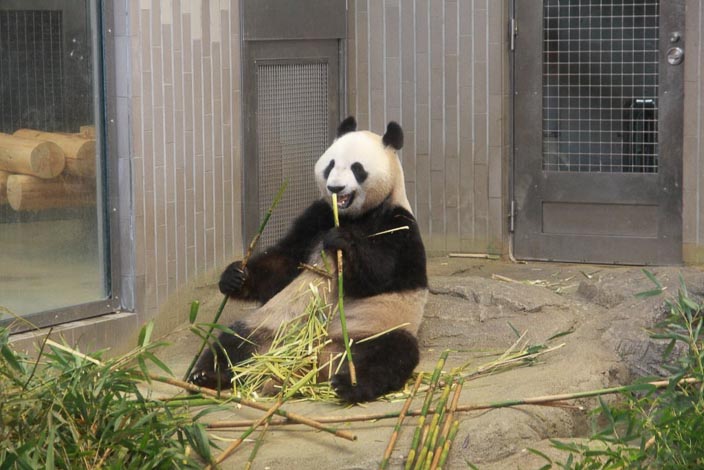 Ueno is also home to a number of world-class museums. A definite must is the Tokyo National Museum which houses many national treasures. Even if your time is limited, we recommend visiting the The Gallery of Horyuji Treasures, which consist of over 300 valuable objects, mainly from the 7th – 8th century.
Also worth a visit, the National Museum of Western Art with permanent exhibition of works by Van Gogh, Renoir, Picasso and Pollock and rolling exhibitions, as well as The Ueno Royal Museum for contemporary Art.
Tokyo Station
If you travel around Japan and use the Shinkansen (Bullet Train), you will most probably be passing through Tokyo Station. And although most people think a station is really just to board a train, we would recommend arriving taking a bit of time to explore this immense station.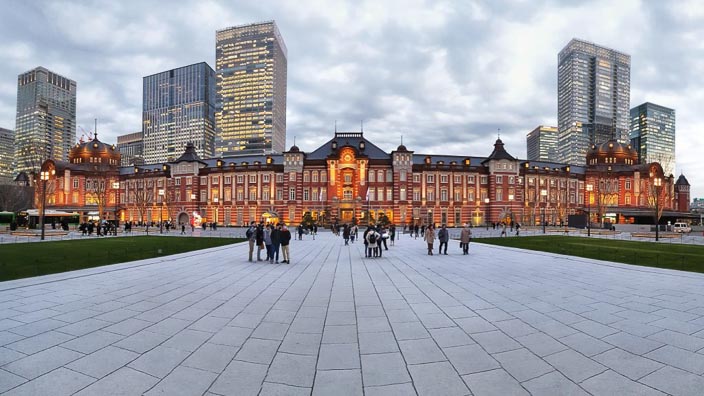 First of all, the red-brick façade of the beautifully restored building is a really striking piece of architecture and it contrasts with the steel & glass high-rise buildings surrounding it.
But Tokyo Station is also a giant network of underground shopping streets, where you can find virtually anything, including fashionable shops and restaurants (there is even a "ramen street".
So next time you pass by Tokyo Station, make sure you have ample time to visit it… and don't miss your train!
The Imperial Palace
Yes, the Imperial Palace is actually not far from Tokyo Station and only takes about 15 minutes walk from Tokyo Station. Unlike some other countries, the Imperial Palace is not open to the public and is hidden away by many trees. There are some organized tours to enter grounds that are usually off-limits but it is only conducted in very large groups (think over 100 people and as many as 200!) and you cannot stray off the path or even walk at your own rhythm – not so much fun!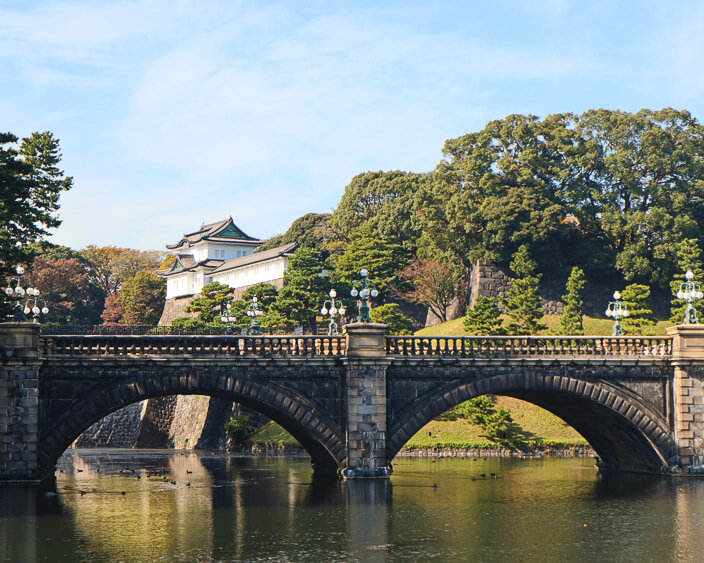 However, you can actually walk around the moat (it's a very popular jogging course in Tokyo) and in most of the Garden area, which can be very nice during the right seasons. I especially recommend the Eastern Gardens of the Imperial Palace, where you can see early-blooming Sakura (Cherry Blossoms) and it's also the closest to Tokyo Station & Marunouchi.
Nihonbashi
A bridge between the Past and the Present
Nihonbashi is one of the oldest districts in Tokyo and used to be the starting point of the five major roads across Japan. Actually, until this day, distances are still measured from here, so it can be considered as km 0.
When you visit here, you will see why it is a bridge between the Past and Present. Quite literally, Nihonbashi means "Bridge of Japan" and there is one of the oldest remaining bridges, on top of which passes another bridge (highway); quite a fest of engineering and a good example how the old blends with the new in Tokyo. The same is true for buildings and it's not uncommon to see an old shrine or temple, right next to a brand new skyscraper.
Another good example are the department stores. Two of Japan's oldest department stores—Mitsukoshi and Takashimaya are located in Nihonashi and – in their preserved 1930's buildings – they sell very traditional foods made by century-old companies, as well as the latest fashion items, cosmetics or high-tech electronics. It's really a concentrate of Past, Present & Future in one place!
Nihonbashi also has world-class museums and galleries, including the Mitsui Memorial Museum housing traditional treasures and the Tokyo Kite Museum, with 3,000 unique paper kites.
And not to forget, it's also home to one our favorite hotel in Tokyo : The Mandarin Oriental Tokyo, ideally located on top of the Nihonbashi subway station and just across the street from Coredo (another excellent department store). Even if you do not stay there, a cocktail in the lounge at Sunset time will afford you amazing you amazing views from the 38th floor (you can even see Mt Fuji on clear days!).
Ginza
Although it's also one of the older districts of Edo (the ancient name of Tokyo), Ginza is full of modernity and constantly evolving. It is actually said that Ginza has the most expensive real prices per square meter in the world… And some compare it to the Champs-Elysées in Paris.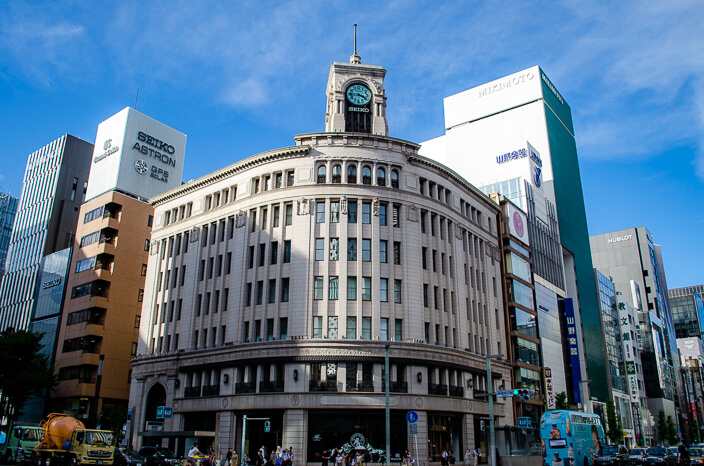 Shopping Paradise
In Ginza, you will find many of the best Japanese department stores as well as countless high-end brands from all over the world. So definitely, if shopping is your thing, do not miss to spend at least half-a-day in Ginza. Preferably on a Sunday, when the road is closed to vehicle traffic and reserved to pedestrians only. It's a great feeling to be able to walk in the middle of the street and from shop to shop (yes, they are all open on Sundays!).
From the newest developments, we can mention Ginza Six, a complex of fashion houses and restaurants catering to the global consumer and Ginza Place, the latest newcomer in the area.
Arts & Architecture
Although Ginza is a paradise for shoppers, it's also a famous hub of sophistication: from the traditional Kabuki theater (Kabukiza) to avant-garde art galleries (Shiseido Gallery, for example).
It's also a great place for architecture lovers who will appreciate the boldness of futuristic designs (do not miss the newly renovated Sony building, it's quite striking).
Roppongi – One district, two faces
One could say that Roppongi has two sides: one as an upmarket area with world-class art museums, Michelin-starred restaurants and lots of luxury shopping, the other one as a party neighborhood, full of restaurants, bars and clubs that stay open late into the night.
On the upscale side, we recommend "Tokyo Mid-town", a mixed-use development that houses The Ritz-Carlton Tokyo, one of the best 5* hotels in Tokyo and has amazing views over the city (it's located on the top floors), as well as a very interesting shopping area called "The Galleria". Here you will find new up-and-coming upscale Japanese brands for almost anything you like.
Another very famous complex is Roppongi Hills, centered around the Mori Tower. On the higher floors of Mori Tower, do not miss the Mori Art Museum (hosting many interesting temporary exhibitions!) and the Tokyo City View with an indoor observatory and the outdoor Sky Deck. This is probably one of the best views in Tokyo!
As for other sightseeing options, do not miss the "Roppongi Art Triangle", comprised of the Mori Art Museum (contemporary art from Japan and Asia), the Suntory Museum of Art ( Japanese artwork and traditional crafts ) and the National Art Center, Tokyo (no permanent collection, only special exhibitions) – each museum is totally different but all in walking distance!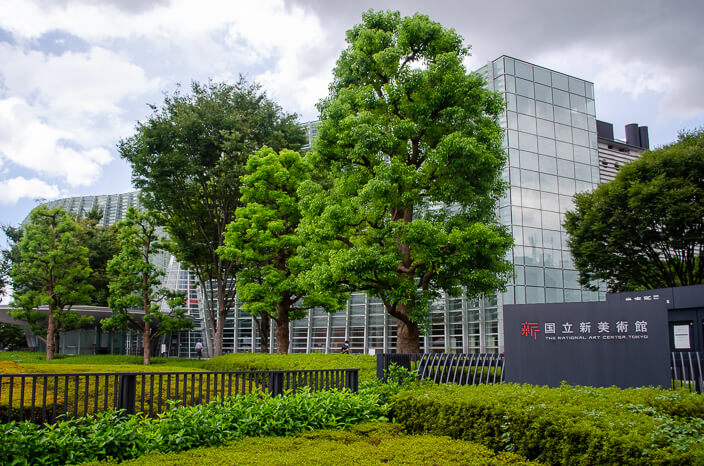 Of course, Roppongi also has an excellent choice of dining – both high-end restaurants (like the famous Sushi restaurant Sukiyabashi Jiro) and casual restaurants as well. And if you're in a party-mood, there are countless opportunities in Roppongi, including craft beer or wine bars, classy or shabby nightclubs and much more!
Aoyama & Omotesando – Art, Architecture & Fashion
Not far from Roppongi are two smaller districts called Aoyama & Omotesando, that are considered an upper-class area of boutique shopping and sophisticated dining.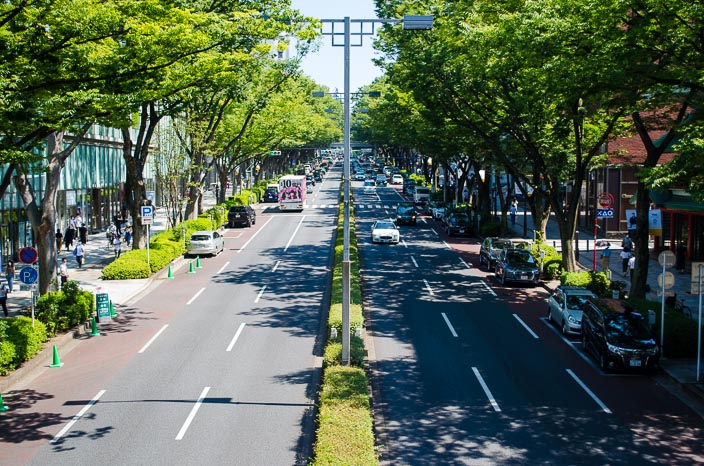 The tree-lined Omotesando Boulevard is great to stroll around and visit the flagship stores from Japanese fashion houses such as Comme des Garçons, Issey Miyake and Yohji Yamamoto.
It's also an architectural paradise, as many buildings have been designed by acclaimed Japanese & international architects, including Tadao Ando (Omotesando Hills), SANAA (Dior Omotesando) and Herzog & De Meuron (Prada, Miu Miu Aoyama). Also worth visiting is Nezu Museum, designed by Kengo Kuma: it has a beautiful collection of Oriental antiquities and national treasures, as well as a lovely garden, perfect for hot summer days!
Finally, we also recommend leaving the large boulevards and wandering in the smaller streets and back-alleys of Aoyama – here you will find hidden gems and shops by small Japanese designers and craftsmen.
You can easily spend a whole morning or afternoon in Aoyama & Omotesando, so make sure you have enough free time! After (or before) that, you can also visit Shibuya & Harajuku – it's a great combination for a full day exploration of Western Tokyo!
Shibuya – Tokyo in a single crossing
A little further from Aoyama and Roppongi, you will arrive in Shibuya, which name you may have heard for its famous (and infamous) Shibuya Crossing – also called Shibuya Scramble. Why? Maybe, because it's so busy, it's a scramble to cross!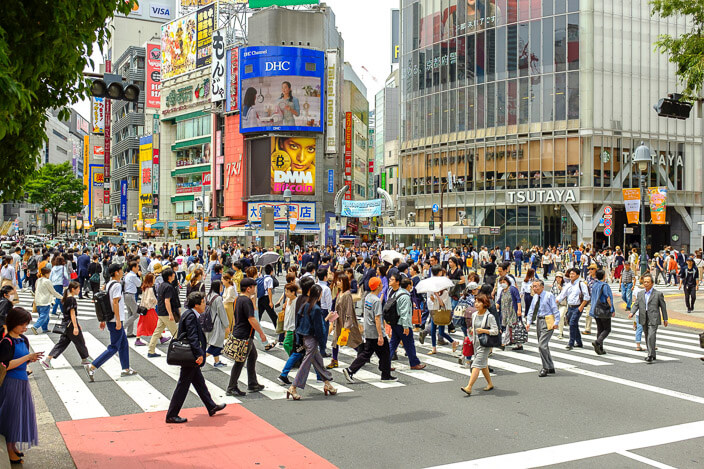 One of the iconic building of Shibuya is Shibuya 109, once the epicenter for Tokyo's teenage fashion scene. Also very popular are the modern lifestyle megastores Tokyu Hands and Loft. And for game lovers, Shibuya has a new Pop Culture hub, featuring Japan's First Nintendo Store and a new Pokemon Center at Shibuya PARCO!
Finally, should you like to take a bit of green, we recommend visiting the newly redeveloped Miyashita Park, an open-air rooftop park with a skateboard park, a bouldering wall and a multi-purpose sports area as well as a cafe and open lawn spaces, perfect for those looking for relaxation.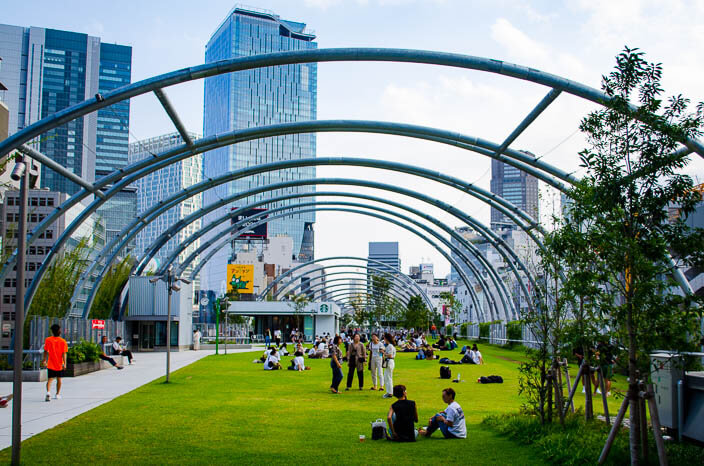 Harajuku – the epicenter of 'kawaii' culture
Just a stone throw away from Shibuya, is Harajuku, a place where people gather to express their unique fashion sensibilities in a safe and accepting environment.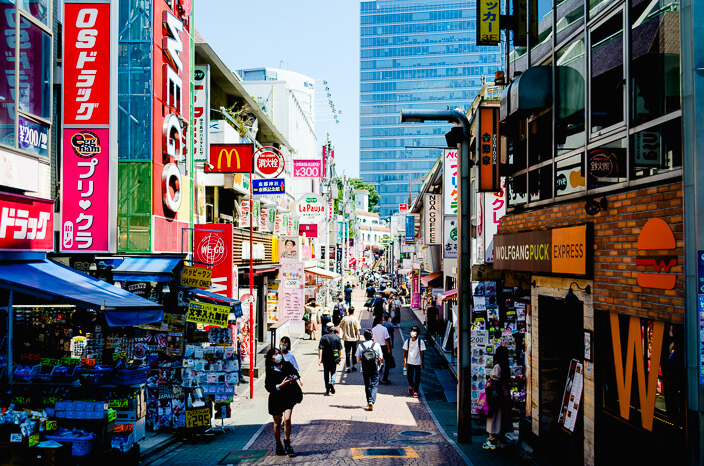 Harajuku's iconic main street is Takeshita Dori, lined with small, quirky shops ranging from "kawaii"(cute), Goth (gothic) to Punk styles and everything in between. Takeshita street is usually very crowded (even more so during weekends) and may be a bit of a sensory overload, but it's must-see on a trip to Harajuku.
And families shouldn't miss Kiddy Land, a multi-story shop for merchandise for all sorts of characters, from Pokemon to Star Wars and of course, Japanese anime characters.
A bit more "grown-up"is "Cat Street", where you will find a variety of shops ranging from small upscale boutiques to big international brand stores. (By the way, there are no cats in this street!).
After so much shopping, you may need more space and fresh air… So head to the Yoyogi Park, a huge park right next to the Meiji Shrine, where the late Emperor Meiji is enshrined in the middle of a forest with hundreds of thousands of tress, planted by volunteers. Here, we recommend to take a look at the newly opened Meiji Jingu Museum, a masterpiece of architecture blending in its environment, by the famous Japanese architect, Kengo Kuma.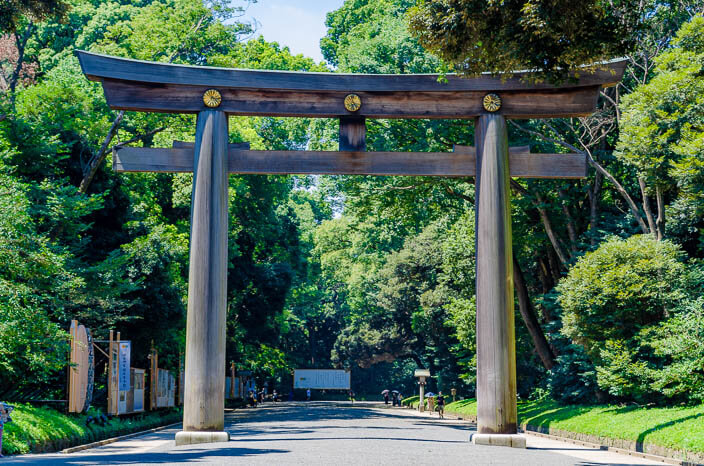 Shinjuku – The Heart Of the Night
In addition to – or instead of – Shibuya & Harajuku, you may also enjoy the atmosphere of Shinjuku, just North of Harajuku. It's a sprawling area of skyscrapers, wide shopping streets and countless cafes, bars and restaurants.
For shopping, Isetan, Keio, Odakyu and Takashimaya department stores are all clustered around Shinjuku Station, together with Electronic Megastores.
And for the best aerial views of the area, take the elevator to the 45th floor of the Tokyo Metropolitan Government Office Building – probably the best views with the Mori Tower in Roppongi.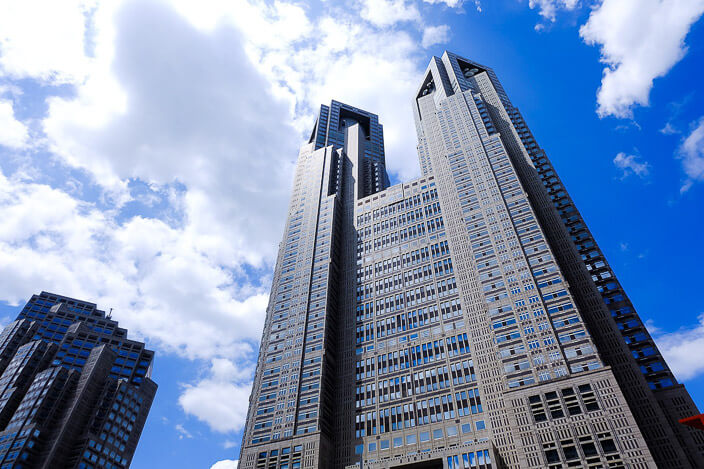 In the evening, Shinjuku attracts nightlifers with its countless bars and restaurants – including fine dining on top of skyscrapers. Alternatively, head to the streets of the infamous Kabukicho (kind of a red-light district) – It is generally safe, especially in the ground floor bars, but please exercise caution when visiting there.
And if you are fortunate enough, you will finish the day at the Park Hyatt Tokyo, depicted in Sofia's Coppola "Lost In Translation" movie and one of the best hotels in Tokyo.
Previous Post