【Tokorozawa】Kadokawa Culture Museum – Like a giant rock! A new cultural complex, both in appearance and content
In November 2020, a large cultural complex called "Tokorozawa Sakura Town" opened in Tokorozawa, Saitama. Jointly developed by KADOKAWA Corp. and the Tokorozawa city government, it aims to become the largest pop culture center in Japan. The complex includes an event space, a hotel, stores and restaurants, a book store (da Vinci Store), a museum, a shrine and a terrace, as well as the new offices of KADOKAWA.
In this post, I'm going to introduce "Kadokawa Culture Museum", a particularly unique piece of the Tokorozawa Sakura Town.
Kadokawa Culture Museum
"Kadokawa Culture Museum" is a new type of cultural complex that combines a library, art gallery and museum.
This facility is the core of "Tokorozawa Sakura Town" which aims to become the hub spot of Cool Japan.
The building, which looks like a huge, powerful rock, was designed by Kengo Kuma. It is made of granite quarried from deep in the mountains of China and piled up by hand by craftsmen. There are 20,000 of them! Each piece of granite weighs 70 kilograms, so it must have taken a lot of hard work by the craftsmen to complete it. When you look at it up close, you can see that it is made up of many pieces of stone, but when you look at it from a distance, you can't see the seams, it looks like a single piece of stone, which makes it look more massive. The builders were very particular about the precision with which they applied the stones, achieving plus or minus one millimeter – super impressive!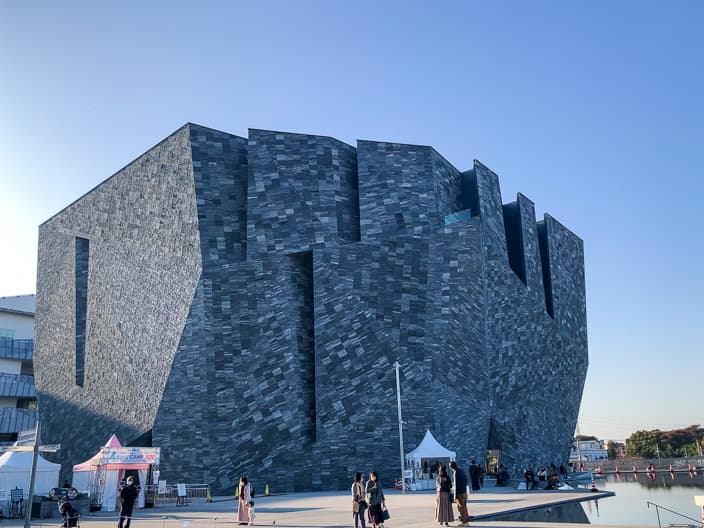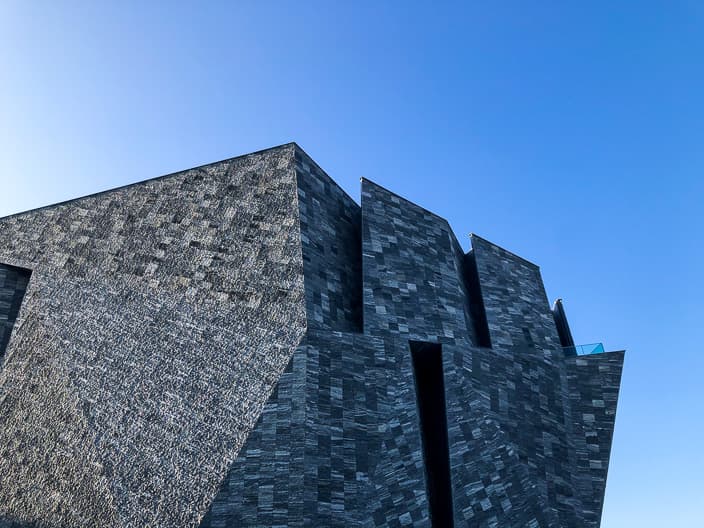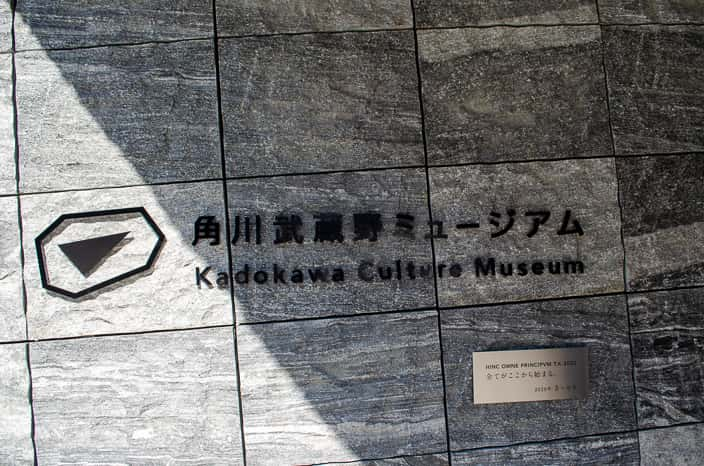 OK, then let's go inside. This is the floor guide.
1F:Manga and Light Novel Library, Grand Gallery
2F:General Information / Tickets, Museum Shop, Kado Cafe
3F:EJ Anime Museum
4F:EDITTOWN, ARAMATA Wunderkammer (Museum), Bookshelf Theater (Library)
5F:Musashino Corridor, Cafe, Restaurant, Bookshelf Theater (Library)
First, let's get a ticket on the 2nd floor. There are a few type of tickets – "Manga & Light Novel Library" and "KCM Standard ticket (including Bookshelf Theatre)". This time, I purchased "KCM Standard ticket (including Bookshelf Theatre)". By the way, you can get a ticket online as well.
Each ticket has a specific entry time, for example, if you have a "10:00-11:00" ticket, you must enter between 10:00 and 11:00. You can stay until 13:00 and you can exit & re-enter within these 3 hours.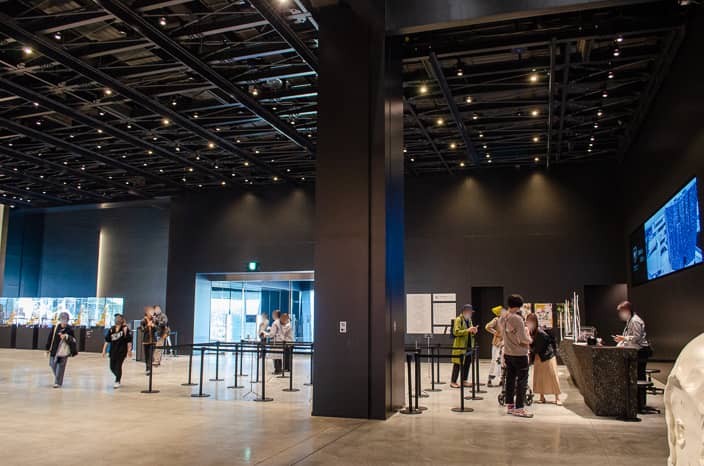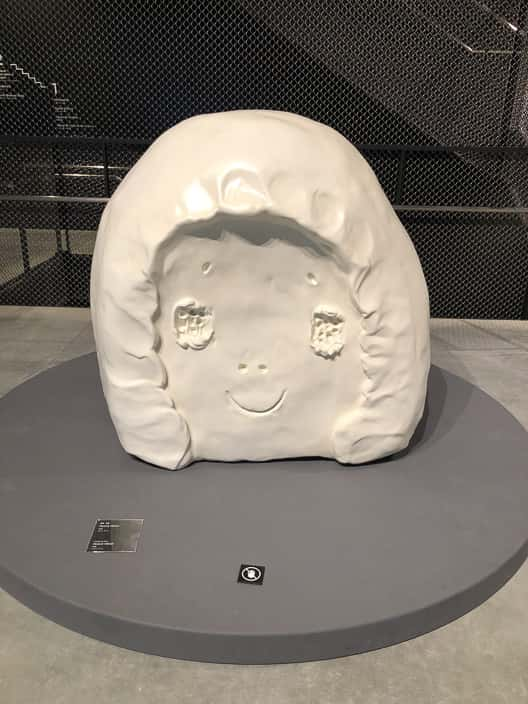 The "KCM Standard Ticket" allows you to enter all floors except for the Manga and Light Novel Library on the 1st floor and the EJ Anime Museum on the 3rd floor. We went up to the 5th floor first. Outside the entrance area, there is a restaurant and cafe called "SACULA DiNER", which is open to everyone.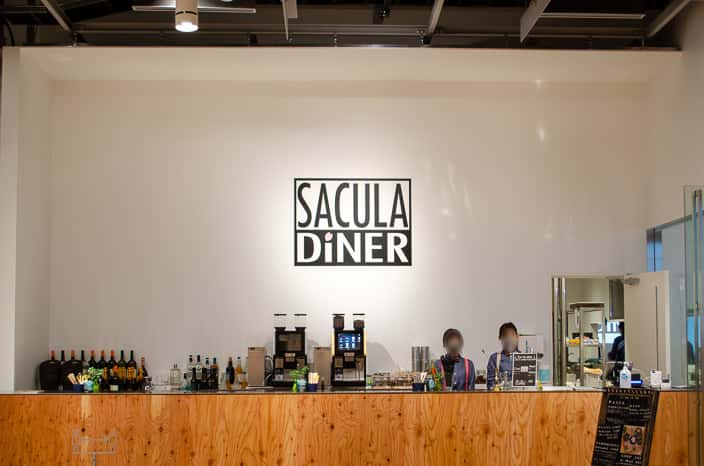 When I showed my ticket and entered the museum, I found the "Musashino Corridor," which was lined with books related to Musashino, hometown of the complex. The Sayama Hills in Tokorozawa City are said to be one of the models for the setting of Studio Ghibli's "My Neighbor Totoro," so there was also a catalogue of Totoro.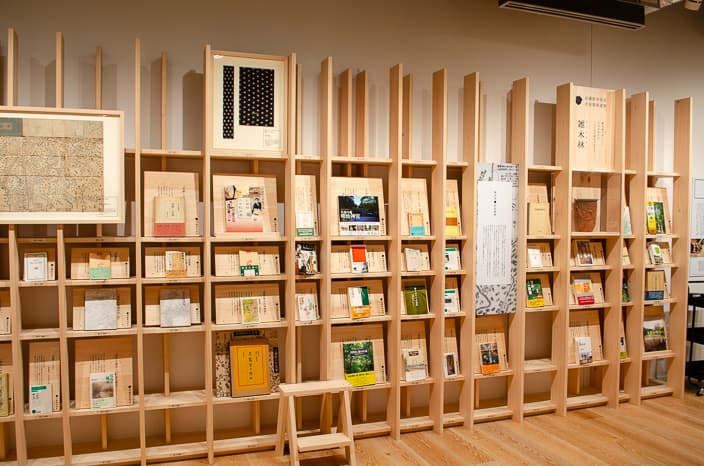 As you go ahead, you will see the "Bookshelf Theater," which is the centerpiece of this facility. The Bookshelf Theater spans the fourth and fifth floors, and is eight meters high. Projection mapping based on the concept of "playing with books and interacting with books" is shown here on a regular basis. Libraries have an image of "stillness" where you have to be quiet and well-behaved, but during the projection mapping, there was music playing and I felt the image of "movement" as if the books were playing.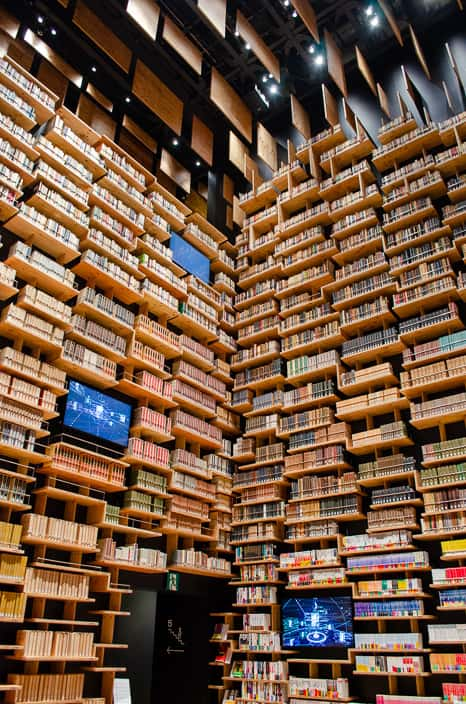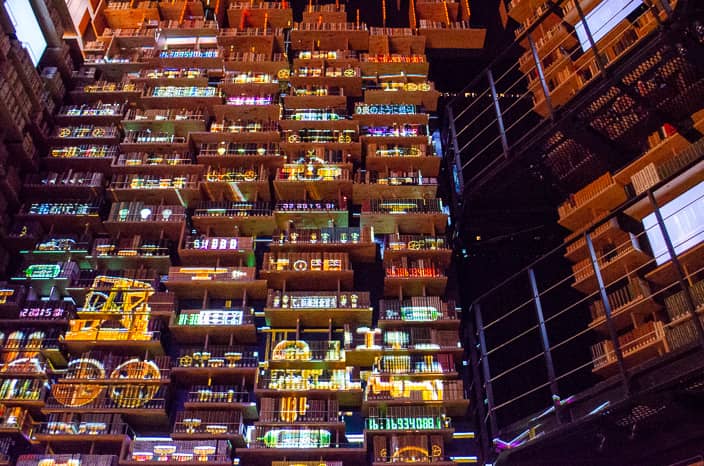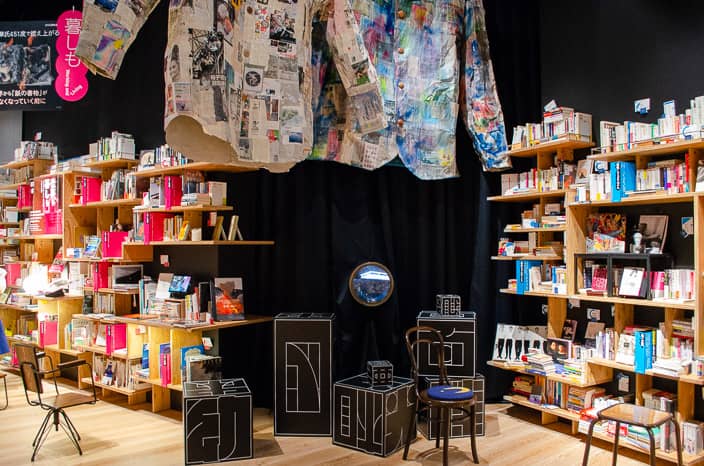 Most of the books on the 4th and 5th floors are in Japanese, but you can enjoy some of them, even if you can't read Japanese. Above all, the unique "Bookshelf Theater" is a must-see!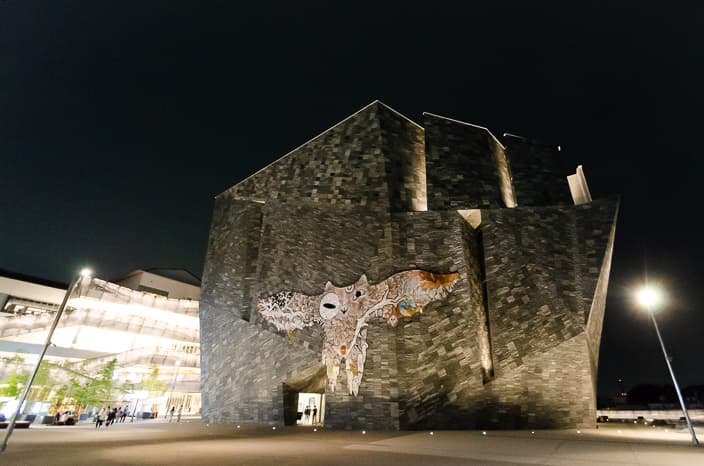 I have talked about the Kadokawa Musashino Museum so far, but I would like to introduce some of the other facilities.
Musashino Reiwa Shrine
The shrine is officially named "Musashino ni Masu Uruwashiki Yamato no Miyashiro", which means " a beautiful shrine in Musashino" and was also designed by Kengo Kuma. The exterior of the shrine itself is modern and cool. You can also buy the official red seal book of the Anime Tourism Association and a "Junrei-chan" charm that looks like an anime character, making this shrine a great place for anime fans. I feel this is " Traditional yet Cool Japan" !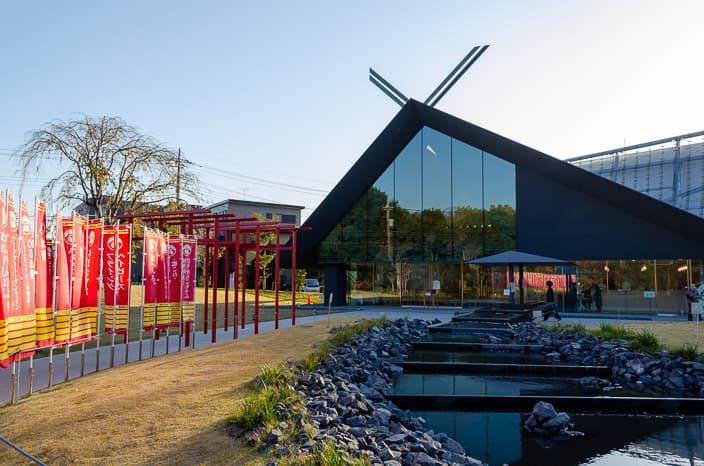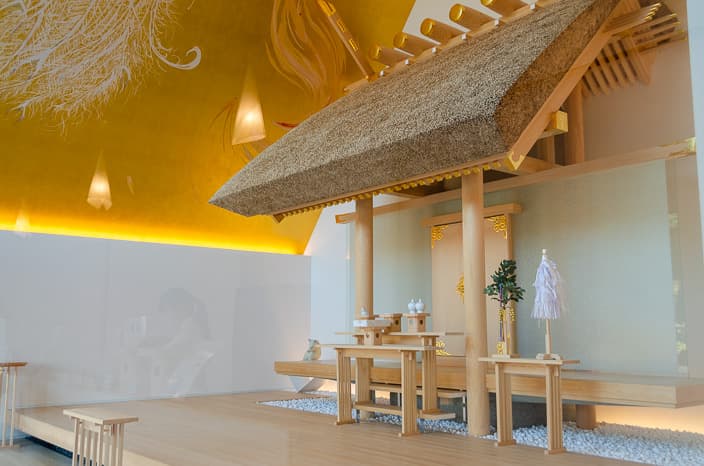 teamLab: Resonating Life in the Acorn Forest
At Musashino Jyurin Park, adjacent to Tokorozawa Sakura Town, you can enjoy an exhibition by TeamLab. The work, called "Resonating Life in the Acorn Forest," consists of silver objects placed in the nature of Musashino forest. All ojects are connected to each other and when you touch one of them while strolling through the forest, you will hear sounds from other objects and feel a true sense of resonance. At night, the sculptures glow with vivid colors, giving them a completely different look from daytime and a dreamlike feeling.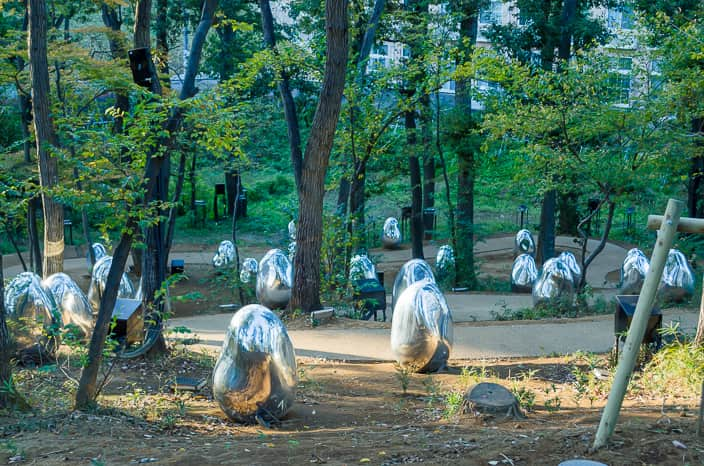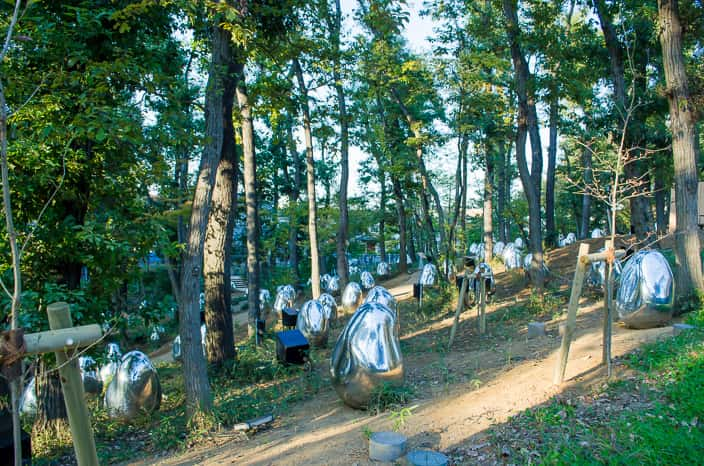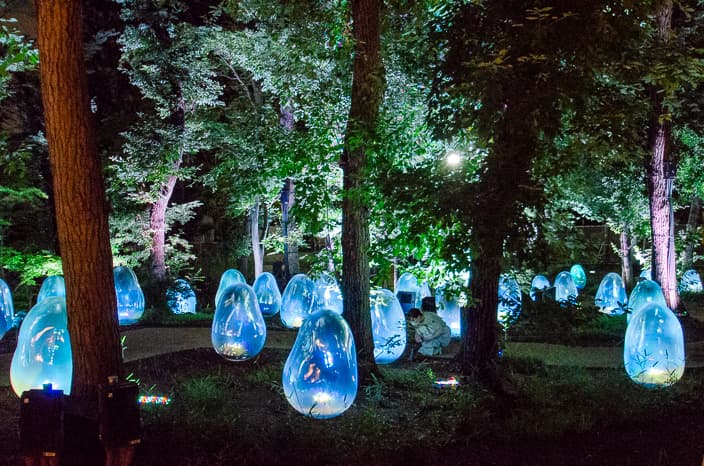 Why don't you experience Japanese pop culture, or Cool Japan in Torozawa Sakura Town, which encompasses the Kadokawa Culture Museum, a new unique and unprecedented cultural facility, together with many other facilities such as the Musashino Reiwa Shrine and teamlab's Acorn Forest ?
Kadokawa Culture Museum
Address
3-31-3 Higashitokorozawawada, Tokorozawa-shi, SAITAMA
Open Hour
【Sunday – Thursday】10:00 – 18:00 (Last entry at 17:30)
【Friday & Saturday】10:00 – 21:00 (Last entry at 20:30)
Close
1st, 3rd and 5th Tuesdays (open when a national holiday falls on a Tuesday / next day : close)
Admission Fee
< KCM Standard ticket(including Bookshelf Theatre) >
【General (university students and above)】1,200 yen
【Junior high school/high school student】1,000 yen
【Elementary school student】800 yen
Website
https://kadcul.com/en
Previous Post

Next Post