【Shinbashi】Golf Shopping in Shinbashi – Enjoy shopping with various unique options!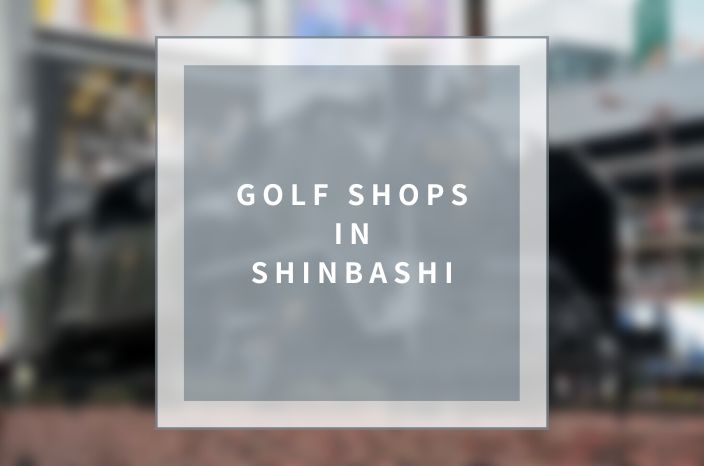 "Paradise for middle-aged office workers" – for some reasons, this is how the Shinbashi district is often described…
Yes indeed, there are many offices and you'll find that the myriad of Izakaya (reasonable Japanese style pub), bars are full of middle-aged office workers. But that is not all there is to Shinbashi ! Even if Shinbashi is not a major tourist destination, it's a pretty convenient area in a popular and quite central district of Tokyo.
So, today I would like to present you the various Golf shops around Shinbashi and I hope that if you have time during your next visit, you can check it out !
1. JYPER'S Shinbashi
On a big Traffic Junction, just 5 minutes walk from JR Shinbashi Station Ginza Exit, you can find JYPER'S Shinbashi.
This shop carries a variety of US brands, as well as Japanese ones and the items sold range from club, shoes, accessories etc. , so you will definitely find something you are looking for here!
And oh… prices here are usually really reasonable, you can enjoy more for less!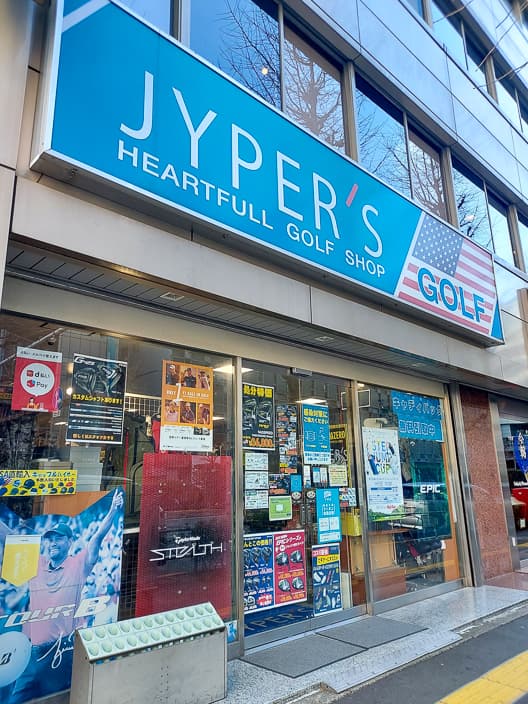 2. Golf Garage Shinbashi Ginza
This shop is actually one of the biggest second-hand shop for Golf items in Japan – There is a very wide choice, especially for Golf Clubs: they sell both second-hand and brand-new one.
There is also a workshop within the store so if you need any adjustment, it can be done on the spot!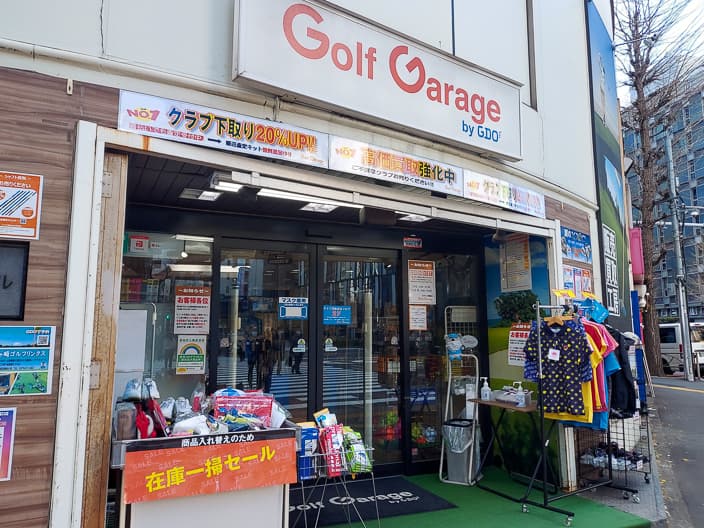 3. HONMA Golf Shinbashi Ginza
If you get out from JR Shinbashi Station on the Ginza Exit and walk a little, on the next junction, you will see a building with the HONMA logo. HONMA Golf is a Japanese Golf club manufacturer, founded 60 years ago and famous for its (quite expensive) Golf Clubs.
This is the flagship store of HONMA, opened in 2019 to showcase their product lines. So it's like a beautiful showroom with a full lineup : from Club to Golf-Wear, Shoes, Accessories, etc.
But the real highlight is the HUGE simulation space! You can order not only the club, but also the shoes with your preference, so if you are looking for tailor made items, you should definitely check it out!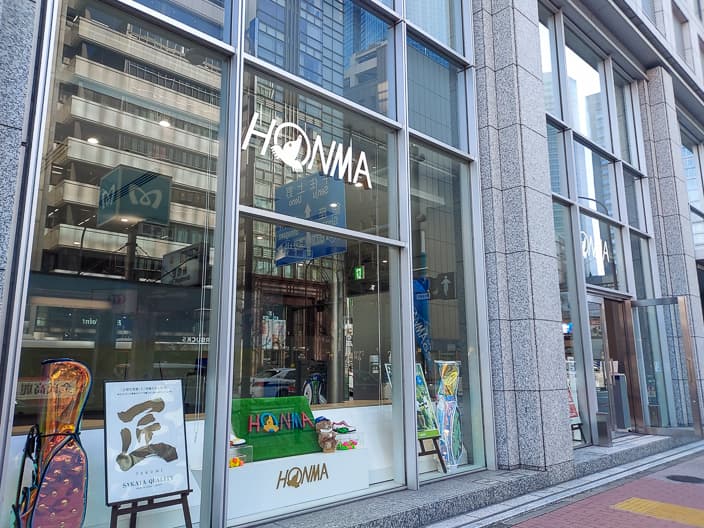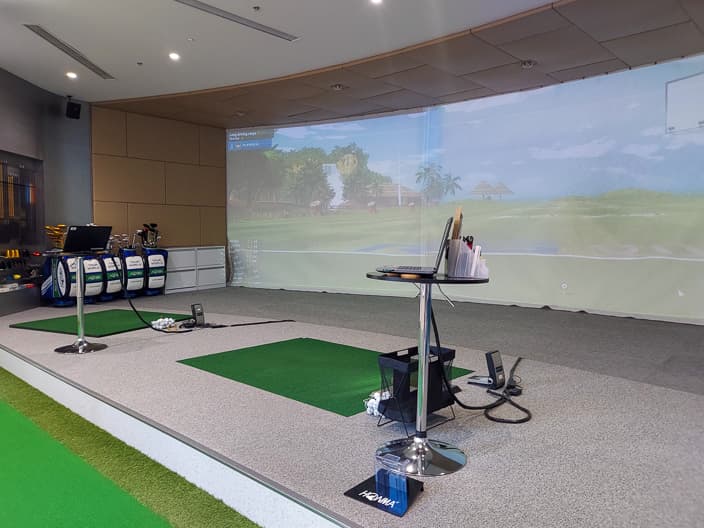 4. Arigaen Golf Shinbashi TOKYO
On the other side, located on Sotobori street, just 1 minute from JR Shinbashi Station's West exit, you will find Arigaen Golf Shinashi. The Entrance is on the 1st floor but the main space and shop are on the 2nd floor and it's huge!
They offer over 40 different brands, so you can find the one you like and also will find something new here!
5. Golf Partner Shinbashi Hibiya
Continuing your walk on Sotobori street, you will encounter a vertical yellow signage, indicating GolF Partner.
The shop spreads over 3 stories and carries a wide selections of items, especially for women. Actually, this is one of the largest second-hand golf club stores for Ladies in Japan! Female staffs are always available so if you are looking for an advice from female point of view, this is the place to go!
Of course they welcome all Golfers so even if you are a man, don't worry! 🙂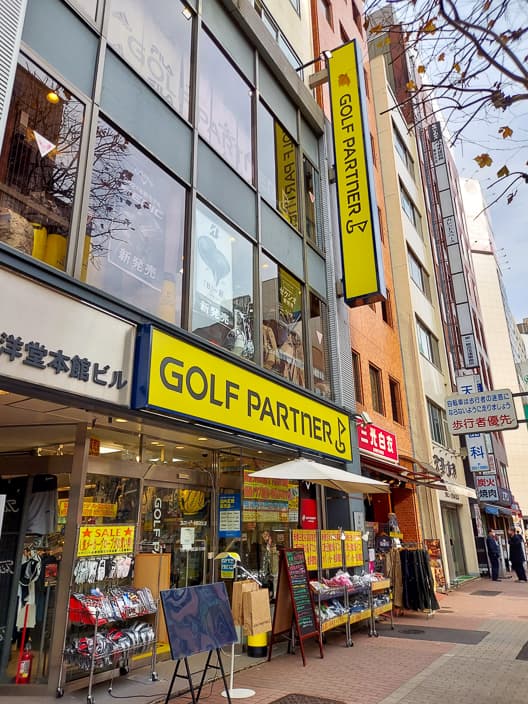 6. Golf Effort Shinbashi
This shop is also located just 5 minutes from JR Shinbashi Station West Exit. Golf Effort has decided to carry a rich selection of US brand items that cannot usually be found easily somewhere else – if you are lucky, you might be able to find some rare / limited items as well! It's a very interesting shop to check!
In addition, they also sell used clubs and provide personalized tune up.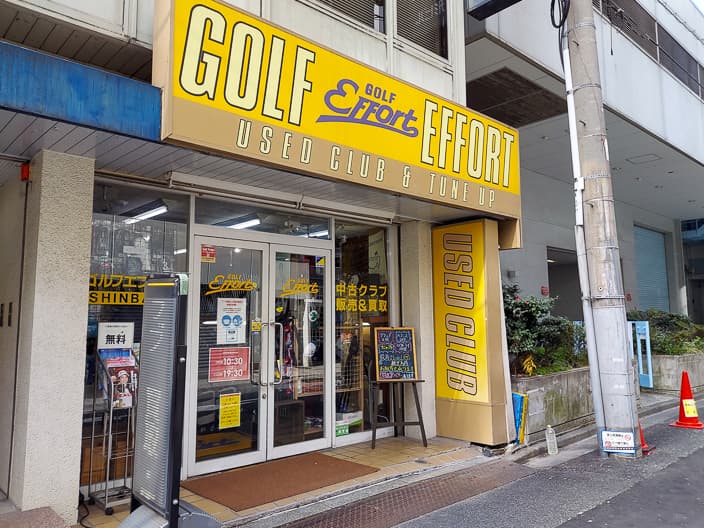 Here is the map of the stores we introduced in this article.
We hope you will enjoy planning your next golf shopping trip in Shinbashi !
Previous Post

Next Post